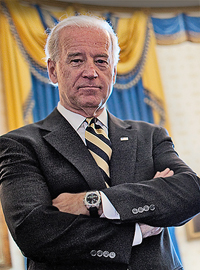 The truth about this Vice President is that his credentials as a card-carrying member of the working class are an overhyped myth that the media and liberal strategists are only too happy to repeat.
Politico reports that Mitt Romney's presidential campaign and the Republican National Committee are tracking and publicizing every verbal gaffe Vice President Joe Biden makes. If you know anything about the loquacious and unpredictable Veep, this is probably the biggest contribution to widespread job creation Biden has made in his entire career.

The purpose of the Republicans' strategy is to blow a hole through the myth that Biden somehow represents blue collar workers even though he's a lifelong politician who routinely supports taxes and regulations that hurt the very same people.

As I wrote a few weeks ago, there is zero policy evidence to support the claim that Joe Biden protects the working class because he happened to be born in the factory town of Scranton, Pennsylvania.

Instead, he supports a "global minimum tax" that would raise taxes on American companies doing business overseas, giving them an overwhelming incentive to relocate in a foreign country with lower taxes and taking jobs with them.

As the self-styled "Sheriff Joe," he's presided over billions of dollars of wasteful Recovery Act projects that hit hardest taxpayers without fancy accountants.

And this year Biden has sided with the Obama administration against the teachings and moral conscience objections of his own Catholic Church on issues like gay marriage and forced provision of contraceptives.

What kind of loyalty is that?

Of course, journalists by and large accept Biden's mythology without scrutiny.

When free to provide justifications for his status as a man of the people, this summary from The Daily Beast is typical. He's "ungovernable," "maybe even a bit unbalanced," a guy who "likes swapping off-color jokes with union types over a cold one…" He's "blustery," "back-slappy," who "dammit… just generally [has] himself a good time."

In short, he's vulgar. The kind of guy who thinks nothing of telling the President of the United States in front of a live microphone that passing ObamaCare is a "big f---ing deal."

The net result of all this is a politician who allows the chattering classes to project his personal vulgarities on an entire class of people since he allegedly "represents" them. But Biden and his media defenders know that his representation doesn't include his policy positions.

So Biden gets to have it both ways. On the one hand his pleasures correspond to working class stereotypes: bad language, cheap beer and big talk. On the other his voting record is in lockstep with the liberal gentry like Barack Obama that despair over Americans who "cling" to their God, guns and morals.

An unnamed Democratic consultant told Politico that Biden "may be a blowhard but nobody thinks he's unqualified to serve as president and that's all that matters in a vice president."

But what are Biden's qualifications? Thirty-six years of service in the United States Senate without ever authoring a single major piece of legislation? Overseeing a failed "high tech lynching" of Clarence Thomas' Supreme Court nomination? Plagiarizing a British politician during his failed 1988 presidential run? Being called a "blowhard" and "unstable" by his own defenders?

The truth about this Vice President is that his credentials as a card-carrying member of the working class are an overhyped myth that the media and liberal strategists are only too happy to repeat. If the narrative from the Obama campaign is going to be that Joe "I'm one of you" Biden is the Northeastern cousin of Bill "I feel your pain" Clinton, then posting Biden's record and comments on Twitter and You Tube is fair game.

There is no doubt the Romney campaign and the RNC will find plenty of verbal explosions from Biden in the coming months to undermine his blue collar shtick. My hope is that they don't merely pass these along, but that they tie them into a larger narrative about how Biden and the mainstream media use the Vice President's personal style to define and dismiss millions of hardworking Americans.