By Troy Senik
Wednesday, April 18 2012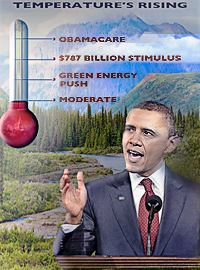 There's one big difference between now and 2008 – the president has a record.
During a recent speech to the American Society of Newspaper Editors in Washington, President Obama – who may as well have been addressing a campaign rally – made sure that his assembled media minions understood their designated angle for the upcoming presidential campaign.
"As all of you are doing your reporting," he instructed them, "I think it is important to remember that the positions I'm taking now on the budget and on a host of other issues, if we had been having this discussion 20 years ago or 15 years ago, would have been considered squarely centrist positions."
Ah yes, Barack Obama – a moderate's moderate.
That was certainly the rhetorical stance of the man who emerged on the national stage at the 2004 Democratic convention, proclaiming, "The pundits like to slice-and-dice our country into Red States and Blue States; Red States for Republicans, Blue States for Democrats. But I've got news for them, too. We worship an 'awesome God' in the Blue States, and we don't like federal agents poking around in our libraries in the Red States. We coach Little League in the Blue States and yes, we've got some gay friends in the Red States. There are patriots who opposed the war in Iraq and there are patriots who supported the war in Iraq. We are one people, all of us pledging allegiance to the stars and stripes, all of us defending the United States of America."
Look closely and you notice a cute rhetorical trick. When Obama attempts to drag conservatives to the center, he does so by implying an implicit sympathy for liberal policies. When it's the left whose image he's trying to moderate, it's through the lowest common denominator (was there a lingering suspicion prior to Obama's speech that neither God nor baseball – America's two great receptacles of religious fervor-- had penetrated the coasts?).
The same tactic was on display throughout the 2008 campaign: Offer gestural respect to the political opposition to soften them up, then proceed to define yourself as the sentinel of the political center – a task that's much easier when you're the one defining the extremes of political discourse.
Bearing a legacy that doesn't lend itself well to a reelection campaign, Obama is now trying to regain that invaluable real estate in the political center. But there's one big difference between now and 2008 – the president has a record.
So who is this man now attempting to convince us that he's a judicious centrist unmoored from ideology? Well, he's the fellow whose first major legislative accomplishment was a $787 billion spending bill, the largest in American history. He's the guy who said that under his preferred energy policies, "electricity rates would necessarily skyrocket." He's the man who racked up more federal debt in three years than George W. Bush did in eight. And he's the only president in American history to ram through a major, bank-busting entitlement (ObamaCare) over widespread public opposition.
How about his thoughtful generosity towards those who disagree with him? In an interview on Univision, Obama encouraged Latino voters to head to the polls with the attitude that, "We're gonna [sic] punish our enemies." He compared Republican opponents of his alternative energy policies (which included the infamous $535 million loan guarantee to Solyndra, the California solar power firm that eventually went bankrupt) to "founding members of the Flat Earth Society." And he accused the GOP of practicing "thinly veiled Social Darwinism" for proposing a budget that actually had the temerity to propose taming the federal government's spendthrift fiscal habits.
The radicalism goes beyond the president himself, however. As the proverb goes, a man is known by the company he keeps.
Consider the denizens of the Obama White House. The president's Attorney General, Eric Holder, called the United States "a nation of cowards" on issues of race. Green Jobs Czar Van Jones was a self-proclaimed communist and 9/11 truther, who proudly proclaimed that he had become a leftist radical after serving jail time.
Obama's first White House Communications Director, Anita Dunn, referred to Mao Tse-Tung, one of the great butchers of the 20th century, as one of her "favorite political philosophers." While Holder remains in office, both Jones and Dunn were forced from their positions after scrutiny of their positions from the conservative media. It's supremely telling that both were driven from power not because of their radical left-wing ideology, but because of its discovery by the American people.
As the 2012 election takes shape, Barack Obama will desperately try to sell himself as a moderate one last time. But the blank canvas of 2008 is now painted with four years' worth of liberal true blue. Even a rhetorically gifted president can't talk his way out of the history of his first term.