By Quin Hillyer
Thursday, October 18 2012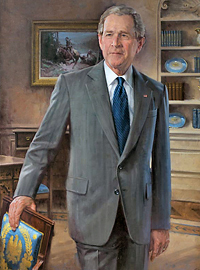 The more the truth emerges about Bush's successes, the less successful Barack Obama can be in using his stale lines blaming 'the failed policies of the past.'
Now is a time not to bury George W. Bush, but to praise him.
One of Governor Mitt Romney's best answers in Tuesday night's debate came when he was asked to differentiate himself from former President Bush. Romney correctly and effectively distanced himself from Bush's deficit spending, believably pledged to do more to encourage fossil-fuels production than Bush did and pronounced himself less interested in protecting "big business" than Republicans at times had been, instead wanting to focus on small business growth. He also gained crucial political points (even if his policy approach here is debatable) by saying he would be "tougher on China" than Bush was.
On some of these and other fronts, President Bush does merit criticism. In many ways, his was not a model presidency – and I, for one, aimed a number of (constructively) negative assessments in his direction. On the other hand, Bush has served far too much as a punching bag for the past four years, when the truth is that he did much that was admirable, honorable and successful, and when other things he attempted were wise and valiant initiatives. On the whole, Bush's achievements outweighed his demerits.
First, Bush's tax-rate cuts absolutely helped the economy, first ending the doldrums caused by the bursting of the tech bubble and the terrorism of 9/11, and then, when fully implemented after 2003, spurring a major economic boom that pushed the unemployment rate down to 4.7 percent as late as September of 2007.
Second, and far more important, his policies and focus protected our homeland from post-9/11 terrorist assaults (the purely domestic anthrax attacks and DC sniper as minor exceptions) for the remainder of his presidency and beyond. The perfectly legal "enhanced interrogations," the aggressive expansion of foreign intelligence capabilities, the freezing of terrorist financing, the successful early prosecution of the war in Afghanistan and numerous other actions hobbled the Taliban and al Qaeda and disrupted terrorist communications and supplies. During Bush's administration alone (not to mention the hangover effects of his efforts once Obama took office), the feds thwarted at least 17 terrorist plots, including plans to blow up the Brooklyn Bridge, bomb the New York subway system and bomb the fuel line of JFK airport.
Third, Bush appointed a slew of excellent judges, including Samuel Alito (and John Roberts) to the Supreme Court. In doing so, he helped ensure major victories for gun rights, for religious liberty and against racial hiring schemes, among other decisions both constitutionally correct and popular with most Americans.
Fourth, Bush ran an administration almost entirely free of real scandal – with almost nothing venal or of pecuniary ill motives. In fact, the worst scandal of his presidency involved no political appointees at all, but rather was the work of poorly trained soldiers at Abu Ghraib.
Fifth, Bush merits far more credit even for the war in Iraq than he receives. The fact is that Saddam Hussein was a destabilizing force in the Middle East. The fact is that he was starting to evade sanctions and had successfully bribed many of his European (supposed) overseers. The fact is that he harbored several major illegal terrorists, refused to account for known quantities of weapons of mass murder, ran a terrorist training camp at Salman Pak and of course brutalized his own people. Further fact: Decapitating his regime had tremendous corollary benefits, not least among them being that his demise scared Moammar Ghadafi (by the Libyan's own words) into cooperating with the United States for half a decade. Ghadafi turned over all his major weapons (we still have them under lock and key), stopped his nuclear program that was far closer to fruition than any outsiders had realized, and provided key intelligence that helped us undermine al Qaeda and especially devastate the A.Q. Khan nuclear network.
And while Bush for far too long unwisely ignored advice to put more "boots on the ground" in Iraq and change tactics for securing the peace there, he deserves great credit for eventually, and courageously, prosecuting the "Surge" there, despite elite American media pressure to the contrary. The Surge worked, and Iraq stabilized, thereby benefiting the entire region.
Those are some highlights. There were other achievements as well, plus some admirable though unsuccessful attempts to reform Social Security and to rein in Fannie Mae and Freddie Mac. Had Democrats not blocked the latter attempts, it is quite possible that the financial crisis of 2008 might have been averted.
History will eventually care about all this, of course, but it also is important right now – because the more the truth emerges about Bush's successes, the less successful Barack Obama can be in using his stale lines blaming "the failed policies of the past."
Moreover, George W. Bush is a good man. He deserves some credit, and some thanks.