By Quin Hillyer
Thursday, November 08 2012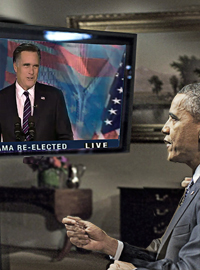 The problem wasn't only Romney's. Republicans under-performed across the board.
For those who are right of center, this week's election results look worse and worse the longer they are stared at. The situation is this: When all the votes are counted, Mitt Romney's raw vote total will be almost exactly equivalent to the pathetic numbers achieved by John McCain four years earlier.
Ten times more money, at least, was spent by Romney's campaign or by affiliated SuperPACs than was spent by or for McCain. Far more money and time and effort were spent by the Republican National Committee and a host of conservative groups to build a vote-turnout "ground game" than was ever spent on McCain's behalf. McCain ran in the midst of a horrible financial crisis blamed on the unpopular incumbent of his own party, against a brilliant cypher riding the crest of a messianic wave. And McCain's campaign was riven by internal discord, whereas Romney's was professional, collegial and apparently quite competent.
Finally, Romney ran against an incumbent presiding over a terrible economy, an incumbent who had picked a fight with and effectively was strenuously opposed by the bishops of the nation's largest faith denomination, an incumbent who regularly had insulted his opponents and one who was less than two months removed from a major foreign policy disaster that was turning into a full-out scandal.
Yet, somehow, Romney's team couldn't turn out more Americans to vote for him than McCain achieved. McCain received 59,934,814 votes; as I write this on Wednesday afternoon, Romney's total is 57,573,527 (which will probably keep rising toward the realm of, but probably not over, 60 million by the time all late, provisional and absentee ballots are counted).
The problem wasn't only Romney's. Republicans under-performed across the board. Incumbent Republican statewide U.S. Representatives Rick Berg of North Dakota and Denny Rehberg of Montana both lost Senate bids in states carried in landslide fashion by Romney. Veterans George Allen in Virginia and Tommy Thompson in Wisconsin ran behind Romney's percentages in their races for the Senate and Connie Mack IV in Florida got walloped by more than a million votes. Republican Senate candidates in Michigan and Minnesota also were absolutely trounced, and of course Senate GOP candidates in Connecticut, New Mexico, Hawaii, Maine, Massachusetts, Ohio and Pennsylvania, all longer shots who nonetheless at one time were thought to offer electoral promise, also lost by significant margins. Finally, of course, foot-in-mouth candidates Todd Akin in Missouri and Richard Mourdock in Indiana raped their own chances in seats Republicans had absolutely counted on winning.
Back to the presidency: The numbers state by state were awful, too. One would have thought that the Bush-2004 effort, in a nation populated by 29 million fewer souls, would have provided a floor for Republican voter turnout, considering the supposed "energy and enthusiasm" driving the grass-roots against Barack Obama. Instead, Bush's effort usually served as a ceiling that Romney failed even to reach. In Wisconsin, the Republican vote dropped from 1,478,504 in 2004 to 1,408,745 this year (with 100 percent of precincts reporting, although perhaps with some straggler provisionals uncounted). Iowa's totals went from about 751,000 to 727,000. In Pennsylvania, site of a multi-million late media buy and late visits by Romney, the totals went down from 2,793,847 in 2004 to 2,655,885 in 2008 and even further down this year to 2,615,327.
And so on, in state after state.
Meanwhile, Barack Obama's final totals will be down from well over 69 million to about 62 million (just over 60 million at this writing, but provisionals still coming in). Had Romney just matched Bush's 62 million, he might well have won.
All of which means Republicans are doing something very badly wrong. Their candidates and the consultants who advise them have completely forgotten how to mobilize voters. They don't know how to "connect," to galvanize, to reach both the hearts and minds, of enough Americans. These races this year were more than eminently winnable, but Republicans blew it, horribly, even as their turnout "technology" and "organization" vastly improved.
Technical campaign proficiency cannot overcome dreadful weaknesses in taking issue stands and communicating the same. (See my earlier columns on issues "left on the table," for instance.) They especially can't overcome a failure to understand popular culture or to show real empathy for those of different economic strata.
Republicans and conservatives must do some real self-analysis. Their own inadequacies helped doom the country to four more years of a radically leftist and imperial presidency. The elections were a disaster, and the next quadrennium will be a long, hard slog.