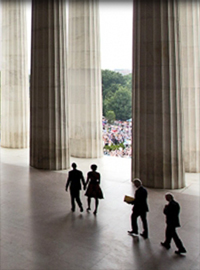 Today, however, we face a crisis of leadership.
"WE hold these Truths to be self-evident, that all Men are created equal, that they are endowed by their Creator with certain unalienable Rights, that among these are Life, Liberty, and the Pursuit of Happiness…"
-The Declaration of Independence, 1776
"I still have a dream… It is a dream deeply rooted in the American dream… I have a dream that one day, this nation will rise up and live out the true meaning of its creed: 'We hold these truths to be self-evident, that all men are created equal.'"
-Dr. Martin Luther King, Jr., 1963
Fifty years ago this week, Dr. King gave one of human history's most spellbinding and immortal orations from the Lincoln Memorial.
One hundred years earlier, President Abraham Lincoln delivered a similarly timeless speech, the Gettysburg Address.
The profundity of both speeches derives primarily from the nature of their appeal. They did not announce novel or controversial concepts, but instead called upon the basic, founding principle of the United States of America itself. Like King in 1963, Lincoln in 1863 explicitly and purposefully cited the Declaration of Independence in his opening sentence: "Four score and seven years ago, our fathers brought forth on this continent a new nation, conceived in liberty, and dedicated to the proposition that all men are created equal."
The power of their words, the potency of their ideas, owed to the enduring American principles from which they derived. After all, Lincoln or King could have just as easily chosen to trumpet more novel or controversial principles, or other political orders such as those embodied in the French Revolution or the Russian Revolution. Many alternatives to our own founding principles exist. But only ours have resulted in this most prosperous, most powerful, most enduring political system on Earth.
Today, however, we face a crisis of leadership. That crisis stems in large part from the fact that our current President and Vice President embrace revolutionary principles rather than America's foundational principles, and degrade the meaning of words on a constant basis.
For his part, Barack Obama telegraphed his avant-garde predisposition in 2001 when he lamented the Constitution's framework and sought, in his words, "redistributive change":
"The Supreme Court never ventured into the issues of redistribution of wealth and sort of more basic issues of political and economic justice in this society. And to that extent, as radical as I think people tried to characterize the Warren Court, it wasn't that radical. It didn't break free from the essential constraints that were placed by the Founding Fathers in the Constitution, at least as it's been interpreted, and the Warren Court interpreted in the same way, that generally, the Constitution is a charter of negative liberties. It says what the states can't do to you, says what the federal government can't do to you, but it doesn't say what the federal government or the state government must do on your behalf. And that hasn't shifted one of the, I think, tragedies of the Civil Rights movement was, umm, because the Civil Rights movement became so court-focused I think there was a tendency to lose track of the political community organizing and activities on the ground that are able to put together the actual coalition of powers through which you bring about redistributive change."
Whereas King and Lincoln sought fidelity to America's founding principles, Obama considered them tragic.
Since that time, we have witnessed innumerable instances in which Obama and Vice President Joe Biden discarded solemn pronouncements like refuse. Obama assured us that he would cut our deficit in half by the end of his first term. He proceeded to triple it. He promised to close Guantanamo Bay by January 2010. It remains open (and rightfully so).
As a candidate in 2007, Obama unequivocally stated that a President must consult Congress before initiating military action: "The President does not have power under the Constitution to unilaterally authorize a military attack in a situation that does not involve stopping an actual or imminent threat to the nation."
Then-Senator Biden, not to be outdone, said the same year that, "The President has no authority to unilaterally attack Iran, and if he does, as Foreign Relations Committee Chairman, I will move to impeach." Never mind that the House, not the Senate, would be the body to impeach.
Today, Obama and Biden signaled intent to attack Syria in a situation that does not involve stopping an actual or imminent threat to the nation.
The irony is that Obama's rhetorical manner vaulted him into the national limelight. Unfortunately, today it largely explains his alarmingly declining stature, and America's.