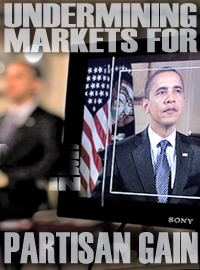 While Obama's and Reid's growing sense of frustration is understandable, that doesn't excuse attempts to undermine markets in pursuit of partisan gain.
Franklin D. Roosevelt, 1933: "The only thing we have to fear is fear itself!"
Barack Obama, 2013: "We are in trouble."
An interesting thing occurred on Tuesday of this week, the first day of the federal government shutdown: All three major U.S. market indexes went up, not down. The Dow Jones Industrial Average climbed more than 62 points, the S&P 500 rose nearly 1% to 1695 and the Nasdaq jumped 1.2%.
That apparently wasn't the panicked reaction that the Obama Administration expected or desired. Consequently, it resorted to employing flimsy temporary fences to block aging veterans from accessing the open-air World War II memorial.
But then that maneuver also backfired, as the veterans knocked the barricades over while park security reportedly refused to make arrests. A ring of ObamaFences proved no impediment for veterans who stormed such places as Normandy and Iwo Jima.
So an increasingly frustrated Obama took to the airwaves, actually attempting to foment panic in an interview with CNBC's John Harwood:
Harwood: Wall Street has been pretty calm about this. The reaction I would say, generally speaking, has been, 'Washington fighting, Washington posturing, yadda, yadda yadda.' Is that the right way for them to look at it?
Obama: No, I think this time is different. Uhh, I think they should be concerned. I had a chance to speak to some in the financial industry who came down for their typical trip. And I told them that, uhh, it is, uhh, not unusual for Democrats and Republicans to disagree. That's the way the Founders designed our government. Uhh, democracy is messy. But when you have a situation in which a faction is willing, potentially, to default on U.S. government obligations, uhh, then we are in trouble.
That reckless and inexcusable attempt to destabilize world markets, however, doesn't square with Obama's own words and actions when he was part of his own faction in Congress. In March 2006, Obama opposed a debt ceiling increase to $9 trillion (today it is $17 trillion), thereby advocating default on U.S. government obligations:
"The fact that we are here today to debate raising America's debt limit is a sign of leadership failure. It is a sign that the U.S. government can't pay its own bills. It is a sign that we now depend on ongoing financial assistance from foreign countries to finance our government's reckless fiscal policies. Increasing America's debt weakens us domestically and internationally. Leadership means that 'the buck stops here.' Instead, Washington is shifting the burden of bad choices today onto the backs of our children and grandchildren. America has a debt problem, and a failure of leadership. Americans deserve better."
On the same day that Obama sowed panic on CNBC, Senator Harry Reid (D – Nevada) became even more unhinged, attacking CNN reporter Dana Bash from the podium of his press conference. Reid had earlier alleged that Republicans were jeopardizing children with cancer, so Ms. Bash reminded him the Republicans had offered a stand-alone provision to fund child cancer treatments during the shutdown and simply asked why he declined. That pushed Reid over the edge:
Bash: The House is presumably going to pass a bill that funds at least the N.I.H. Given what you've said, will you at least pass that? And if not, aren't you playing the same political games that Republicans are? If you can help one child who has cancer, why wouldn't you do it?
Reid: Listen… Why… Why would we want to do that? I have 1,100 people at Nellis Air Force Base that are sitting home. They have a few problems of their own. This is… To have someone of your intelligence suggest such a thing may mean you're as irresponsible.
Bash: I'm just asking a question.
There is no mystery as to the basis for Obama's and Reid's frustration.
For weeks, we've been told that Senator Ted Cruz's (R – Texas) efforts and any subsequent shutdown would clearly benefit Democrats and destroy Republicans. The objective numbers, however, so far aren't playing out the way they had expected.
Specifically, early polling shows that public blame for the shutdown is fairly evenly divided. According to a CBS News survey released on Thursday afternoon, the margin is in the single digits, with 44% blaming Republicans in Congress and 35% blaming Obama and Democrats in Congress. By way of comparison, during the 1995 shutdown 51% blamed Republicans in Congress while only 28% blamed President Clinton.
Even more ominously for Obama, his Gallup approval rating right now is exactly the same as President Bush's in the aftermath of Hurricane Katrina at the same point in his presidency. That has to terrify him, given his monstrous ego. Further, Obama's Rasmussen approval index has plummeted 6 points in just two days since the shutdown began, from 52%/47% positive on October 1 to 47%/51% underwater on October 3.
While Obama's and Reid's growing sense of frustration is understandable, that doesn't excuse attempts to undermine markets in pursuit of partisan gain. It's something Americans should consider when apportioning culpability in this standoff.