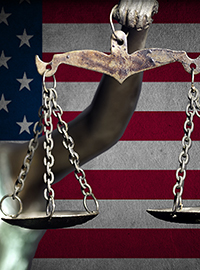 It's up to the Supreme Court to pursue a path of colorblindness...
The U.S. Supreme Court opened its 2022-23 term this week, with two affirmative action cases headlining its docket.
Will the Court fully apply the Constitution's command of colorblindness? Or will it once again shrink from its responsibility and leave this thorny thicket to grow? A gaffe last week from Vice President Kamala Harris illustrates the peril of the latter course.
First, for a sense of the divergent paths before it, consider two salient Supreme Court decisions on the matter in recent years, one rightly celebrated and the other just as rightly lampooned.
In Grutter v. Bollinger (2003), the University of Michigan law school openly acknowledged that it favored certain minority groups in admissions, arguing that it was entitled to achieve what it vaguely labeled a "critical mass" of students from various favored groups despite the 14th Amendment's Equal Protection Clause and myriad federal laws prohibiting racial discrimination in education.
Inexplicably, Justice Sandra Day O'Connor joined the Court's four leftists in permitting Michigan's discriminatory scheme in pursuit of a "diverse student body." It was O'Connor's suggestion that her constitutional logic would expire in twenty-five years, however, that instantly and justifiably brought ridicule upon her. "We expect," she wrote, "that 25 years from now, the use of racial preferences will no longer be necessary to further the interest approved today."
Constitutional commands do not include delayed fuses of the sort that O'Connor contemplated, and she possessed no crystal ball allowing her to accurately forecast the necessary duration of her rationalization.
Almost twenty years later, we're further from O'Connor's vision rather than closer to it. Look no further than an inflammatory remark by the sitting Vice President of the United States.
Appearing before the Democratic National Committee's Women's Leadership Forum last week in Washington, D.C., actress Priyanka Chopra Jonas asked Kamala Harris about climate change and Hurricane Ian relief for Florida. In prototypical word salad-fashion, Harris asserted that resources must be allocated "based on equity" to "lowest-income communities and our communities of color":
It is our lowest-income communities and our communities of color that are most impacted by these extreme conditions and impacted by issues that are not of their own making and so we… and so we have to address this in a way that is about giving resources based on equity, understanding that we fight for equality, but we also fight for equity understanding not everyone starts at the same place, and if we want people to be in an equal place, sometimes we have to take into account those disparities and do that work.
Memo to Vice President Harris: The Constitution protects equality, not your defective conceptualization of "equity."
Naturally, the mainstream media rushed to Harris's defense, instructing us in Groucho Marx fashion to believe them instead of our lying eyes and ears. Granted, deciphering almost any statement from Harris necessitates chalkboard sentence diagrams. Even giving her full benefit of the doubt, however, Harris was openly advocating a policy of race-based resource allocation, whether specific to Hurricane Ina or regarding climate change more generally.
Harris's words had a concrete negative effect, sowing panic among Hurricane Ian victims who need relief. Federal Emergency Management Agency (FEMA) chief Deanne Criswell was forced to clean up after Harris, assuring Floridians that, "We're going to support all communities, I committed that to the governor, I commit to you right here that all Floridians are going to be able to get the help that is available to them through our programs."
This is the fruit of the sort of race-conscious government policy allowed to persist by Justice O'Connor in her majority opinion.
Which brings us to a subsequent Supreme Court decision providing better clarity and guidance in that regard. Perhaps moved to rebut Justice O'Connor's defective constitutional logic four years earlier, Chief Justice John Roberts wrote for the majority in Parents involved in Community Schools v. Seattle School District No. 1 (2007) that, "The way to stop discrimination on the basis of race is to stop discriminating on the basis of race."
That is the sort of clear, unambiguous commitment necessary to finally bring this sort of injustice to an end.
This term, in Students for Fair Admissions, Inc. v. President & Fellows of Harvard College and Students for Fair Admissions, Inc. v. University of North Carolina, the Court can follow through on Chief Justice Roberts's logic, and end the unconstitutional practice of racial discrimination in admissions once and for all.
By tolerating discrimination, Justice O'Connor thereby encouraged it to persist. It's up to the Supreme Court to pursue a path of colorblindness, and it's up to voters to support candidates who promise to nominate and confirm judges who will do the same going forward in other realms of our society.