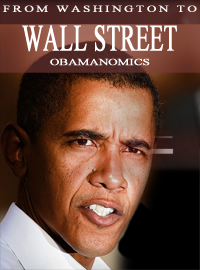 If you're looking for an institution that actually imposes inequality by force, you should look to Washington before you look to Wall Street.
Barack Obama, in case you haven't heard, is pretty worked up about inequality. It's a constant theme of the president's speeches, with regular references like the one in his second inaugural address to a country where "a shrinking few do very well and a growing many barely make it."
In the abstract, this is comfortable territory for liberals. Not only do they generally hold inequality to be a form of injustice; they also seem to think it's intentional. That is, they believe that it stems in large part from the systematic exploitation of the poor by the rich.
This mindset betrays a lack of understanding about how a free economy operates. Most notably, it misses the fact that markets are defined by voluntary transactions. When individuals are free to choose how they spend their money, they will generally only use it for goods or services that they deem more valuable than the cash it costs them. It's difficult to characterize as "exploitive" an economic system in which both sides are, by definition, better off after a transaction.
Of course, it isn't always quite that simple. There are situations in which sellers might mislead about the quality of a product or companies with a monopoly may prove abusive to consumers. The American system, however, does a reasonably good job of counteracting those excesses through antitrust regulations and laws punishing fraud.
In fact, the one area where coercion has a pronounced role in the economy is the one that liberals love most: government intervention. There's no monopoly bigger than the state. And if you're looking for an institution that actually imposes inequality by force, you should look to Washington before you look to Wall Street.
Think about it – who are those "shrinking few" that are still prospering in Barack Obama's anemic economy? Some of them are investors enjoying artificially inflated stock prices thanks to the Federal Reserve's policy of easy money. Some of them are financial titans whose banks have seen the principle of "too big to fail" codified in Dodd-Frank. Some of them are the heads of fashionable alternative energy companies who, despite having a product that can't survive on the market, live off of the Obama Administration's taxpayer-provided subsidies. Some of them are health- care executives who made the Faustian bargain to accept reams of new regulation in exchange for a surfeit of new customers via the individual mandate.
The Obama Administration – and, truth be told, liberals around the nation – may make plenty of noise about the plight of ordinary working people. When it comes time to make policy, however, they disproportionately tilt towards the big-money industries that finance their campaigns, not the working class types that they laud as representatives of America at its finest.
While purveyors of green fantasies like solar and wind power get checks signed by Uncle Sam, for example, the Obama Administration continues to block construction of the Keystone XL Pipeline, which the president's own State Department estimates could create nearly 4,000 annual construction jobs. While health-care executives enjoy the spoils of the individual mandate, a recent survey by the International Foundation of Employee Benefit Plans finds that 15 percent of large employers and 20 percent of smaller employers are planning on cutting workers' hours in response to Obamacare regulations. While stock-market investors reap the benefits of the Fed's quantitative easing, everyday Americans who save their money face interest rates too low to grow their nest eggs.
This is the key difference between voluntary economic transactions and government interference: In the free market, transactions benefit both sides. When government gets involved, however, one side's benefit becomes the other's cost. That's about as clear as exercises in inequality come.
If liberals were really concerned about treating people equally, they wouldn't have spent the past several years indulging in these exercises in corporatism. The president is right – there is an inequality problem. And he's part of it.