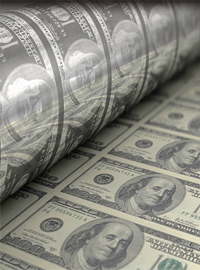 [T]he 'halved' 2013 deficit over which Obama brags is larger than the largest deficit of any president who preceded him.
Familiar is the parable of the boy who murders his parents, then seeks leniency because he is suddenly an orphan.
When it comes to budget deficits, Barack Obama is more like the boy who knocks off his parents, then brags that he drove them to the morgue.
While his public approval rating plummeted this week to a new low of 37%, here was Obama in a press conference rationalizing his refusal to even negotiate over the nation's debt limit: "Don't tell us that the government is going bankrupt, when the deficit has been cut in half!"
The only problem is that Obama tripled the deficit before he cut it in half. As a result, he has only accelerated the government toward bankruptcy.
Consider that when he ran for the White House in 2008, the deficit was $498 billion in inflation-adjusted dollars. On the campaign trail that summer, Obama labeled that so severe as to be "unpatriotic":
"The problem is that the way Bush has done it over the last eight years, is to take out a credit card from the Bank of China in the name of our children, driving up our national debt from $5 trillion for the first forty-two presidents – number forty-three added $4 trillion all by his lonesome – so that we now have over $9 trillion of debt that we're going to have to pay back - $30,000 for every man, woman and child. That's irresponsible. It's unpatriotic!"
So what did Obama do with that "unpatriotic" level of deficit spending?
He tripled it. From a deficit of $498 billion in 2008, it shot up to $1.539 trillion in 2009.
Before Obama, America had never witnessed a deficit of $1 trillion or more. Since Obama, America suffered four consecutive years in excess of that amount. His 2010 deficit reached $1.387 trillion, his 2011 number hit $1.350 trillion and the 2012 shortfall was $1.120 trillion. The just-completed fiscal 2013 deficit came in at $759 billion.
Thus, the "halved" 2013 deficit over which Obama brags is larger than the largest deficit of any president who preceded him. Even at the height of World War II in 1943, the deficit only reached $737 billion in current dollars.
Even excluding the 2009 deficit, which Obama's dwindling number of shock troops falsely attribute entirely to George W. Bush, that leaves Obama with a four-year average deficit of $1.153 trillion. Include the 2009 deficit, two-thirds of which occurred after he was inaugurated, and his average rises to $1.231 trillion. To provide additional context, the eight-year average Bush deficit that Obama labeled "unpatriotic" was just $297 billion. Even being charitable to Obama by removing the 2001 budget surplus from Bush's tally and adding the entire 2009 deficit to it, he still averaged just $511 billion.
In other words, even in its most unfairly charitable light, Obama's average deficit is more than double that of his all-purpose scapegoat predecessor.
Overall, according to the U.S. Treasury Department's annual fiscal summary released this month, total federal debt held by the public has increased 90% during the Obama presidency. According to the report, total public debt as of January 20, 2009 amounted to $6.307 trillion, but as of September 30, 2013, the end of the 2013 fiscal year, it amounted to $11.976 trillion. That's a lot worse than the accumulation of debt that Obama labeled "unpatriotic" under Bush.
So what do we have to show for it? The single worst economic recovery in recorded U.S. history. The last recession officially ended all the way back in June 2009, but past that point we witnessed a record number of months over 8% unemployment, a decline in median income even after the "recovery" began, astonishingly low gross domestic product (GDP) growth, a doubling of the number of food stamp recipients and dangerous declines in adult workforce participation.
Moreover, Obama has deliberately failed to provide leadership in finding a long-term solution. He demanded the formation of the Simpson/Bowles Commission, but then completely ignored its 2010 recommendations.
Obama seems to think that his constant crisis shenanigans can cripple the Republican Party and dupe American voters. His sudden 37% approval rating, however, suggests that the public is tired of his game and ready for real solutions.