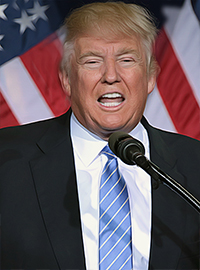 What the U.S. economy needed all along was less regulation, lower taxes, more economic freedom, reduced spending and less deficit spending to encourage business and employment growth.
For the past eight years, conservatives and libertarians correctly maintained that Obama Administration policies didn't salvage our economy from the last recession, they instead subdued the natural cyclical recovery that otherwise would've been much more robust.
Obama's agenda of massive federal spending, more regulation, higher taxes, new social entitlements, declining economic freedom and record deficits resulted in the worst post-recessionary recovery in recorded U.S. history. The facts speak for themselves. Since recordkeeping began, we'd never gone an entire decade without reaching at least 3% growth even once, until Obama made it happen.
Workforce participation fell to levels unseen since before women fully entered the workforce. New business creation stagnated. Businesses relocated overseas to escape an increasingly inhospitable domestic environment. Our national debt doubled in the span of one presidency.
And how many "Recovery Summers" came and went before Obama and Joe Biden stopped announcing them?
What the U.S. economy needed all along was less regulation, lower taxes, more economic freedom, reduced spending and less deficit spending to encourage business and employment growth.
Events since the November election finally bear that argument out.
This week, global employment firm ADP announced what CNBC labeled a "blowout month" of job creation in Donald Trump's first month in office:
Companies added jobs at a blistering pace in February, with a notable shift away from the service sector positions that have dominated hiring for years, according to a report on Wednesday. Employment in the private sector surged by 298,000 for the month, with goods producers adding 106,000, ADP and Moody's Analytics said. Construction jobs swelled by 66,000 and manufacturing added 32,000. The total shattered market expectations of 190,000, according to economists surveyed by ADP.
As summarized by ADP Vice President Ahu Yildirmaz, "February proved to be an incredibly strong month for employment, with increases we have not seen in years."
And what explains that "blowout" employment growth in Trump's first month as president?
Here's what a LinkedIn workforce report offered: "It seems like the stronger hiring is being driven by elevated business confidence due to the new administration's promises to lower taxes and reduce regulations."
Moody's Analytics chief economist Mark Zandi identified the same causal factor, stating that, "Confidence is playing a large role. Businesses are anticipating a lot of good stuff - tax cuts, less regulation. They are hiring more aggressively."
That final observation is important. Hiring, after all, is a forward-looking metric, as businesses only go to the expense and risk of hiring when they anticipate a payoff with confidence. Labor costs, including salary, insurance, payroll taxes, workplace modification and other expenses, are simply too significant to undertake recklessly.
One jobs report doesn't prove a case, of course. But there's much more telling the same tale.
Take market reactions to Obama's departure and Trump's arrival as another bellwether. Four months ago, analysts spoke of the markets' weary legs after slowly and stutteringly recovering to new highs. Since just November 8, however, the S&P 500 is up an astonishing 12%, while the Dow surged upward to shatter the 20,000 barrier and now hovers near 21,000.
Consumer confidence reveals a similar jolt in optimism. As cogently summarized by Gallup, "President Donald Trump's inauguration in late January coincided with the index reaching highs not seen before in Gallup's nine years of tracking economic confidence." Specifically, the index held steady throughout 2016 at -10, but then immediately jumped upward to +10 and then +14 after Trump won the presidency.
In a separate survey, Gallup reports that the number of Americans identifying the economy as our biggest problem has plummeted:
Americans are now less likely than at any point since 2007 to name the economy in general (8%) as the most important problem facing the nation... The drop in the percentage mentioning the economy comes at a time when Americans' confidence in the economy and their perceptions of hiring activity are at nine-year highs. Meanwhile, the Dow Jones Industrial Average has remained above its new milestone of 20,000 for over a month.
Since consumer spending accounts for two-thirds of the U.S. economy, that is a particularly encouraging development.
It's no coincidence that economic indicators have improved dramatically since Trump replaced Obama in the White House. Consumers and business leaders alike recognize that the prospect of smaller government, less spending, reduced regulation and more freedom to innovate and grow is the path to greater prosperity. It's a refreshing change.