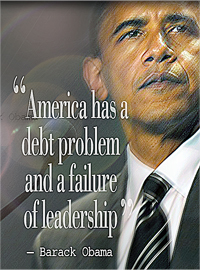 The simple fact is that this is numerically the worst "recovery" in recorded U.S. history, and Obama's economic policies didn't bring what recovery we have seen, they impeded it.
"That's irresponsible. It's unpatriotic!"
So said Barack Obama on July 3, 2008, referring to the $4 trillion in cumulative new debt under George W. Bush:
"The problem is, is that the way Bush has done it over the last eight years is to take out a credit card from the Bank of China in the name of our children, driving up our national debt from $5 trillion for the first 42 presidents. Number 43 added $4 trillion by his lonesome, so that we now have over $9 trillion in debt that we are going to have to pay back - $30,000 for every man, woman and child. That's irresponsible... It's unpatriotic!"
According to a new U.S. Department of Treasury announcement, however, in just 5 and 1/2 years Obama has now added $7 trillion in cumulative new debt.
So if Bush's $4 trillion was "unpatriotic," what term would characterize Obama's $7 trillion?
Keep in mind that with 2 and 1/2 more years remaining in his presidency, he will essentially double the debt of the predecessor he so maligned, even according to current rosy budget projections. Should a new financial or economic shock occur, the possible downside scenarios are too grim to entertain.
Of course, Obama and his apologists offer a litany of rationalizations and scapegoats.
They chose this fiscal course in order to avert another Great Depression, they say. Never mind that the economic bounceback had actually commenced before Obama became president or implemented a single economic policy. Moreover, the recession itself officially ended in June 2009, less than half a year into his tenure and over five long years ago now.
Their spending policies reduced unemployment, they say. Never mind that the decline in the headline unemployment rate is largely attributable to dejected Americans simply dropping out of the workforce and removing themselves from the unemployment calculation altogether. In fact, today's workforce participation rate is lower than at any point since the 1970s, a time before women had fully entered the labor market. Also, never mind that unemployment ascended to double-digits following Obama's wasteful spending "stimulus," despite promises that it wouldn't exceed 8%. And since the recession ended and the recovery began over five years ago, median American income is actually down. That metric alone captures the true nature of Obama's non-recovery "recovery."
Had Obama done nothing and simply left the American economy alone, the cyclical recovery would have occurred at a healthier clip more similar to past recoveries, but without the unnecessary regulatory damage and trillions in new debt.
The simple fact is that this is numerically the worst "recovery" in recorded U.S. history, and Obama's economic policies didn't bring what recovery we have seen, they impeded it.
Which brings us to another set of new milestones we witnessed this week, none of which reflect well on Obama or the course he has chosen over the past six years.
A new record number of Americans - 76% - do not expect their children's generation to enjoy a better life than we experience today, according to a new NBC News/Wall Street Journal survey. Further, Obama's approval has plummeted to a record low, and almost half believe we're still in a recession despite the fact that it officially ended half a decade ago.
One particularly positive sign emerges from the survey, however.
Fully 70% of respondents believe that current political leaders are responsible for our state of affairs, rather than inherent economic trends. In the words of Fred Yang, one of the survey's conductors, "The public seems to have moved beyond the plaintive cry of 'feel our pain' to the angrier pronouncement of 'you are causing our pain.'" People aren't buying Obama's continuing excuses six years into office, more than enough time to test the validity of his agenda.
That provides cause for optimism, because Americans realize that a change of leadership and a new direction can reverse our recent years of decline.
And on that note, for all of the current talk of dissatisfaction with the Republican Congress, the survey shows that the GOP actually enjoys an edge among respondents when asked which party they prefer to control Congress. They appear to be drawn toward what we know works: smaller government, less regulation, lower taxes and respect for constitutional principles. Perhaps they prefer leaders who seek to return federal policy toward that proven path, rather than candidates who seek to "fundamentally transform America."
As this week's milestones demonstrate, we're well familiar with the disastrous consequences of that alternative.