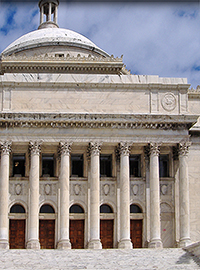 All of these incidents raise the inevitable question: What else is going on in Puerto Rico?
By now, many Americans are familiar with the public debt fiasco that plagues Puerto Rico. The issue has steadily risen in prominence as the gravity of Puerto Rico's debt load sets in on the American public. Certainly, the island's economic mismanagement has taken center stage in Washington, as Puerto Rico Governor Alejandro Garcia Padilla has been called to testify numerous times before Congress.

What probably remains unfamiliar to many Americans, however, is the other specter that haunts Puerto Rico's government: its seemingly unshakable culture of corruption.

Though well-covered on the island, the Garcia Padilla administration's questionable ties to political fundraiser Anaudi Hernandez hasn't truly broken into the mainstream media landscape.

Hernandez, along with nine other Puerto Rican businessmen and officials, was arrested in December 2015 as part of an ongoing FBI corruption investigation into Padilla's government. At the time of their arrests, FBI special agent for San Juan, Carlos Cases, issued a scathing indictment of Puerto Rico's government and the role corruption played in driving it to the brink of default, stating, "Unfortunately, this is one more case of graft, greed, and corruption that over the last 20 years have contributed to the government of Puerto Rico's fragile economic condition and [placed it] on the brink of bankruptcy… Let there be no doubt this is only the beginning and the investigation will continue."

The ongoing investigation undoubtedly played a prominent role in both the governor's decision not to seek reelection and the dimming of his reputation in Washington, D.C. It also necessitates additional scrutiny of the recurring cast of supposedly independent actors who keep popping up in Washington to advocate for the governor's campaign to attain so-called "Super Chapter 9" bankruptcy authority for Puerto Rico.

Recently, the National Legal and Policy Center (NLPC) made public a letter to Senator Chuck Grassley which casts serious doubt over the claims of independence made by "Super Chapter 9" advocate Richard Ravitch.

Ravitch is a former Lieutenant Governor of New York, and held various public finance positions in New York City during the 1970s, when it was bankrupt and considering implementation of a financial control board. More recently, he has popped up in Washington to advocate for complete restructuring of municipal debts - first in Detroit, and now on behalf of Puerto Rico.

In recent testimony before Chairman Grassley's Judiciary Committee, Ravitch claimed that he represents "no one" with an interest in the outcome of the Puerto Rico debt saga. He testified, "I represent no one in this matter. I'm not compensated for the time I have spent in the past year examining the fiscal situation in Puerto Rico."

NLPC's letter, however, unearths serious potential conflicts of interest, including an interview Ravitch gave in July 2015 with Vice that established his credentials as a consultant for Garcia Padilla's Administration and other Puerto Rican entities.

NLPC's letter also discusses his ties to Build America Mutual Assurance Company (BAM), where he serves on the board. BAM, which was formed post-financial crisis, provides municipal bond insurance and competes with traditional monoline insurers, which stand to lose big if Puerto Rico is granted "Super Chapter 9." BAM, on the other hand, is not even permitted to purchase Puerto Rican debt due to its standing with the New York State Department of Operations. A case can therefore be made that BAM would benefit hugely from the collapse of its largest competitors.

Ravitch is, of course, just one witness whose decision not to disclose his potential conflicts of interest may have been solely his own, except more news has surfaced that calls into question Garcia Padilla's links to corruption on the island.

Specifically, a recent report in the Washington Free Beacon set off a firestorm of media and political commentary on the island when it highlighted the relationship between a well-connected and mysterious non-profit organization and its only employee, the governor's brother, Tony Garcia Padilla.

All of these incidents raise the inevitable question: What else is going on in Puerto Rico?

Congress may have tacitly acknowledged its wariness of Puerto Rico's culture of corruption in legislative proposals that include a federally appointed oversight mechanism to patrol the island's finances, demonstrating its lack of faith in the Commonwealth's government ability to do so on its own. But legislators also must ensure that any solution they adopt for Puerto Rico's debt crisis works to actively clean up corruption on the island. Otherwise, the Puerto Rican people are doomed to relive this nightmare under future administrations similarly free from accountability.