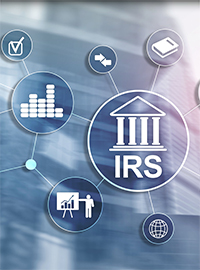 The details of Biden's IRS empowerment plan are as disturbing as its divisive sales pitch.
In what should still be a presidential honeymoon period, the Biden Administration finds itself rapidly collapsing and unable to execute even rudimentary tasks.
In such deteriorating circumstances, one would expect it to correct course and revive its plummeting credibility by steering in good faith toward unity, the political center and policies on which Americans can agree.
Instead, the Biden Administration doubles down. It steps on the gas. It adds more cowbell. Pick your damning metaphor.
Perhaps most curiously of all, it even pursues that chosen course via what's probably the federal government's least popular entity: the Internal Revenue Service (IRS).
For good measure, the Biden course outrageously fans the flames of racial divisiveness.
At issue is a Biden proposal to boost IRS funding by $80 billion and add almost 90,000 new agents to serve as its enforcers. Here's how the Biden Administration introduces the proposal, in its own words:
"Providing increased funding for the IRS to conduct audits is a necessary step toward a more equitable tax system. Rich white Americans should pay their fair share of taxes."
Lovely. This from the man whose presidential campaign and inaugural speech rested on a false promise of restoring "unity."
The details of Biden's IRS empowerment plan are as disturbing as its divisive sales pitch.
Stated simply, the proposal would empower the IRS to collect account inflow and outflow data on bank, loan, investment, Venmo, CashApp and PayPal accounts exceeding just $600 in gross inflows and outflows. In other words, nearly every financial account in the nation would be subject to the new IRS snooping plan, as tax attorney Guinevere Moore explains in Forbes:
Simply put, the American Families Plan calls for banks and other financial institutions to report more than just a taxpayer's interest earned, capital gains and losses. Banks and other financial institutions would also be required to report "aggregate account outflows and inflows." In other words, the IRS will know about all of your bank accounts, whether you earned income on that account or not, how much is in the account in a given year, and how much was transferred in and out of the account. It is unclear how this would work, but what is clear is that this new reporting obligation will create a massive compliance effort on the part of financial institutions, and eliminate a massive blindspot that the IRS is currently enduring.
Keep in mind that the IRS couldn't even be trusted to fairly investigate transactions exceeding $10,000, let alone the new $600 threshold. According to a 2017 Treasury Inspector General for Tax Administration (TIGTA) report, the IRS repeatedly violated taxpayers' due process rights while investigating alleged violations of the Bank Secrecy Act in excess of $10,000. The TIGTA investigation revealed that over 90% of the IRS investigations proved meritless, with merely 8% of subject taxpayers found to have violated applicable laws.
Also keep in mind that this is the same IRS that allowed far-left activist website ProPublica to obtain illegally leaked tax returns on thousands of Americans spanning a period exceeding 15 years, which in turn means that unknowable numbers of political extremists and criminals now possess that sensitive data. It's the same IRS that notoriously targeted conservative, libertarian and pro-Israel nonprofit organizations in the Lois Lerner era. It's the same IRS that in 2015 allowed one of its applications to be breached by hackers, resulting in the theft of personal data for 100,000 taxpayers. And it's the same IRS that in 2008 leaked sensitive private taxpayer information to the public.
Naturally, the Biden Administration attempts to play the divisive class warfare card in rationalizing its proposal, claiming that they're just trying to target "the rich" who don't pay their "fair share." But as summarized cogently by Maine state Representative John Andrews, who has introduced a resolution condemning the Biden plan, the reality is unsurprisingly quite different. "President Joe Biden," he notes, "wants the IRS to have automatic access to information about every American's bank account, as well as every PayPal, Venmo and CashApp account, even without any accusations of wrongdoing… It's an expansion of the surveillance state, and it is time to push back."
The IRS has proven inept at executing its existing duties, to the detriment of everyday Americans. The last thing America needs is a new Biden boondoggle amplifying its power and opening the floodgates to even more future abuse.