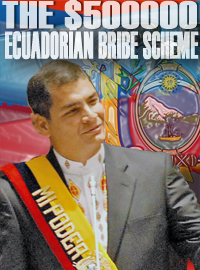 This all comes as part of a larger, growing body of evidence, recognized internationally, that the Ecuadoran judicial system is almost hopelessly corrupt.
Enough is enough is enough. It's long past time for the Obama administration, just once, to actually stand up for the interests of a U.S. corporation against the ravages of foreign, left-wing shakedowns.
A Fortune Mag/CNN Money article out this week reports the latest, overwhelming evidence of horrendous skullduggery in a long-running environmental case, supported by the highly corruptible Ecuadoran government, against the U.S.-based Chevron oil company. In a Manhattan federal district court, reports Fortune's Roger Parloff, "Chevron filed the declaration of a former Ecuadorian judge, Alberto Guerra, who describes how he and a second former judge, Nicolás Zambrano, allegedly allowed the plaintiffs lawyers to ghostwrite their entire 188-page, $18.2 billion judgment against Chevron in exchange for a promise of $500,000 from the anticipated recovery."
This comes on top of an earlier finding by U.S. District Judge Lewis Kaplan that yet another fraudulent ghost-writing scheme in the same case "unquestionably occurred." These two bribery/case-rigging scandals come on top of a host of other indices that the entire case against Chevron is probably bogus.
Before detailing the evidence, let's review. Texaco shared an oil lease with Ecuador's state-run company, Petroecuador, until 1992, after which Petroecuador took over the lease. In 1998, the Ecuadoran government officially declared that Texaco had completed all environmental mitigation at their old sites, without harm. But as American plaintiffs lawyers (with deep Democratic ties) nonetheless pushed a lawsuit against Texaco (which was later bought by Chevron), claiming major eco-damage and health problems among Ecuadoran villagers, an extremely leftist, anti-American government took power in that country and effectively renounced the earlier finding that the sites were all clean.
What followed was a series of court developments that repeatedly expanded the extent of the supposed "damages," until the outlandish $18.2 billion judgment referenced above. (This, mind you, was for sites from which Texaco earned a total profit – it asserts – of less than half a billion dollars.) Along the way, lefty Ecuadoran president Rafael Correa publicly weighed in to pressure the courts on behalf of the plaintiffs, and his sister was mentioned on hidden camera as a go-between for a bribery scheme involving one of the other judges in a series of judges rotated in and out of the case as circumstances (and corruption allegations) dictated.
At least three Ecuadoran judges in the case have now been implicated in payment-for-judgment schemes. At least two former witnesses for the plaintiffs have testified that supposed evidence submitted by the plaintiffs was fraudulent. And outtakes from a documentary on the case show that plaintiffs lawyers had significant ex parte contacts with one of the judges that a U.S. magistrate described as "inappropriate, unethical, and perhaps illegal" to such an extent that they "support, in large part, [Chevron's] contentions of corruption in the judicial process."
At least six U.S. courts have used the word "fraud" to describe various aspects of the case against Chevron.
This all comes as part of a larger, growing body of evidence, recognized internationally, that the Ecuadoran judicial system is almost hopelessly corrupt. (As the Washington Times editorialized three years ago while I worked there, "[O]n Feb. 2 [2010], a German newspaper featured a lengthy report headlined 'Ecuador emerges as hub for international crime.' This follows actions in recent years in which the U.S. State Department, the United Nations, the International Bar Association and six major American business organizations all have denounced Ecuador's court system as unreliable or corrupt.")
Even the plaintiffs' own funders have turned against the suit, with the Burford Group in England accusing them last fall of a "multi-month scheme" that "amounts to fraud."
As I have argued numerous times previously, the United States now has every reason to stop providing trade preferences to Ecuador. But even that diplomatic stick should not be seen as adequate. If the Obama administration had the best interests of U.S. business in mind – and, more important, the interests of its 200,000-plus shareholders (representing investments of millions of pensioners) – it would directly intervene with other countries, and at the Hague, and with other direct pressure on Ecuador itself, to ensure either that no other country actually tries to enforce Ecuador's ill-ordered damages against Chevron or that Ecuador itself withdraws the judgment.
Barack Obama is known for his soft spot for left-leaning regimes abroad. But that should be no excuse for failing to take hard-fisted action against such a regime if it is obviously abusing American investors and thus American interests. A gusher of evidence shows that is what Ecuador is doing. Against such judicial corruption, a decent U.S. administration would insist on mitigating the damage.