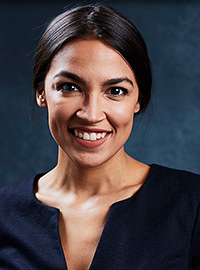 [W]hen the time came to put her BU economics education to work, Ocasio-Cortez flunked.
It costs a pretty penny to earn a diploma in stupid.
The annual list price to attend Boston University — including tuition, fees, room and board — currently rounds out to $70,000. To acquire a degree in economics from this tony institution of higher learning, an undergrad must complete courses in calculus, microeconomic and macroeconomic analysis, empirical economics, statistics and assorted electives.
Four years, 52 credits and nearly $300,000 later, the school promises that BU economics majors will depart "with a firm understanding of core microeconomic and macroeconomic theory" and the "empirical skills that are essential to applying economic reasoning in our increasingly data-driven world."
How, then, to explain the abject economic illiteracy of meteoric media darling and democratic socialist "political rock star" Alexandria Ocasio-Cortez? The 28-year-old BU alumna graduated with an economics and international relations degree in 2011. She calls herself a "nerd" and bragged about her academic credentials, tweeting earlier this month:
"How many other House Democrats have a degree in Economics like I do? Trying to find who out here is going to be in the Gini Coefficient Appreciation Squad."
The upstart New York congressional candidate has been hailed by pundits, newspapers and pols as "sharp," "smart" and "extraordinary." BU's Associate Provost and Dean of Students Kenneth Elmore gushed that Ocasio-Cortez is "brilliant — she is boldly curious and always present. She makes me think and could always see multiple sides of any issue. ... I can't wait to see what happens when her time truly comes."
But when the time came to put her BU economics education to work, Ocasio-Cortez flunked. On PBS last week, she asserted that "unemployment is low because everyone has two jobs." Moreover, the erudite B.A. holder in economics posited, "unemployment is low because people are working 60, 70, 80 hours a week and can barely feed their kids."
Egad. This nonsense needs more unpacking than a cross-country Mayflower moving truck.
The unemployment rate, which stands at a historically low 4 percent, is calculated by extrapolating and dividing the number of people out of work by the total number of individuals in the American work force.
If you have one job, two jobs, three jobs or more, you don't count as unemployed. Whether you are working 40 hours or 80 hours or 120 hours a week, if you're working, that has no effect on the unemployment rate, either. The number of workers moonlighting and the number of hours they moonlight have zero, zip and nada effect on the unemployment rate.
Ocasio-Cortez's claim that "everyone has two jobs" is more fake-o-nomics. The Bureau of Labor Statistics reports that the number of Americans holding down multiple jobs is less than 5 percent and has been declining for nearly 30 years. Pew Research adds that both "in terms of raw numbers and as a share of all employed people, fewer Americans are working more than one job than in the mid-1990s."
As for starving children, government statistics show that hunger has dropped to its lowest levels in a decade as unemployment and food inflation have declined. Federal food stamp usage has also plunged to historic lows.
Instead of hitting the books, Ocasio-Cortez appears to have spent most of her college days pounding the social justice pavement. The Boston Globe reports approvingly that she "was active at BU in organizations that empower minorities," including a stint as president of Alianza Latina, BU's largest Latin American student organization, and as a student ambassador at the Howard Thurman Center for Common Ground, "which aims to foster inclusiveness among students of all backgrounds."
Ms. Diversity-ConArtista may be able to blow hot air about Gini coefficients while tweeting anti-capitalist platitudes. But the numbers don't lie. She's everything that's wrong with overpriced liberal ivory towers, radical identity politics and left-wing media ideologues pining for their next savior.
---
Michelle Malkin is host of "Michelle Malkin Investigates" on CRTV.com.
COPYRIGHT 2018 CREATORS.COM