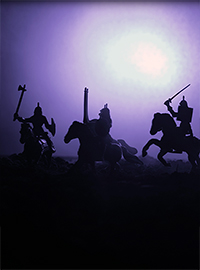 Google's longstanding negative influence in American politics is obvious, but a disturbing number of other large companies have joined its crusade to interrupt consumers' ability to purchase perfectly legal goods.
"You may not be interested in war, but war is interested in you."
Although ironically spoken by communist Soviet Union founding father Leon Trotsky, that observation is one that contemporary conservatives and libertarians in America would be wise to heed.
The simple reality is that from judicial appointments to pop culture, from schools to restaurants, from sports to internet searches, to nearly everything in contemporary life, the political left is waging an ideological war. So conservatives and libertarians may not be interested in the politicization of all things, but the left's politicization of all things is interested in them.
This week provided yet another tawdry textbook illustration, when a last-minute allegation of teen sexual misconduct against Judge Brett Kavanaugh — an allegation that Senator Dianne Feinstein (D - California) apparently felt happy to conceal for months — suddenly interrupted his confirmation process. Keep in mind that Judge Kavanaugh has been nominated to fill the same Supreme Court seat for which the late Judge Robert Bork was nominated in 1987, when the left commenced its infamous ruthless effort to stop his confirmation, for which conservatives and libertarians were wholly unprepared.
The previous week, the sports world endured yet another flare-up of the Colin Kaepernick saga, when the washed-up former quarterback who remains a hero to the left despite his habit of wearing socks depicting police as pigs and praising actual oppressor Fidel Castro, appeared in a Nike commercial. One can't even watch a football game or select shoes anymore without descending into the politicized swamps.
More ominously, that same expanding leftism has entered social realms of greater consequence to everyday Americans, including internet searches and banking.
Silicon Valley titan Google constitutes perhaps the most negative corporate force in American politics, from its constant efforts to undermine intellectual property (IP) protections (unless someone is allegedly infringing on Google's IP, of course, such as with Uber's self-driving automobile program) to pushing so-called "Net Neutrality" during the Obama Administration. That latter effort led to the first decline in private broadband investment outside of a recession.
More recently, Google has endured justifiably withering criticism for appointing itself gatekeeper of the internet, by filtering what American consumers can and cannot access on their supposedly "neutral" sites. As just some recent examples, it banned The New York Conservative blog, it lowered sites supporting Britain's "Brexit" and expressing skepticism toward the European Union in its search results, it blocked the Gab free speech social network from its Google Play Store, its YouTube censored mild-mannered conservative commentator Dennis Prager and his "Prager U" video primers and it even excluded Donald Trump from searches for "presidential candidates."
Back in July, Google also directly targeted the firearms industry by revising its Google Pay policy to prohibit apps that sell firearms and related accessories. Given Google's sheer market dominance, that ideologically driven new policy doesn't just artificially limit consumer choice, but also targets an entirely legal industry that manufactures or sells firearms and related products.
A month after Google's new policy took effect, GunBroker.com CEO and CTO Steve Urvan was informed that the company's app had been blocked from Google Pay because of an alleged "Violation of Dangerous Products" policy.
And now, video has surfaced showing Google's leadership expressing disgust in the wake of Donald Trump's electoral victory. Google founder Sergey Brin even proclaims, "I certainly find this election deeply offensive." Clearly, one of the world's most powerful companies now disfavors entire portions of the American population, along with entirely legal commerce and Second Amendment rights enshrined in the very text of the Constitution.
Google's longstanding negative influence in American politics is obvious, but a disturbing number of other large companies have joined its crusade to interrupt consumers' ability to purchase perfectly legal goods. This past April, for instance, Bank of America abruptly discontinued banking services to manufacturers of immensely popular and effective AR-15-style rifles.
Similarly, Citigroup imposed a nationwide policy precluding its commercial and institutional clients, small business clients and credit card partners from selling firearms of any type to citizens under 21 years old, even though the legal age remains 18. The company also now refuses to serve any business that manufactures magazines exceeding ten rounds, and is considering monitoring consumer gun purchases through its internal payment mechanisms.
Hello, Big Brother.
All of this illustrates how leftist politics have increasingly contaminated the private economy, where politicized and powerful businesses target First Amendment, Second Amendment and other rights of everyday Americans.
It hasn't worked out well for Dick's Sporting Goods, whose sales and market value fell after targeting Second Amendment rights earlier this year. And it hasn't worked out well for the National Football League, whose ratings continue to drop as fans lose interest and avoid the increasingly politicized spectacle.
But hey — perhaps the third time's the charm for Nike.
As private businesses, these market giants are free to pursue their leftist brand of politics. But they should at least acknowledge their efforts rather than attempting to conceal them.
And more importantly, American consumers should remain aware of what they're up to.