By Ashton Ellis
Thursday, December 09 2010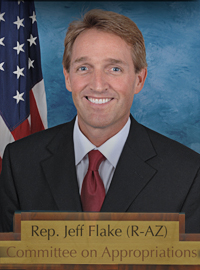 Since the day he arrived in Congress in 2001, Flake has made profligate federal spending – and earmarks in particular – his primary focus.
Finally, there is good news for fiscal conservatives about congressional spending. Though it seems certain that a major earmarker will head the Appropriations Committee next January, the appointment of Rep. Jeff Flake (R-AZ) to the spending body could signal that Republican leaders not only heard the voters' message for fiscal restraint; they're intent on repeating it even to tone-deaf members of their caucus.
When it comes to maintaining conservative orthodoxy on fiscal discipline, there are no greater heretics than the Republican members of the powerful House Appropriations Committee. Though many of the top contenders for the committee's chairmanship are some of the most egregious pork barrel spenders in the capitol, all swore they got religion after the Tea Party delivered a decisive electoral rebuke of runaway spending.
Fiscally conservative activists and watchdog groups are understandably displeased with the Republican Steering Committee's recommendation of Rep. Hal Rogers (R-KY) to head the Appropriations Committee. With $246.4 million in earmarks over the last three years alone, Rogers has no track record for spending restraint. But there is reason to think that he and other GOP appropriators will get plenty of help keeping their "no earmarks" pledge during the next session of Congress.
The reason is the addition of Rep. Jeff Flake (R-AZ) to the committee's membership. Since the day he arrived in Congress in 2001, Flake has made profligate federal spending – and earmarks in particular – his primary focus.
Along the way, he's angered many long-serving members with his repeated highlighting of the earmark boondoggle. He pushed for and won a House rule change that requires members' names to be attached to their earmark requests. He routinely votes against popular programs that add to the deficit. And at the end of every voting session on a spending bill he emcees "The Flake Hour," a sixty-minute open invitation for every member requesting an earmark to come to the House floor and explain on the record why American taxpayers should foot the bill.
Those acts have consequences. Flake was denied a seat on the Appropriations Committee in 2008 (and lost his seat on the Judiciary Committee) for criticizing colleagues who earmarked. In 2006, three of five mayors in his Arizona district opposed his reelection because he doesn't bring home the pork barrel bacon. Prior to the revival of spending discipline in the Republican Party this year, Flake was a consistent, and marginalized, fiscal conservative.
Now, he's in vogue.
Give credit to Speaker-designate John Boehner (R-OH) for Flake's unexpected appointment to the Appropriations Committee. Boehner could have chosen to let appropriators continue their standard deviation from the fiscal conservative mean, allowing incoming Budget Committee Chairman Paul Ryan (R-WI) to set spending caps on Appropriations bills through the reconciliation process. Instead, with Flake on Appropriations, it looks like Boehner could empower Ryan and give Flake free reign to hold Rogers and other career appropriators to account.
It all depends on how much Boehner wants to push the envelope on restricting spending. Flake and others are calling for Boehner to create an Appropriations subcommittee charged with investigating where and how money is spent. If Republicans are serious about cutting the size of government, Flake argues, the incoming House majority must lay the groundwork for those reductions with data showing explicit instances of waste, fraud and abuse. The only way to do that is to engage in the kind of spending oversight that previous generations of appropriators have been loath to conduct.
Jeff Flake is the right man to spearhead such an effort. For the sake of fiscal sanity, John Boehner should give him a subcommittee chairman's gavel, and tell him to get going.