By Quin Hillyer
Wednesday, November 30 2011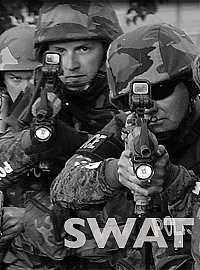 By defending even the likes of Ms. Arnwine, we make the point that some principles should be above politics.
Even the worst of political adversaries – the most misguided, misleading and even mendacious – should be free from dangerously abusive SWAT-team actions.
Barbara Arwine, executive director of the execrable Lawyer's Committee for Civil Rights Under Law, had her home searched by a gun-wielding SWAT team from Maryland's Prince George's County Police Department on November 21. Originally she claimed the raiders refused even to produce a search warrant and said "The Fourth Amendment doesn't apply here." Prince George's now says they did indeed have a warrant, and they may even have had reasonable cause to search her home. Either way, if the rest of the police behavior was anything even approaching that described by Arnwine, her case becomes yet another in a growing line of examples of police and prosecutorial misconduct that leaves every one of us at risk.
According to Arnwine's lawyer, the police detained Arnwine, her mother, other family members and even her 80-year-old grandmother for three hours under what amounted to house arrest: "[T]hey weren't handcuffed but they were held at gunpoint — guns, rifles in their faces. They were threatened one time after another and told, 'get back over there! Stay where you are! Get in this room or we'll kill you!'"
This is an outrage. It's as if PG County learned absolutely nothing from their horrifically deadly 2008 raid, an entirely mistaken one, on the home of Mayor Cheye Calvo of the town of Berwyn Heights, in which two pets were killed and an elderly woman was scared within an inch of her life. How many grandmothers need to be terrorized, not to mention how many family dogs need to be killed, before some of these Gestapo-like tactics are stopped and before some of their perpetrators themselves go to jail?
The problem is far from unique to PG County. Some similar raids are even conducted without the perpetrators even claiming that they had warrants. Not even five-year-olds are immune. Libertarian writer Radley Balko, a superb reporter, has built much of his career documenting such abusive cases. And the problem isn't just at the front ends of the criminal justice process, but with prosecutorial misconduct, including at the federal level. I've also written numerous times about how federal-agency armed bureaucrats, especially at the EPA, are particularly out of control.
This is a serious, serious issue, or rather a serious set of closely related issues. They are issues that merit a congressional investigation, and extensive efforts to correct the abuses. Just as with the horror stories about the Transportation Security Administration embarrassing or even sexually abusing grandmothers and forcing handicapped men to urinate on themselves, all forces with policing responsibilities, especially those with weapons, should have rules of common sense pounded (figuratively) into their heads. Some people clearly aren't physical threats. Some people don't need to be treated like terrorist suspects. Some people, even if they must be momentarily detained, should be handled with utmost politeness.
Again, rules against abuse should apply no matter how distasteful the victim. Conservatives should rush to Ms. Arnwine's defense despite, or even because, of her demagogic, vote-fraud-enabling record – a record of (falsely) claiming that a host of simple, reasonable ballot security measures amount to "voter suppression," denying against all evidence that vote fraud is a problem and even suggesting that currently incarcerated felons should be allowed to vote. By defending even the likes of Ms. Arnwine, we make the point that some principles should be above politics. Chief among these is the principle, the basic human right, that people should be safe in their homes and in their persons from searches not legally warranted and from the unmerited threat of deadly force.
This is the flip side, by the way, to principled opposition to absurdist extensions of Miranda-related "rights" which have the effect of throwing out otherwise valid convictions because of mere inadvertent and utterly harmless procedural errors by police. Conservatives, and all Americans, are right to fight back against niggling, judge-created rules that effectively keep dangerous criminals free on our streets because, for instance, police failed to filed the right paperwork with the right official or court officials honestly gave police outdated information.
Bad paperwork typically doesn't violate human rights, but brandished weapons threaten not just human rights but human life. Surely our society can make reasonable distinctions between the two. Of the two, conservatives would do well to acknowledge that abuses of the latter are the far greater sin, and rise up accordingly against them.