By Byron York
Wednesday, October 18 2023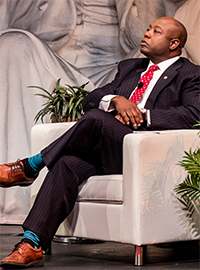 But the bottom line is that, at this moment, Trump's lead appears insurmountable, and some event – details TBA – will have to happen to change that.
An extraordinary document emerged from the 2024 Republican presidential race this week, and it isn't getting enough attention. It's a memo from the super PAC supporting Tim Scott, the GOP senator who was once seen as a promising contender but has recently slipped in polls both nationally and in early primary states. Scott is now in seventh place in the RealClearPolitics average of national polls. He is tied for fourth in Iowa, sixth in New Hampshire and fourth in his native South Carolina.
Written by Rob Collins, co-chief of Trust In the Mission PAC, or TIMPAC, the well-funded organization supporting Scott's campaign, the memo announced that the PAC was canceling millions of dollars in planned spending on TV ads this fall. "The Fall Republican primary is stuck," Collins writes. "Donald Trump leads a cluster of statistically tied contenders by a wide margin. Vote share of non-Trump candidates trades up and down, but no campaign has achieved break away velocity. The fundamentals of the race remain unchanged: President Donald Trump occupies a lane by himself."
The Scott campaign had planned to spend millions on ads this fall. But, so far, only Florida Gov. Ron DeSantis and then former South Carolina Gov. Nikki Haley, have emerged as challengers to Trump, and they have only "traded vote share," according to the memo. Trump remains far, far ahead. After extensive research, Collins and the Scott effort have decided that "the electorate is locked up and money spent on mass media isn't going to change minds until we get a lot closer to voting." Therefore, the memo continues, "we aren't going to waste our money when the electorate isn't focused or ready for a Trump alternative."
A move like TIMPAC's is often seen as the first tolling of the candidate death knell. In this case, it might be. So far, Scott has campaigned hard and has spent about $20 million on TV ads, both from his campaign and the super PAC. He is well-liked everywhere, but there is a difference between being well-liked and being a presidential contender. Since a well-received beginning, Scott has endured a long, slow decline. His worst moment came at the first Republican debate, on Aug. 23, when Scott was often passive, failing to step out and make the impression his backers hoped he would.
That has led to the place no candidate wants to be, when reporters start asking when he will quit. "Scott in the past week has dismissed questions about whether he intends to drop out soon," reports Politico. The new TIMPAC memo will only increase the questioning.
On the other hand, the Collins memo makes some trenchant observations about the state of the Republican campaign now, observations that reach far beyond Tim Scott. The main fact is this: Donald Trump has a huge lead, and all the other candidates can do is wait to see if something happens. What is "something"? It could be Trump's upcoming criminal trials, or it could be something else. But the bottom line is that, at this moment, Trump's lead appears insurmountable, and some event – details TBA – will have to happen to change that.
"Some will challenge our theory of the election, but we would ask these critics to produce any evidence that shows any candidate, at this time, at any spending level, breaking through," Scott writes. He points out that Win It Back, an anti-Trump super PAC created by the conservative Club for Growth, recently admitted that the $6 million it has spent on ads opposing Trump have made no progress.
"Every traditional postproduction ad attacking President Trump either backfired or produced no impact on his ballot support and favorability," super PAC head David McIntosh wrote. Now, the Scott Super PAC has experienced its own version of ad failure. So they are getting out of the television ad business until things improve – if things improve. "Once the voters truly engage and are ready for a new conservative direction – we will be ready to engage in broadcast media to help Tim earn our party's nomination," the TIMPAC memo says.
The TIMPAC memo makes it clear that Scott will stay in the race until that time comes. Maybe he will, and maybe he won't; it is easier said than done. But that is exactly what every other candidate is trying to do. It presupposes two things: One is that something will change, and two is that the candidate can last until it does. Neither is assured.
But that is the state of the Republican race now. And one last thing: Therein lies opportunity. Yes, it is possible, even likely, that Trump's lead will go on and on and he'll win the nomination and everybody else will lose. But there has never been a race with this level of uncertainty before. Next year promises to be highly eventful, and there is no guarantee Trump, facing trials and voters, will maintain his current level of support. And if he does not, the Republican candidate who is best prepared, who has put himself or herself in the best position, will take advantage of Trump's problems. We don't know who that might be, or if it will happen at all. But that's what Tim Scott and all the other GOP candidates not named Trump are doing right now.
---
Byron York is chief political correspondent for The Washington Examiner.
COPYRIGHT 2023 BYRON YORK