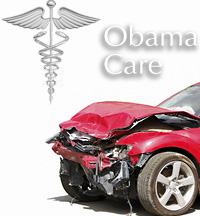 [President Obama's] recent habit of analogizing automobile insurance with health insurance may set a new low for someone so supposedly brilliant.
Since Barack Obama charged into the spotlight with his 2004 keynote speech at the Democratic National Convention, we have received constant instruction from our high cultural arbiters about Obama's supposed intellectual prowess.
Never mind that when speaking without his teleprompter, Obama typically appears ineloquent and befuddled when forced to think on his feet. Or that despite having taught Constitutional Law, he has confused rudimentary provisions of the Constitution itself.
To his apologists, Obama's elevated chin and inspirational cadence from behind his teleprompter are conclusive evidence of his brilliance. National Endowment for the Arts Chairman Rocco Landesman even lionized Obama as "the most powerful writer since Julius Caesar."
But if those sycophants are correct, why does Obama constantly say things that are so facially absurd? Examples are legion, from his misstatement that the world stood "unified" during the Cold War to his suggestion that our economic difficulties somehow derive from structural flaws within the healthcare, education and energy sectors that overactive government must now "fix."
But his recent habit of analogizing automobile insurance with health insurance may set a new low for someone so supposedly brilliant.
In an interview this week with ABC News's Jake Tapper, Obama declared that Americans should be forced under penalty of law to purchase health insurance under the House legislation, just as we're allegedly required to purchase auto insurance already:
"What I think is appropriate is that in the same way that everybody has to get auto insurance, and if you don't, you're subject to some penalty, that in this situation, if you have the ability to buy insurance, it's affordable and you choose not to, forcing you and me and everybody else to subsidize you, you know, there's a thousand-dollar hidden tax that families all across America are burdened by, because of the fact that people don't have health insurance, you know, there's nothing wrong with a penalty… Penalties are appropriate for people who try to free ride the system and force others to pay for their health insurance."
There are just a few problems with this theory, which should be obvious to anyone who has devoted serious thought to the matter.
First and foremost, it is not true that "everybody has to get auto insurance" in America. If you voluntarily choose not to own an automobile, you are not forced to purchase insurance. In contrast, ObamaCare would force every American to make a purchase that many freely choose not to make for a variety of reasons. This is so obvious as to render his declaration facially preposterous.
Second, it's not always true that we collectively "subsidize" people without auto insurance or health insurance. If an uninsured motorist inflicts damage to another driver, or an uninsured citizen falls ill, they can be held personally responsible to pay the costs that they've incurred. After all, widespread health insurance is actually a recent phenomenon in American history, as citizens traditionally paid healthcare debts just like any other form of debt. Most people possess assets and future income from which they can pay costs without shifting them to taxpayers at large. There are obviously instances in which indigent citizens are unable to pay auto accident or healthcare costs, but it's simply inaccurate for Obama to assume that such costs are always involuntarily dumped onto other American citizens.
Third, we aren't on the same slow-motion course toward a government monopoly of auto insurance that would commence under ObamaCare. The auto insurance market remains fairly healthy due to free and open competition, whereas Obama insists on a public "option" that would inevitably become a public "mandate" after taxpayer-subsidized government insurance and draconian regulations ultimately drive private health insurers out of business.
Fourth, what provision in the Constitution empowers Barack Obama, Nancy Pelosi and Harry Reid to commandeer the healthcare sector and command private citizens to purchase health insurance? What would the Founding Fathers have thought of the prospect that sanctimonious federal officials could compel purchases of specific goods or services? The Constitution empowers the federal government to regulate interstate commerce, but that's a far cry from dictating to every single American citizen that he or she buy something or face fines or imprisonment. Auto insurance is very different because it is governed by state law, not federal law. And as noted above, American citizens can abstain from purchasing auto insurance by foregoing their privilege of driving, but ObamaCare would not allow such freedom – every citizen would have to make that involuntary purchase.
When asked by a member of the press what provision of the Constitution justified this compulsory provision, Nancy Pelosi could only glibly reply, "Are you serious? Are you serious?" If an obvious answer existed, Pelosi would presumably be capable of providing a simple answer. But no – the Speaker of the House of Representatives couldn't even answer that fundamental question.
The auto insurance analogy is pure sophistry, and it's frightening that our nation's highest elected officials are fatuous enough to thrust it upon the American people.