By MICHAEL RAMIREZ
Tuesday, August 28 2012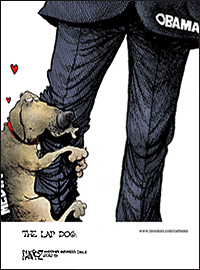 As White House reporter for ABC News Jake Tapper recently commented, 'The media is failing the country.' I agree.
The date was June 15, 1992. In an elementary school in Trenton, New Jersey, reading off a flash card that had been prepared by the teacher, the special guest counseled the child writing potato on the blackboard, "You're close, but you left a little something off. The 'e' on the end."
The media reacted swiftly and relentlessly.
The story was on all the front pages and was carried by all the major networks.
To the mainstream media, it was the moment that Dan Quayle confirmed "what a waste it is to lose one's mind."
It didn't matter that the flash card given to the vice president was prepared by a teacher and was itself misspelled. It was carried on every news wire, every news program and in every late night TV monologue.
Quayle's mind must have been on other things. It wasn't like he repeated the mistake in all 57 states, or more precisely in Beaverton, Ore., in May 2008; or while traveling on the "Intercontinental" railroad in Cincinnati on Sept. 23, 2011; or perhaps, while he was speaking to the "President" of Canada in Chicago on Aug. 7, 2007.
He might not have known how to say it in "Austrian" while in Strasbourg, France, on April 5, 2009; or perhaps he was thinking of "Polish Death Camps" at the White House on May 30, 2012; or thinking about when he met with world leaders in that splendid "Asian" city, Honolulu, on Nov. 16, 2011.
He might have been thinking of the brave Navy "corpse" man at the prayer breakfast in Washington, D.C., on Feb. 5, 2010, which may not sound so strange to someone who also said: "On this Memorial Day, as our nation honors its unbroken line of fallen heroes — and I see many of them in the audience here today..."
All these examples were unreported or under-reported gaffes of President Obama.
The mainstream media didn't seem to think these incidents were worthy of a media feeding frenzy, unlike those of poor Dan Quayle.
If Vice President Quayle had only been misspelling "Ohio" as "Oiho" with three college students instead of one elementary student, at an institution of higher learning like Ohio State University instead of an elementary school, the media would certainly have ignored it.
Or, perhaps, they would have been all over it, as the Washington Post was ... quick to defend President Obama, claiming the photo must have been "Photoshopped."
Unfortunately for the Post, the incident was captured by several different cameras from multiple angles. Oops. Apparently, misspellings are only important when they are done by someone with whom they philosophically disagree.
It was an unimportant issue that was wildly blown out of proportion by a biased media back in 1992 and now, completely ignored by a hypercritical and biased media in 2012.
And there's no better example of the double standards and inherent bias of the media today.
In a surprise March 6 press conference, the president again had an opportunity to repudiate the disgraceful Priorities USA ad blaming Mitt Romney for the death of Joe Soptic's wife.
He declined to do so.
It's an important story, one that reveals the character of both the Obama campaign and the president himself. And yet, the real story behind it remains virtually uncovered.
A quick refresher — an ad for Obama featured laid-off steel worker Joe Soptic, who blamed Romney for losing his job and his health insurance and, incredibly, for killing his wife after Bain Capital acquired the GST Steel plant in Kansas City, Kan., in 1993.
The story goes that because his wife was no longer covered by his health insurance, her cancer went undetected and she had no access to proper health care and subsequently died.
Accusing Mitt Of Murder
Unfortunately for Joe's story, Romney had left Bain two years before Joe lost his job. His wife had retained her own health insurance through her job. Six years later, she went into the hospital for pneumonia and they detected cancer. Tragically she died shortly after.
At that time, seven years after Romney left Bain and five years after Soptic had lost his job, Romney was governor of Massachusetts.
Initially, the White House denied any knowledge of the ad. Obama campaign spokeswoman Jen Psaki said, "We have nothing, no involvement, with any ads that are done by Priorities USA (the super-PAC that ran the ad). We don't have any knowledge of the story of the family."
Deputy campaign manager Stephanie Cutter continued that line, telling CNN, "I don't know the facts about when Mr. Soptic's wife got sick, or the facts about his health insurance."
These explanations were implausible because the Obama campaign had featured Joe Soptic and his story on a May 14, 2012, conference call set up by the Obama campaign.
This contemptible ad reflects the worst of politics. The fact the president does not have the character to publicly demand the ad be withdrawn and condemned reveals more about President Obama than it does about Mitt Romney.
But that's typical of an administration that routinely lies, distorts and fabricates to divert attention from its own abysmal record and that will do anything to get re-elected.
The real question is whether the Obama campaign and Priorities USA coordinated their message, which would be illegal.
The White House says no. Of course, they also claimed to have never heard of Joe's story.
But this story, like many others, can be found in the same place where the stories about William Ayers, Jeremiah Wright, the real cost of the GM bailout, Sec. 407 of the Welfare Reform act, the source of national intelligence leaks and the truth about Operation Fast and Furious reside.
And that, as far as the media are concerned, is nowhere.
Massive Media Failure
As White House reporter for ABC News Jake Tapper recently commented, "The media is failing the country."
I agree.
A July 16 Rasmussen poll revealed "59% of likely U.S. voters believe Obama has received the best treatment from the media so far" and "51% expect most reporters to help Obama." Only 9% expect the media to help Romney.
The media should, at bare minimum, be expected to reveal the truth. But it won't even do that.
Still the media focus nonstop on unsubstantiated reports about Mitt Romney's tax returns — not on anything substantial.
MSNBC analyst Mark Halperin, when asked about Mitt Romney's tax returns on the Today Show, said, "The press still likes this story a lot."
He added, "The media are very susceptible to doing what the Obama campaign wants, which is to focus on this."
The fact the media are susceptible to do what any campaign wants is disturbing enough.
But the way the media focus relentlessly on gaffes and ignores substantive issues when covering one side, while ignoring gaffes and issues critical of the other side, does serious damage to the integrity of news reporting.
In a letter to Dr. James Currie in 1786, Thomas Jefferson wrote, "Our liberty depends on the freedom of the press, and that cannot be limited without being lost."
But what of a press that limits itself to only covering news that favors its own political ideology?
Where is the real news?
Since the recovery began in June 2009, real median household income has fallen 4.8%, according to a new report from Sentier Research. This report is especially damning because incomes only dropped 2.6% during the recession.
Shouldn't this be front page news?
The deficit is closing in on $16 trillion. That's $1 trillion more than our entire GDP in 2011. The U.S. is on its way to becoming Spain. The president's solution? Raise taxes on the upper 2%. But that takes in only about $45 billion. The CBO reports our deficit in 2012 is $1.1 trillion.
Where are the media truth tellers on this?
ABC's Tapper criticized the media for not covering the economy more.
"A lot of people are hurting out there," he said. "Unemployment is 8.3%. That doesn't even take into account the underemployed."
In recent polls, the most important issue to Americans continues to be the economy and jobs. What's not being reported is that there are fewer people employed today than at the end of the last recession — the longest spell without net jobs growth since at least World War II.
According to the Bureau of Labor Statistics, at the end of the recession 59.4% of Americans had jobs. That's just 58.4% today.
As Joe Biden said in Athens, Ohio, on October 15, 2008, "The No. 1 job facing the middle class, and it happens to be, as Barack says, 'a three-letter word': jobs. J-O-B-S."
No one is more of an expert on gaffes than Joe Biden. But don't tell that to a biased media.
The media's No. 1 job should be to cover the substantive issues of this campaign without regard to party affiliation or philosophical bias.
That it's now acceptable for many in the media to flaunt their bias should be, to use Joe Biden's words, "a big f-ing deal." Sadly, it isn't.
---
Michael Ramirez is IBD's editorial cartoonist and senior editor.