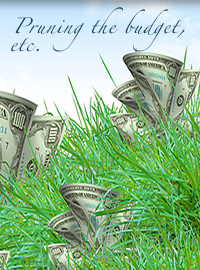 Ours is a society overburdened, entangled and hobbled by needless legal strictures.
We are, says legal reformist leader and noted author Philip K. Howard, "one nation, under too many laws."
He's right.
Closely related to the problem of over-criminalization, which is the creation of criminal penalties even for completely unwitting violations of niggling laws, is the problem of having so many niggling laws still on the books long after their usefulness is over. A February 7 conference co-hosted by Common Good and the Bipartisan Policy Center provided ample insight into why "obsolete laws" are so harmful, and what to do about them.
"Decade after decade," wrote Howard in a December 12, 2010 Washington Post column, "[laws] pile up like sediment in a harbor, bogging the country down – in dense regulations, unaffordable health care, and higher taxes and public debt."
The first speaker at this week's forum, U.S. Senator Mark Warner, D-Va., suggested several models to "clear out the regulatory underbrush." The British, he said, now have a system for regulations dubbed "one in, one out," meaning that no new regulation can be approved without an old one eliminated. Warner said by that method or by other reforms aimed at the same ends, one key strategy should involve "changing the incentives in the regulators' minds." Bureaucratic rule-writers should be given reason to concentrate on clarity, concision and common sense.
Warner also suggested an automatic review of any new regulation after, say, three years, to see if it is working as intended. Howard, for his part, suggested that a major, ten-year-long, "de-codification" effort should be launched. Ryan McConaghy of Third Way said Congress should adopt biennial budgeting so as to shift more attention (in the non-budgeting years) to the important task of oversight of federal agencies. University of Baltimore Law Professor James Maxeiner noted that Germany's Angela Merkel has shown success with a "regulatory control council."
And, returning to Congress' responsibility in the matter, U.S. Representative Jim Cooper, D-Tenn., said the institution's schedules and practices are completely counterproductive. Rather than not spending enough time on the actual substance of legislating (as demagogues so often claim), he said, Congress spends too little, instead finding any excuse under the sun to rush home and stroke their constituents in hopes of re-election. Cooper said he was in D.C. only 90 days last year – meaning that he and his colleagues have almost no time to pay attention to policy details or provide adequate oversight, instead leaving overly broad leeway for administrative rule-making. When legislators don't know their subject matter, don't have feel for details, and conduct no oversight, regulations proliferate and never are pruned.
A number of speakers said one problem with current regulatory practices involves not "how many" but just plain "how." Richard P. Buery of The Children's Aid Society was the first to bring this up.
"We're regulating the wrong things," he said. "We're regulating inputs rather than outputs, regulating methods rather than results."
Pages and pages might be written, for example, on where and how first aid supplies should be stored in a day-care center, with penalties for non-compliance – but no incentives are actually given for establishing a good record of child safety. Also, regulations attached to grants create "perverse incentives": Funds are awarded or distributed on an annual basis, in a use-it or lose-it fashion, so innovation, excellence and fiscal responsibility are all stifled in favor of spending every last dime on short-term projects that may or may not be fully effective.
Buery and William Galston of the Brookings Institution agreed with a long-standing assertion of Philip Howard, namely that far too little discretion is provided to those being regulated. Rather than just insist that the results meet certain standards, regulators require that the regulated entities jump through endless hoops, fill out endless forms in triplicate, and generally act like mindless automatons. Regulators, said Howard, seem to have a "pathological cultural distrust" of giving any leeway for originality or independent decision-making. Process seems to matter more than goals do.
Other speakers offered plenty of additional trenchant analysis and good ideas, with Julie Barnes of the Bipartisan Policy Center and Maya MacGuineas of the Committee for a Responsible Federal Budget especially good on health care and on entitlements. For whatever reason, most of the conference featured speakers from the center-left of the political spectrum (conservative U.S. Representative Kevin Brady, R-Tex., was scheduled, but had to cancel), but almost all the ideas therein were ones that conservatives could readily embrace.
The common theme throughout, though, bears emphasis: Ours is a society overburdened, entangled and hobbled by needless legal strictures. Systemic procedural reform is needed to counteract systemic procedural over-regulation. Howard, for his part, also advocates one clean stroke: Give every single law an expiration date. And enforce it.
That's common sense. And common sense, unlike most regulations, has no expiration date.