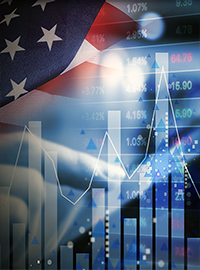 Americans mustn't allow such pro-regulatory activists to succeed in their vanity projects at our collective expense.
Just six months into the Biden presidency, alarms are flashing.
With public pessimism suddenly rising and the Biden Administration floundering both domestically and abroad, the last thing we need now is market uncertainty added to the litany of anxieties.
Unfortunately, that's precisely what an array of misguided voices seek to foist upon American financial markets, which provided one of the few havens of resiliency and prosperity during the Covid pandemic.
From far-left Senator Elizabeth Warren (D – Massachusetts) to a supposedly "pro-market" group called American Compass, they seek to impose their pet "fixes" upon a market that isn't broken, jeopardizing our economy in the process.
Americans mustn't allow such pro-regulatory activists to succeed in their vanity projects at our collective expense.
To gain a sobering sense of our increasingly precarious state of affairs, look no further than a new ABC News/Ipsos survey. As recently as May, just one-third of Americans expressed pessimism regarding the direction of the country, while two-thirds expressed optimism. In just two months, that optimism has evaporated:
As President Joe Biden completed 100 days in office, the country was optimistic about the coming year, but now, just after hitting the six-month mark, Americans' optimism about the direction of the country has plummeted nearly 20 points, a new ABC News/Ipsos poll finds. A majority - 55% - of the public say they are pessimistic about the direction of the country, a marked change from the roughly one-third (36%) that said the same in an ABC News/Ipsos poll published May 2. In the early May survey, Americans were more optimistic than pessimistic by a 28-percentage point margin. Optimism is now underwater by 10 points. Looking ahead to the next 12 months, fewer than half – 45% - now report feeling optimistic about the way things are going, a significant drop from about two-thirds (64%) in the May poll. The decline in optimism has occurred across the board among Democrats, Republicans and independents.
Separately, a new Gallup survey shows that Biden's approval rating has also sharply plummeted to its lowest point yet.
The reasons are readily obvious. Although Biden deceptively campaigned as a "uniter," as president he has governed from the extreme left and taken marching orders form the likes of Elizabeth Warren.
No better illustration exists than Senator Warren's monomaniacal assault upon one of the few remaining wellsprings of American optimism and prosperity – our financial markets.
Following an initial decline at the outset of the Covid pandemic, American markets quickly rebounded to record highs. As a natural byproduct, pension funds, retirement accounts and everyday Americans (the majority of whom own stock in one form or another) continue to prosper along with it.
In fact, just this week a front-page Wall Street Journal report announced that foreign investors poured a record amount into U.S. markets in the first half of this year, more than they've invested elsewhere around the world combined.
People like Senator Warren, however, would sacrifice that in favor of potentially catastrophic regulations according to their idiosyncratic whim. Warren's proposed "Stop Wall Street Looting Act" would impose significant new taxes, new legal liabilities that only trial lawyers could love, leverage caps and new rules that would upend the existing U.S. bankruptcy law system. Notably, her bill would also tax private equity profits at ordinary income rates instead of as capital gains, which would severely limit incentives for the risk-taking that leads to prosperity.
According to a thorough U.S. Chamber of Commerce study, Warren's bill would result in: (1) a loss of between 6.2 million and 26.3 million jobs across the U.S.; (2) federal, state and local tax revenue losses each year of between $109 billion and $475 billion; (3) between $329 million and $1.65 billion in annual retiree public pension fund losses, since they would be forced to shift some or all of their investments to lower-yield investments; (4) broader investment losses between $671 million and $3.36 billion; (5) many in the private equity sector simply going out of business due to the legislation's imposition of increased risk, taxes and restrictions; and (6) many businesses ceasing to exist that would otherwise survive through private equity financing and restructuring.
Proposals like this from Senator Warren are bad enough, and predictable. When ostensibly "pro-market" voices like former Mitt Romney advisor and current American Compass executive director Oren Cass pile on with claims that her bill "ultimately does not go nearly far enough," however, the peril to U.S. markets becomes even more alarming.
Mr. Cass deceptively labels his scheme "a pro-market agenda for reform," but his own rhetoric betrays his artifice. Explicitly maligning what he labels "the right's blind faith in markets," Mr. Cass endorses significant portions of Senator Warren's proposals, and even seeks to go further. "It's hardly news that people are in the market to make money rather than to serve a useful social and economic purpose," Mr. Cass pompously lectures from his self-created higher moral plane.
Mr. Cass's efforts aren't "pro-market," they parallel to those of activists like Senator Warren, albeit behind a different façade.
Collectively, these efforts constitute a misguided frontal assault against private equity, which provides an invaluable service to free markets by making long-term investments in underperforming companies – predominantly small businesses – that can become more profitable by correcting inefficiencies. If people like Mr. Cass or Senator Warren have their way, those sorts of companies would instead wither away, and along with them millions of jobs.
This moment of increasing uncertainty is the worst possible time to introduce proposals such as these, which would undermine U.S. markets at a time when they provide one of the few sources of certainty and prosperity. We cannot afford to let that happen, whether from overtly anti-market voices like Senator Warren or ostensibly "pro-market" voices like Mr. Cass.