By Ashton Ellis
Wednesday, January 11 2012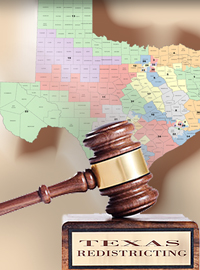 The key problem was that the judges found no violation of law in the legislature's map!
Question: When is a lawsuit also a campaign tool?
Answer: Whenever losing enrages a voting bloc and winning rewards them at the ballot box.
On Monday, the Obama Administration participated in oral arguments before the Supreme Court in Perry v. Perez, a lawsuit over a Texas redistricting map that has been litigated and appealed but never held to be illegal in any way.
When the 2010 Census revealed that Texas had gained enough new population to justify four new seats in the U.S. House of Representatives, the state legislature, controlled by the GOP, drew a map that made all four additions likely to vote Republican. Before the map could go into effect, Texas had to submit its plan either to the U.S. Department of Justice or to a panel of three federal judges in Washington, D.C., to get it pre-cleared to comply with the Voting Rights Act of 1965.
Texas opted for the trial before the three-judge panel, no doubt because the state was probably skeptical it could get a fair hearing from Eric Holder's biased Justice Department. Holder's tenure justifies the move.
Since being sworn in as the nation's top law enforcement officer, Holder has repeatedly undermined state sovereignty and the rule of law. He refused to enforce federal laws policing illegal immigration, prompting Arizona to do it for him. Instead of thanks, Holder's response was to sue Arizona for doing his job. The Supreme Court has accepted the case for a hearing, and looks poised to schedule it sometime in April.
The Court will also be considering a fast-track appeal from Holder's decision to deny South Carolina's new Voter ID law. The Justice Department's reasoning rests on a specious claim that requiring a person to produce a photo ID before voting disproportionately affects minorities. Yet the evidence DOJ cites is a disparity of 1.6 percent between whites and blacks, meaning that 1.6 percent of blacks are more likely than whites not to have a photo ID. South Carolina is trying to prevent voter fraud, and offers free government ID's to any citizen who can't afford one. But Holder and Obama don't value clarity; they like results. And the easiest way to get the results they like is to remove barriers for unregistered voters to decide an election.
In the Arizona case, Holder and Obama are using the state's law as a wedge between rule-of-law conservatives and America's growing Latino population. With South Carolina's Voter ID law and similar measures in other states, the administration is casting a policy to ensure electoral integrity as a modern day equivalent to Jim Crow-style disenfranchisement.
No wonder Texas opted to bypass Holder and take its chances with a three-judge panel.
But radical Latino rights groups didn't want to wait for the preclearance process to unfold, so they sued in a San Antonio federal court where two of three judges threw out the legislature's map and created a new one, mandating Texas use the judge-made map in the 2012 election. The key problem was that the judges found no violation of law in the legislature's map! Nevertheless, they did award all four new seats to the Democrats. Glad to see the judges got politics out of redistricting.
With Texas fighting on two fronts – in D.C. to prove the legislature's map isn't discriminatory, and in San Antonio to prove the judges don't have authority to rewrite the law – Eric Holder's Justice Department parachuted in to take the side of the challengers. The reason is simple: All four judge-created districts are stacked with a majority of minority communities. Holder wants to show minority voters, especially Latinos, that the Obama Administration supports judicial activism and race-based districts.
If Holder loses, Obama can argue he needs another term to nominate more race-conscious Supreme Court justices. But if the liberal rewrite of Texas' congressional district prevails, Democrats just netted four new seats in the House of Representatives out of thin air.
Not a slight trick to pull for two radical lawyers pretending to be ethical statesmen.