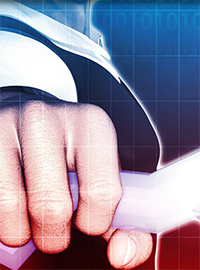 More specifically, the current CRA would enact divisive, stifling rules that go far beyond net neutrality and instead put the Federal Communications Commission in charge of prices, deployment, service options and more.
Amid a toxic political climate fraught with controversy and warring factions, centrist Republicans in Congress facing election across the country increasingly worry about being defined by positions they must take on today's most divisive issues. That's particularly true where swing voters in their districts believe that Congress is accomplishing little of substance.

To overcome those perceived headwinds, such centrist Republicans should act now on popular, common-sense measures to assure skeptical voters that they can actually accomplish meaningful reform in sectors vital to the public interest.

A perfect place to start would be "net neutrality" — the policy idea that the internet must remain free and open, and that no internet provider company should block websites, censor viewpoints or strangle competitors by gratuitously slowing down or manipulating their data.

Voters and political leaders of good faith and across party lines, not to mention actual stakeholders, agree that America needs strong, permanent and comprehensive "net neutrality" protections and a compromise should be easily in reach. To date, unfortunately, the issue has remained marooned in a divided Congress. But a common-sense center recognizes that failure to secure necessary legislation to settle this issue poses immense risk for an internet sector vital to sustained economic growth. Accordingly, joining that common-sense coalition to enact permanent and effective net neutrality rules would allow moderate Republicans to demonstrate their effectiveness and independence.

Right now the only significant effort to enact net neutrality protections in Congress is a partisan Congressional Review Act resolution pending in the House of Representatives. But that CRA is deeply flawed. It represents an extremist hyper-regulatory approach that would make matters worse, not one that would secure widely accepted net neutrality principles.

More specifically, the current CRA would enact divisive, stifling rules that go far beyond net neutrality and instead put the Federal Communications Commission in charge of prices, deployment, service options and more. That constitutes a maximalist government-first approach to broadband that has already proven to drive away private investment and set back critical efforts to build new and faster networks, wire rural communities and close the digital divide. As just one alarming illustration, one study found the current CRA's flawed approach to net neutrality would deter about $30 billion a year in new investment.
Making matters worse, the narrow path to net neutrality reflected in the current CRA's approach is also defectively incomplete. It wholly exempts tech platforms like Facebook, Google and Twitter — leaving them free to discriminate or censor viewpoints, or use their market leverage over major channels of the internet to discriminate against competitors. There is significant agreement that a cable or telecom company should not leverage its control over broadband to put their competitors at a disadvantage in the marketplace, but nor should Google or Facebook use their control over search and social media to harm their competitors.

Tellingly, Democratic leaders admit that their CRA is not designed to pass. Rather, it amounts to a message bill designed to rile up millennial voters and drive them to the polls. A recent headline captured that cynicism perfectly: "Democrats launch net neutrality fight to energize midterm voters." But thoughtful swing voters are savvy enough to reject that kind of gamesmanship. They don't want posturing and finger pointing, they want solutions and forward movement.

And that creates a strategic opening for more centrist Republicans willing to step up with a real solution on net neutrality — a comprehensive bill that delivers a permanent legislative fix instead of a cynical CRA that simply highlights ongoing divisions to keep the political left's fight alive.

Achieving a real solution would also allow moderate Republicans in Congress to put Democrats who claim to support net neutrality on the spot. Do they want strong action to permanently protect the internet, or will they trade this opportunity for progress in favor of a cudgel to use against Republicans and "energize" their leftist base?
---
A version of this op-ed was originally published by the Houston Chronicle on July 13, 2018.