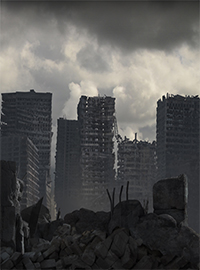 A year later, internet speeds have actually increased by 28%.
And you tell me, over and over and over again, my friend/
Ahhh, you don't believe we're on the eve of destruction…
—Barry McGuire, "Eve of Destruction," 1965
What is it with leftists and their habit of issuing alarmist predictions that subsequently prove groundless, in their ongoing campaign to impose more and more control over every last aspect of our everyday lives?
To them, every day merely brings another alleged eve of destruction, over and over and over again.
Take climate alarmism, perhaps the most prominent example.
To cite just one particularly humorous and instructive instance among many, the United Nations warned in June 1989 that we possessed just a ten-year window to avert global warming catastrophe:
Coastal flooding and crop failures could create an exodus of "eco-refugees," threatening political chaos, said Noel Brown, a senior environmental official at the United Nations and director of the New York office of the U.N. Environment Program. He said governments have a 10-year window of opportunity to solve the greenhouse effect. According to Brown, "Entire nations could be wiped off the face of the earth by rising sea levels if global warming is not reversed by the year 2000."
Has anybody circled back to find out which nations we lost since 2000?
And while we're on the subject, if we only had ten years to "solve the greenhouse effect" back in 1989, why are Representative Alexandria Ocasio-Cortez (D – New York) and similar neo-alarmists now saying we have just 12 years to solve it with their "Green New Deal"?
Going back a few years earlier, remember when Ronald Reagan's defense buildup was going to needlessly trigger World War III? Before that decade was over, the Cold War had indeed ended. But not because the predicted Armageddon came to pass.
This month, we witnessed yet another embarrassing example, when we celebrated the anniversary of the Federal Communications Commission's (FCC's) Restoring Internet Freedom Order taking effect.
Remember how that reversal of the Obama Administration's destructive and deceptively named "Net Neutrality" regulation was going to end the functioning internet as we know it?
Here's how Chad Marlow of the so-called American Civil Liberties Union (ACLU) put it last year:
On June 11, net neutrality protections will cease to exist. This means your internet service provider will be able to engage in content based discrimination. Internet content it likes – for political or financial reasons – will be delivered at top speeds, while content it disfavors will be slowed or even blocked.
Kind of ironic, given how some websites issuing such alarmist claims themselves slow or block content that they disfavor.
Regardless, others were even more apocalyptic. Senate Democrats assured us from their official Twitter account that, "If we don't save net neutrality, you'll get the internet one word at a time." The usual suspects at MSNBC announced that it meant the "end of the internet as we know it."
Here's a more accurate picture.
For two decades between 1996 and 2015, the internet was working just fine. It had transformed our lives like no other innovation in human history in short order. And that was precisely because federal policy spanning the Clinton and Bush administrations, and even most of the Obama tenure, maintained a "light touch" regulatory approach. The internet was allowed the regulatory freedom to grow. And grow it did.
But then, the Obama Administration got the idea that the internet was somehow broken, and in need of a big-government regulatory "fix." So in 2015, its FCC began regulating the internet as a public utility under laws passed all the way back in the Great Depression.
And how did that work out? Well, for the first time in history outside of an economic recession, private broadband investment declined in the wake of the Obama FCC order. If anything threatened to "end the internet as we know it," it was the Obama FCC's heavy-handed regulation.
Accordingly, among the Trump Administration's first priorities was restoring federal internet regulatory policy to the one that prevailed between 1996 and 2015 when the internet flourished. Cue the dire predictions cited above.
But note how things have turned out since the rule took effect one year ago.
A year later, internet speeds have actually increased by 28%. So much for Senate Democrats' tweet that we'd be suffering an internet "one word at a time." The U.S. leapt from 12th place to 7th place in the worldwide ranking of internet speeds. Paid prioritization hasn't come to pass, and lawful content hasn't been blocked.
In other words, leftists' internet apocalypse predictions have already proven as laughable as their climate alarm warnings and other litany of failed predictions.
Inexplicably, however, proposed legislation from Congressional Democrats would reimpose the Obama FCC's failed internet regulation regime that caused such damage during its brief existence.
As debate over that proposal commences, Americans should remember that the eve of internet destruction predictions quickly proved illusory. Because the failure to learn from past failures suggests that we've not seen the end of them.