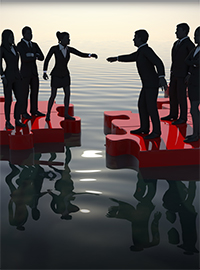 Judge Marrero affirmed that the merger will increase market competition, not diminish it.
Economies across Europe, China and much of the world continue to suffer stubborn economic malaise. In contrast, the United States continues to flourish amid a renewed economic agenda of deregulation and lower taxation.
Free market forces, not sclerotic bureaucracy, have once again proven themselves the optimal path to prosperity.
This week, a federal court in New York provided another important victory in that regard, as District Court Judge Victor Marrero approved the T-Mobile/Sprint merger and rejected the misguided antitrust lawsuit filed by attorneys general of 13 states and the District of Columbia.
It's important to emphasize that the merger between the third- and fourth-largest nationwide carriers had already been approved last year at the federal level by both the Federal Communications Commission (FCC) and Department of Justice. The activist attorneys general nevertheless took the unprecedented step of filing their lawsuit before those federal agencies had even completed their review process, exposing the extremist ideological nature of their challenge.
Fortunately, Judge Marrero recognized that lawsuit for what it was, and wisely dismantled its claims.
First, Judge Marrero affirmed that the merger will increase market competition, not diminish it.
That's because the combined T-Mobile/Sprint would serve over 100 million consumers, allowing it to compete more evenly as a third major market participant against Verizon Wireless and AT&T, the two largest players with approximately 120 million and 95 million customers, respectively. That constitutes a central factor underlying the merger, as Judge Marrero rejected the lawsuit's allegation that Sprint could have continued to survive and compete standing alone.
Accordingly, the merger should rightfully be conceptualized as enlarging the number of major market participants from two to three, not as reducing the number from four to three. Through their combination, the new entity can compete more evenly with today's two dominant market players.
Just as importantly, as Judge Marrero emphasized, the T-Mobile/Sprint merger will boost technological innovation in the U.S. telecommunications market.
Specifically, we're embarking upon the technological transition to fifth-generation wireless technology (5G) – and competing with an increasingly aggressive China in that sphere – which constitutes a watershed advance not only for the faster wireless capability it will introduce, but also for the limitless array of new technological applications it will make possible.
For instance, 5G will allow consumers to download full-length, high-definition films in seconds. It will also dramatically accelerate the "internet of things" proliferation of smart devices and household appliances via its lower latency and enhanced capacity, which allows more devices to connect to a single cell. In turn, that means greater product innovation and private infrastructure investment, as well as the countless jobs that the expansion will bring.
The new T-Mobile will hasten that transition by combining T-Mobile's low-band spectrum that facilitates coverage in rural areas with Sprint's mid-band spectrum that facilitates higher speeds in urban areas. Currently, Verizon and AT&T claim substantially higher levels of low-band and mid-band spectrum than T-Mobile or Sprint, so they possess a marked network quality advantage.
By merging T-Mobile's and Sprint's differing but complementary assets, a more symbiotic network with enhanced capacity, wider coverage and more effective wireless performance compared to what currently exists will be created. By 2024, it is expected that the new network will possess nearly double today's total capacity, as well as three times the total 5G capacity that T-Mobile and Sprint could achieve independently, and 5G speeds between four and six times what they could reach acting independently.
Economists also estimate that the result from the additional competition by a third major market competitor will be a cost decrease of 55% per gigabyte for consumers, and a 120% increase in cellular data availability.
Judge Marrero recognized that important factor in reaching his decision:
T-Mobile has redefined itself over the past decade as a maverick that has spurred the two largest players in its industry to make numerous pro-consumer changes. The proposed merger would allow that merged company to continue T-Mobile's undeniably successful business strategy for the foreseeable future.
And FCC Chairman Ajit Pai, perhaps President Trump's most outstanding appointee, perfectly captured the wisdom of Judge Marrero's decision and the benefits of the merger:
"The T-Mobile-Sprint merger will help close the digital divide and secure United States leadership in 5G. After the merger, T-Mobile has committed to bringing 5G to 97% of our nation's population within three years and 99% of Americans within six years. Its 5G network will also reach deep into rural areas, with 85% of rural Americans covered within three years and 90% covered within six years. This transaction represents a unique opportunity to speed up the deployment of 5G throughout the United States, put critical mid-band spectrum to more productive use, and bring much faster mobile broadband to rural Americans. I'm gratified that the federal district court agreed with the FCC and U.S. Department of Justice that this merger is lawful and should be allowed to proceed. This is a big win for American consumers."
Well said. Judge Marrero's ruling constitutes a pivotal win for consumers, technological innovation, for free market principles and ultimately continued American prosperity.