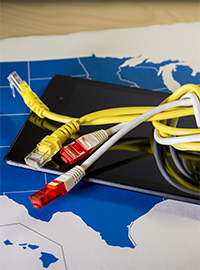 During the 'Net Neutrality,' Title II years of 2016 and 2017, internet speeds barely budged. Then, upon returning to the light regulatory touch under FCC Chairman Pai, speeds skyrocketed by record margins. Those facts speak for themselves.
If you wondered how things might get worse than 2020, Bloomberg has your answer. It reported this week that so-called "net neutrality" activists just replied, "Hold my beer":
A Democratic Federal Communications Commission is poised to restore net neutrality rules and move aggressively to expand broadband subsidies amid the pandemic… The commission will likely first move to reclassify broadband as a service under Title II of the Communications Act. That will allow it to restore rules requiring ISPs to treat all internet traffic equally, and take other actions to regulate broadband providers' business practices amid the Covid-19 pandemic.
Just like that, one of the most objectively and demonstrably disastrous policies of the Obama years threatens a zombie-like rise. That's not partisan hyperbole. It's borne out by the numbers.
And by threatening the quality and reach of internet access upon which so many Americans relied amid the 2020 pandemic, the idea threatens our ability to navigate the crisis going into 2021 and beyond.
As an initial matter, one must understand that the name "Net Neutrality" itself is Orwellian in its deception. It refers to a policy advocating greater federal government intervention into the internet ecosystem, not remaining neutral. From the Clinton Administration through subsequent Republican and Democratic administrations, a "light touch" regulatory approach prevailed. But then after two decades of internet growth, the Obama Administration at the behest of powerful "edge" content providers decided that what the internet really needed was sudden heavy-handed government regulation by the Federal Communications Commission (FCC).
In other words, "Net Neutrality" meant federal regulators intervening in internet service by reclassifying it as a "public utility" in order to pick market winners and losers. That's anything but "neutral."
And as referenced above, the immediate results were objectively disastrous. Private internet provider investment in network infrastructure declined for the first time in history outside of a recession. Specifically, between 2010 and 2013, investment in wireless had increased from $25 billion to $33 billion, or fully 33%. But then investment declined when the Obama FCC began threatening heavier regulation, and it fell by $5.6 billion in just the first year after the new regulations were imposed. Thus, in just its first year, such "Net Neutrality" regulation wiped out almost all of the private investment increases after 2010.
Thankfully, in 2017 the new FCC under Chairman Ajit Pai passed the Restoring Internet Freedom Order, returning to the deregulatory approach that prevailed for two decades prior to 2015. The latenight comedians and far-left activists predicted disaster, literally alleging that people would die, that tweets would suddenly cost $5 apiece, that people would access the internet one word at a time and that internet service as we know it would collapse. It's all on record.
Instead, the positive results of returning to the "light touch" regulatory posture under Chairman Pai's FCC were as immediate and beneficial as the preceding Title II regulatory posture were toxic. As reported by Recode, U.S. internet speed rose approximately 40% in the first year alone:
Broadband download speeds in the U.S. rose 35.8 percent and upload speeds are up 22 percent from last year, according to internet speed-test company Ookla in its latest U.S. broadband report. The growth in speed is important as the internet undergirds more of our daily lives and the wider economy. As internet service providers continue building out fiber networks around the country, expect speeds to increase…"
The news gets even better. In a report entitled "Annual Report: Europe vs US Broadband Performance 2020," FairInternetReport.com announced that U.S. broadband speeds increased an amazing 91% during the 2020 coronavirus lockdown:
American internet users have had a very good 2020, according to research performed by FairInternetREport. Median US internet speeds in 2020 doubled to 33.16mbps, up from 17.34mbps in 2019. Covering the five years of 2016, 2017, 2018, 2019, and 2020, this is the largest speed increase seen in the US, with speeds staying essentially the same in 2016 and 2017 (8.91mbps and 9.08mbps respectively), and 2018 recording a median speed of 12.83.
Notice something important there: During the "Net Neutrality," Title II years of 2016 and 2017, internet speeds barely budged. Then, upon returning to the light regulatory touch under FCC Chairman Pai, speeds skyrocketed by record margins. Those facts speak for themselves.
Throughout the pandemic, European networks have broadly struggled to keep up with increased demand, even leading government officials to request content providers like Netflix to lower their streaming video quality from high-definition to standard. In contrast, American networks handled the capacity demands far better. That's a reflection of our differing approaches to internet service regulation – light-touch versus heavier regulation.
Despite all of this overwhelming, objective, real-world evidence, advocates of Title II "public utility" regulation of internet service want to return to the bad old days of 2016-17. Changes in administrations and party control of government naturally bring changes in policy. Everyone understands that. When proposed policy changes are objectively harmful in the way that Title II was and will be again if revived, however, that's a different matter altogether.
In those circumstances, it's not a matter of opinion, but a demonstrably destructive course that Americans and public officials should resoundingly reject.