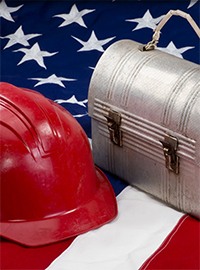 Although union leaders claim to be fighting for workers' welfare, it's obvious to any rational observer that it's all part of a desperate attempt to reclaim bygone political power.
When it comes to shamelessness and sheer chutzpah, it's difficult to top labor union leaders.
First, they tenaciously fight right-to-work laws, which simply allow individual employees to decide whether or not they wish to join unions. It apparently hasn't dawned on them that compulsory membership is more befitting the former East Germany or today's Cuba than the United States of America.
When that fails, they resort to filing lawsuits claiming that they nevertheless enjoy a "property right" to non-members' wages.
In welcome news, however, courts in two separate states this month harshly rejected such claims, highlighting once again the critical importance of the judicial branch in preserving individual freedoms across the federal, state and local levels.
Although union leaders claim to be fighting for workers' welfare, it's obvious to any rational observer that it's all part of a desperate attempt to reclaim bygone political power.
Consider that since 1990, the largest unions have spent an astonishing $1 billion on elections at the federal level alone. Notably, 97% of that amount was steered toward Democratic candidates.
While union leaders will counter that businesses also contribute to political candidates, the difference is that businesses split their contributions to Democrats and Republicans at a ratio closer to 50/50. That's something to keep in mind when unions rationalize their desire to spend members' wages on partisan political activity rather than collective bargaining or workplace improvements.
And here's what explains unions' increasing sense of desperation.
Whereas 36% of the private U.S. labor force belonged to unions at their peak in 1953, today that number is just 7%. That largely reflects the fact that federal, state and local laws have made unions superfluous. After all, statutes and regulations now mandate the things for which unions originally fought, such as better working conditions, employee safety standards, overtime pay, hour limits, minimum wages and health benefits.
But the inexorable decline in labor union power also reflects popular belief that they tend to make the industries and locations they dominate less economically competitive. Fully 28 states have now passed right-to-work laws, and those that have visibly outperform states that still allow unions to compel workplace membership. And where union membership is no longer mandatory, the number of workers electing to join unions has plummeted.
Faced with that reality, unions have resorted to a new strategy: filing lawsuits claiming that right-to-work laws amount to an unconstitutional "taking" of union "property without just compensation."
Give them credit for creativity, but two separate state courts have just dismissed that theory in notably harsh terms.
In Wisconsin, an alliance of unions attempted to repeal 2015 Wisconsin Act 1 in court after efforts at the legislative level failed, but the appellate court unanimously served them another defeat:
Act 1 does not "appropriate, transfer, or encumber" money contained in the Unions' treasuries. Similarly, Act 1 does not require labor organizations to provide services to anyone. Act 1 merely prohibits employers from requiring union membership or the payment of fees as a condition of employment. The Unions have no constitutional entitlement to the fees of non-member employees.
What's astonishing is that it took an appellate court to enlighten labor leaders to that straightforward concept.
In West Virginia, the state's Supreme Court castigated the plaintiff unions even more severely.
"Twenty-eight states," the Court noted, "including West Virginia, have a right to work law, yet the unions have not directed us to any federal or state appellate court that, in over seven decades, has struck down such a law." It continued, "This Court routinely rejects skeletal arguments like that offered by the unions."
Even more remarkably, the Court took the extraordinary step of reminding both the union plaintiffs and the public at large that the judicial branch should not be seen as merely another political branch to be exploited to achieve policy preferences:
Whether a law is fair or unfair is not a question for the judicial branch of government. Courts cannot dwell "upon the political, social, economic or scientific merits of statutes." The wisdom, desirability, and fairness of a law are political questions to be resolved in the Legislature. Those decisions may only be challenged in the court of public opinion and the ballot box, not before the judiciary.
The Court merits our praise for not only achieving the correct legal result, but providing a tutorial on separation of powers and the judiciary branch's proper role in a republican democracy.
Come to think of it, perhaps President Trump should expand his list of potential U.S. Supreme Court nominees to the members of the West Virginia Supreme Court majority, if he hasn't already.