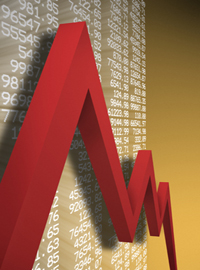 Americans must ask themselves whether it's mere coincidence that the worst recovery on record occurred during the presidency of the man with the worst spending, deficit and regulatory record in history...
"Quarterly Increase in U.S. Worker Pay Smallest on Record"
So read the alarming headline of a Bloomberg Business report this past week:
"Wages and salaries in the U.S. rose in the second quarter at the slowest pace on record, dashing projections that an improving labor market would boost pay. The 0.2 percent advance was the smallest since records began in 1982 and followed a 0.7 increase in the first quarter, the Labor Department said Friday. The agency's employment cost index, which also includes benefits, also rose 0.2 percent in the second quarter from the prior three months... Private wages were little changed in the second quarter from the previous three months, the worst performance since those records began in 1980."
It tells you all you need to know about Barack Obama's character and record as president, not to mention our lowered expectations under his leadership, that he continually attempts to run victory laps over what has been the worst cyclical economic recovery in measured U.S. history.
In a market economy, cyclical recessions and recoveries come and go, and it was Obama's fortune to have entered the White House just as our economy was already bouncing back toward recovery. Any disbelief in that regard can be quickly resolved by examining the nation's gross domestic product (GDP) trajectory for the fourth quarter of 2008 and the first two quarters of 2009. By June of 2009, less than six months into his presidency and obviously well before any his massive "stimulus" spending program or any other policy could have taken effect, the recession officially ended and the current six-year "recovery" officially began.
And what we've witnessed since that time is, simply and objectively, the worst cyclical recovery in American history.
That's not one person's subjective or biased point of view. That's an objective assessment based upon all of the leading measures of economic health.
Let's start with unemployment.
When Obama entered office and proposed his trillion-dollar "stimulus" spending package, he and his economic team assured the nation that unemployment would top out at 8% and quickly decline. Instead, we exceeded 10% and suffered the longest stretch in recorded U.S. history of unemployment over 8%. So not only did we exceed his promised 8% ceiling, we remained there longer than we ever have since unemployment records have been kept.
Next, let's consider median U.S. income.
As mentioned above, we just suffered the smallest quarterly gain in American workers' wages and benefits since recordkeeping began. Additionally, this marks the first time in recorded U.S. history that median income has actually declined during a post-recession recovery. That is unheard of. So when a majority of survey respondents believe that we remain in a recession even though the last one actually ended over six years ago, that is perhaps the primary reason.
Next, let's consider economic growth.
The primary measure by which we gauge overall economic health is the GDP rate, and the U.S. post-World War II average has been 3.3%. Since the last recession ended in June 2009, however, we have averaged just 2.1%, and Obama's best year came all the way back in 2010 at just 2.5%. By way of comparison, growth under George W. Bush between the recession he inherited from Bill Clinton and 2007 averaged over 3%. We have now gone 10 years without GDP growth exceeding 3% in any single year, which we've never done before.
Exacerbating matters, just last week the Bureau of Economic Analysis reduced its estimate of economic growth for the years 2011 through 2014 to 2%, down from the already abysmal 2.3% initial estimate. "Further data revisions going back three years," reported The Wall Street Journal, "show the expansion - already the weakest since World War II - was even worse than previously thought, with GDP increasing at an average annual rate of 2% between 2011 and 2014, down 0.3 percentage points from prior estimates."
All of this occurred despite - or more accurately because of - record deficits and new federal debt under Obama's fiscal direction. Prior to Obama, the largest deficit we had ever witnessed was $450 billion, but he rattled off four consecutive deficits in excess of $1 trillion and added more cumulative debt than all previous presidents combined. Yet now he brags that he's cut the deficit in half from the unprecedented heights to which he took it.
In a cyclical market economy like ours, recovery following the last recession would have occurred with or without Barack Obama. Indeed, as noted above, the bounceback was already underway before he took office. But what distinguishes Obama's record is that under his massive spending and regulatory onslaught, we've endured the worst "recovery" in our recorded history.
Accordingly, Americans must ask themselves whether it's mere coincidence that the worst recovery on record occurred during the presidency of the man with the worst spending, deficit and regulatory record in history, whereas perhaps the strongest recovery on record occurred under the deregulatory and supply-side presidency of Ronald Reagan.
In Latin, the relevant response would be res ipsa loquitur: The fact speaks for itself.