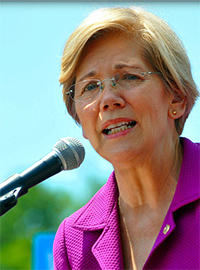 Specifically, the bill would cost between 6.9 million and 26.3 million jobs across the U.S.
If Senator Elizabeth Warren (D – Massachusetts) described the sky as blue, one would be wise to peek out a window just to reconfirm.
It's not that every single utterance from Senator Warren is necessarily false, but let's just say that her reliability falls well below the proverbial broken clock that's at least accurate twice per day. And that reliability plummets even further when fellow extremists like Senator Bernie Sanders (I – Vermont) and Representative Rashida Tlaib (D – Minnesota) join her discordant chorus.
Such is the case with proposed legislation entitled the "Stop Wall Street Looting Act" that Warren is poised to reintroduce in the new Congress. That bill possesses a prototypically alluring title, but could wreak havoc upon American financial markets and our struggling economy and job market more broadly.
In a nutshell, Senator Warren's proposal would impose crippling news taxes, potential legal liabilities and a thicket of bureaucratic regulations on the private equity sector while broadly remaking the nation's bankruptcy code to her liking. She would also tax private equity profits at ordinary income tax rates rather than capital gains. That may sound alluring for the uninformed, but it makes no sense because private equity investments come with an inherent risk of loss, unlike ordinary wages. Why would someone take a chance and risk capital when any earnings would be taxed the same as ordinary wages that impose no risk of loss? If private equity investments fail, managers lose their money.
Accordingly, Senator Warren's proposal seeks to starve the private equity sector out of existence.
For anyone understandably unfamiliar with private equity and its critical role in our economy, private equity firms basically identify struggling or underperforming companies that could become more profitable with improved management. Private equity firms therefore invest for the longer-term in such companies and turn a profit by eliminating their inefficiencies and improving their performance.
And while private equity may remain unfamiliar to anyone outside the industry, its firms often employ capital from mutual funds and pensions, and account for millions of jobs at well-known companies, as noted by the U.S. Chamber of Commerce:
The private equity funds created by private equity firms to invest in various companies throughout the economy are often backed by capital from institutional investors, including public pension funds. PE funds have long played a major role in the development of a broad range of companies, which employ 8.8 million people across the United States, including several hundred thousand people across every state, such as Hilton Hotels, Popeyes, Uber, Airbnb, Dollar General, Dunkin Donuts, Jiffy Lube, LA Fitness, Tate's Bake Shop, Beats Electronics, The Nature's Bounty, and McGraw-Hill Education. All told, the private funds industry drives a significant amount of economic growth in the United States and supports millions of jobs across the country. After multiplier effects on the economy, such PE-backed companies and the PE firms themselves support over 26 million jobs and contribute over $475 billion in annual federal and state/local tax revenues.
It's therefore no surprise that a 2019 study by the U.S. Chamber found that Senator Warren's bill would have a devastating economic impact.
Specifically, the bill would cost between 6.9 million and 26.3 million jobs across the U.S. It would reduce federal, state and local tax revenues between a whopping $109 billion and $475 billion each year. It would cost investors between $671 million and $3.36 billion per year (with pension fund retirees accounting for many of those investors). It would drive many private equity firms out of business due to the bill's imposition of higher risk and regulation. And it would drastically reduce available funding for private equity going forward.
Moreover, the pre-pandemic ten-year average annual return for private equity investments was 10.2%, compared to 8.5% for stocks and 6.7% for investments overall. Retirees and everyday investors, take note.
For these and other reasons, even moderate Democrats find Senator Warren's proposal objectionable, as Politico reports. "It's setting up a clash with moderate Democrats who say private equity is a crucial tool to keep capital flowing to businesses and propel economic growth," it noted, "but progressives now emboldened by the party's full control of Washington are showing no signs of backing down."
So much for "unity."
Senator Warren's proposal has nothing to do with improving markets or making our economy more fair. It's about steamrolling her radical agenda, centralizing power and aggregating authority even more for Washington, D.C., bureaucrats. And who would pay the price? Millions of American workers, retirees, investors, public pension beneficiaries and well-known companies.
Warren's bill wouldn't stop "Wall Street looting," it would merely hammer the American economy and deserves to be stopped in its tracks.