By Quin Hillyer
Thursday, March 15 2012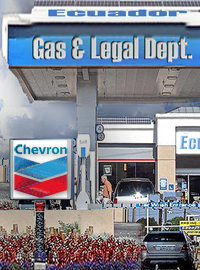 American pensioners and other stockholders in Chevron by the thousands, not to mention Chevron's employees and even consumers at the pump, all are harmed by the costs to Chevron to defend itself from spurious charges...
The Obama administration's animus against American energy companies doesn't stop at the water's edge.
As the administration continues to stifle domestic fossil-fuels production on a number of fronts, it also refuses to lift a finger diplomatically to support an American company being shaken down for billions of dollars by the hard-leftist, virulently anti-American government of Ecuador. Indeed, the international court at The Hague has done far more to support the California-based Chevron Corp. than has the U.S. State Department, much less the West Wing.
It seems that barely a month goes by without ample new evidence of Ecuadorian corruption continuing to pour in, including new developments just last week.
(Apologies in advance: There are lots of moving parts here -- but the weight of the perfidy involved requires a thorough accounting.)
The long-running case involves claims of up to $27 billion against Chevron alleging that Texaco (now owned by Chevron) supposedly fouled water supplies in Ecuador during a 20-year-lease that expired in 1992. Never mind that Ecuador's government itself in 1998 signed "final release" papers officially certifying that Texaco had left behind no environmental damage.
For now, let's spare the long litany of prior outrages in this case that has moved American judges to label the anti-Chevron position as "fraud." The latest developments are fodder enough. As the Associated Press reported March 7, the Ecuadorian judge who ruled against Chevron in the case has been dismissed from his office for corruptly freeing an alleged major drug trafficker. Also dismissed for the same offense was another judge who had helped keep the farce alive by presiding over earlier proceedings in the Chevron lawsuit. Yet another judge had been removed from the case shortly before an expected ruling, after Chevron unearthed a video appearing to show the judge participating in a massive bribery scheme to rig proceedings against the oil company.
This further evidence that much of the Ecuadorian judiciary, especially on this case, is hopelessly embroiled in illegality, comes on top of a February 17 ruling by the Permanent Court of Arbitration at The Hague preventing enforcement of the judgment against Chevron. While not a final decision on the merits of Chevron's allegations that Ecuador's courts acted corruptly, The Hague's interim order is the second time this international body has found Chevron's claims "sufficiently serious" to order that Ecuador's judgment be put on hold.
Amazingly, the now-disgraced Ecuadorian judge who ruled against Chevron already had been shown, in the (undisputed) words of a Chevron court filing, to have allowed the lawyers for the anti-Chevron plaintiffs to "ghostwr[i]te the Ecuadorian judgment itself, copying verbatim into the judgment large quantities of Defendants' unfiled work product – including errors."
Meanwhile, the American lawyers and activists driving this case also continue to be embarrassed by exposure of behavior that is at least tawdry, and sometimes worse (again, in the word used by several American judges, "fraud," as part of an investigation into those lawyers' possible involvement in racketeering). The allegations against Chevron have become trendy, celebrity rallying points for the American left. But in January, the New York Post broke the story that one of the most prominent of those celebrities – Kerry Kennedy, daughter of the late Robert Kennedy and ex-wife of New York Gov. Andrew Cuomo – had hardly been motivated by pure altruism. Instead, she was secretly paid $50,000 for her advocacy, plus another $10,000 per month, plus given a stake in the case worth as much as $40 million if Chevron ever pays the full award.
All of this is bad enough. American pensioners and other stockholders in Chevron by the thousands, not to mention Chevron's employees and even consumers at the pump, all are harmed by the costs to Chevron to defend itself from spurious charges – not to mention the harm that would be caused if Chevron ever were forced actually to fork over the billions of dollars at stake. The American public should be outraged.
But what's really galling is that President Obama's team won't do anything to protect these American interests. It won't even threaten to pull Ecuador's favored trade status. It won't take any other diplomatic actions against the thuggish regime prone to actions The Washington Post described as being "worthy of a banana republic."
No American company should escape responsibility for serious environmental degradation. But Americans should not have to pay out the nose for (alleged) environmental harm that the Americans manifestly didn't cause. An American president, or his State Department, should step in to help end the vicious charade.