By Troy Senik
Thursday, March 20 2014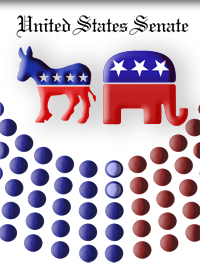 Of the 33 Senate seats up for election this year, Republicans need a net gain of six to take over control of the upper chamber, giving them complete control of Congress and a powerful check on the White House.
President Obama and Democrats in Washington are in trouble. With the economy still listless, America looking helpless abroad and ObamaCare increasingly looking like the biggest failed experiment in social engineering since Prohibition, it's no surprise that the Left regards this fall's midterm elections with dread.
Of the 33 Senate seats up for election this year, Republicans need a net gain of six to take over control of the upper chamber, giving them complete control of Congress and a powerful check on the White House.
Can they do it? Here's a quick take on the first half of this year's 33 races. Next week, we'll take a look at the second group:
Alabama: Incumbent Republican Jeff Sessions is a lock for reelection.
Alaska: Alaska tends to be a Republican stronghold — which is one of the reasons that freshman Democrat Mark Begich is already imperiled in the polls. Indeed, Begich's 2008 victory owed much to the fact that it was a Democratic wave year and that the Republican incumbent, Ted Stevens, had been convicted of seven federal corruption charges only a week before the election. In 2014's hostile environment — with a formidable likely opponent in Lieutenant Governor Mead Treadwell — Begich is among the most vulnerable Democrats in the Senate. A February poll released by Public Policy Polling (PPP), a Democratic firm, had Begich in or just outside the margin of error against several potential Republican opponents.
Arkansas: Incumbent Democrat Mark Pryor had weak poll numbers even before it turned out that his likely opponent would be Tom Cotton, the young Congressman who's considered a rising star in Republican circles. Democrats in the South are an increasingly endangered species and Pryor's habit of putting his foot in his mouth — he recently referred to Cotton's distinguished military career as having given him "a sense of entitlement" — won't help matters. Cotton has been ahead or tied in all the major polling released thus far.
Colorado: Democrats have spent the last decade building a powerful machine in the Centennial State and it looked like it was going to pay off this year by discouraging any serious opposition to freshman Democratic incumbent Mark Udall. Udall's soft polling numbers, however, recently enticed Cory Gardner, another highly touted and ambitious young Congressman, into the race, leaving Udall looking legitimately threatened. Gardner is the one candidate who could put an end to the Democrats' recent winning streak in Colorado, and the race is now considered competitive. Udall is within the margin of error according to PPP polling released earlier this week.
Delaware: Incumbent Democrat Chris Coons — Joe Biden's successor — should coast to victory in this deep-blue state.
Georgia: One of the few states where the GOP is potentially vulnerable. Incumbent Republican Saxby Chambliss is retiring and it seems as if more Republicans will be running in the party primary to succeed him than voting in it. Whoever emerges from that crowded field will likely take on Michelle Nunn, daughter of former veteran Senator Sam Nunn, a Peach State favorite. This race may end up closely contested, but the fundamentals — a Southern state in a midterm election (where turnout tends to favor Republicans) — give some hope to the GOP.
Hawaii: No chance for a Republican pickup in this deep blue state, but there is Democratic infighting between incumbent Brian Schatz — the former Hawaii lieutenant governor who was appointed to the seat upon the death of long-time Senator Daniel Inouye — and Representative Colleen Hanabusa, who was Inouye's chosen successor.
Idaho: Republican Jim Risch is a safe bet for reelection in this libertarian-leaning state.
Illinois: Senate Majority Whip Dick Durbin may find himself out of the majority come election night, but he won't be out of a job. In a liberal state like Illinois, Durbin is virtually untouchable.
Iowa: Uber-liberal Tom Harkin is at long last stepping down after 30 years in the Senate. Despite the three-decade dominance of such a staunch Democrat, Iowa is a swing state and this one could go either way. There's currently a huge Republican field jostling for the chance to challenge Congressman Bruce Braley —the almost-certain Democrat nominee. Of the group, State Senator Jodi Ernst —a farmer's daughter who grew up to serve as a company commander during Operation Iraqi Freedom, and who recently earned the endorsement of Mitt Romney — may be the most promising.
Kansas: Veteran Republican Pat Roberts — a staunch, but low-profile conservative — would usually be untouchable, but he's been dogged this time out by questions of whether he owns a legitimate residence in the state. That may help Roberts' Tea Party challenger, conservative doctor (and second cousin — not to mention critic — of President Obama) Milton Wolf, but polls haven't shown a precipitous decline for Roberts yet. Either way, Republicans should safely keep this seat.
Kentucky: Senate Minority Leader Mitch McConnell has a tough row to hoe. He's facing a Tea Party challenge from Louisville businessman Matt Bevin, although he currently looks well positioned to defeat it. Should he earn the GOP nomination, however, he'll almost certainly face Kentucky Secretary of State Alison Lundergan Grimes, who represents a legitimate threat in the fall. McConnell is a canny political operator — and, as in Georgia, the combination of a Southern electorate and mid-term turnout works in the GOP's favor — but this race is not a lock.
Louisiana: Any Democrat attempting to defend President Obama's record in the South would have their work cut out for them, but that's doubly true for Senator Mary Landrieu, whose home state's hostility to the president is only compounded by its dependence on an energy industry that Obama so often seems to hold in contempt. Landrieu's poll numbers against her likely Republican challenger, Congressman Bill Cassidy, are very soft (the Democratic firm Hickman Analytics had her behind by four points as of last week) and there's a good chance she won't be going back to Capitol Hill next year.
Maine: Liberal Republican Susan Collins may not be the ideal candidate for Tea Party types, but she fits Maine — one of the nation's most politically eccentric states — quite well. Expect her to be back for a fourth term.
Massachusetts: In most sane states, a record like that belonging to new Senator Ed Markey — he won the special election to succeed John Kerry upon the latter's departure for the Obama Administration — would be an electoral death sentence in a year like this. Markey, after all, was a doctrinaire liberal during his more-than-35-year stint in the House, most recently co-authoring the Obama Administration's cap-and-trade legislation with Henry Waxman during the president's first term. In deep-blue Massachusetts, however, his politics look downright moderate. Look for him to return.
Michigan: Veteran liberal Carl Levin is retiring — and it's been a big surprise to see the likely Republican nominee, former Secretary of State Terri Lynn Land, consistently polling ahead of her likely challenger, Congressman Gary Peters, in this usually Democratic state. Democrats losing a seat from Michigan — which now seems, at the very least, plausible — would be a crushing blow to the left.
Minnesota: It's a shame, but freshman Democrat Al Franken — the former Saturday Night Live writer and performer cum liberal activist — looks unlikely to draw a serious enough challenger to threaten his chances for reelection. Minnesota leans significantly Democratic, but it could conceivably be at the very edge of a Republican wave. Without a substantial candidate, however, Franken's contract will likely be renewed.
Mississippi: Serious Tea Party challenges to sitting Republicans are few and far between this time around, but the Magnolia State presents one major exception. 78-year-old Republican Thad Cochran is running for his seventh term in the Senate, upending expectations that he'd be retiring this year. Cochran, who's not exactly bashful about the amount of pork-barrel spending he sends back home, has fallen afoul of conservative spending hawks, and State Senator Chris McDaniel is capitalizing on that fact to challenge him for the GOP nomination. Regardless of who wins, it's a near-certainty that a Republican will continue to hold this seat in the next Congress.
Montana: Democrats weren't initially that worried about the retirement of longtime Senator Max Baucus because they believed they had an ace in the hole: popular former Governor Brian Schweitzer. Schweitzer unexpectedly chose to pass on the race, however (they are stray rumors that he's considering a presidential bid in 2016), which caused a measure of panic. While Montana regularly elects Democrats to statewide office, it's a consistently Republican state in presidential elections and by no means a lock for the left. Rather than let the seat come open, President Obama appointed Baucus the new Ambassador to China, leaving Democratic Governor Steve Bullock to appoint his Lieutenant Governor, John Walsh (who planned on running anyway), to the seat and give him the power of incumbency. It may not be enough. Walsh is already trailing the likely Republican candidate, Congressman Steve Daines, by 14 points in the most recent Rasmussen poling.
What of the other races? In next week's column, I'll consider the rest of the field and look at the potential for a Republican takeover of the Senate.