By Troy Senik
Thursday, August 21 2014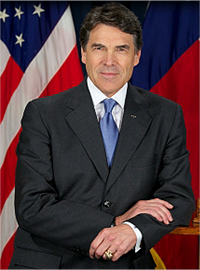 The real issue for liberals: The whole spectacle only seems to be increasing Perry's stock.
There's a pretty handy rule of thumb in American politics: We forgive our sinners, but not our buffoons.
If you're Bill Clinton, Mark Sanford, or Ted Kennedy, we will, given enough time, welcome you back into polite society. If, however, you've become fodder for late night comics — if you're Dan Quayle or Joe Biden — nothing you can accomplish will ever rehabilitate you in the public eye. That rule — reliable for decades — may now be changing.
After the 2012 presidential race, it seemed that Texas Governor Rick Perry would forever be consigned to that class of political untouchables. His sin: forgetting, in the course of a debate, the third of three cabinet departments that he had pledged to abolish, then punctuating the error with an awkward "oops."
It was a cringe-inducing moment, to be sure, but it's a testimony to the scope of the modern media's power that it was one also widely adjudged to permanently bar him from the Oval Office. Such is the capriciousness of a sound bite world.
Perry's "oops" was perceived as the Republican equivalent of Howard Dean's scream.
Only a few months before the 2016 presidential race begins to take shape, however, something unusual is occurring: Rick Perry is starting to look remarkably resilient.
His rehabilitation began earlier this year, when the Texas Governor publicly challenged President Obama to get tougher on border security in the midst of a wave of child migrants from Central America (an irony, given that one of Perry's struggles with GOP voters in 2012 was the notion that he was too soft on immigration). Even stranger, the newest accelerant for Perry's standing is an indictment.
Last week, Perry was charged with coercion and abuse of official capacity over a political fight he had engaged in with Rosemary Lehmberg, the District Attorney of Texas's reliably liberal Travis County (the seat of which is deep blue Austin).
At issue was that Perry had threatened to use his line item veto to defund the county's Public Integrity Unit — tasked with investigating corruption amongst public officials — unless Lehmberg, who had received a DUI, for which she did jail time, for driving at approximately three times the legal blood-alcohol limit (and who was caught on camera beclowning herself throughout the process) resigned. She refused.
The ensuing lawsuit may soon be judged one of the greatest tactical political errors in recent history.
So flimsy is the legal pretext for turning this political disagreement into a criminal matter that even stalwart Democrats like Obama political strategist David Axelrod and New York Magazine writer Jonathan Chait have seen fit to disown it.
The legal weaknesses of the case, however, are only the beginning of the problem. The real issue for liberals: The whole spectacle only seems to be increasing Perry's stock.
Over the last week, the Governor has turned this affair into a master class on political jiu-jitsu. After the indictment was announced, he held a defiant press conference, decrying the charges as a farce, refusing to apologize for his actions, and pledging to fight off the attack. A few days later, the Perry camp doubled down, cutting the governor's speech into a video featuring footage of the belligerent, intoxicated Lehmberg.
The district attorney and her cohorts may have thought they were going to kneecap the governor's national ambitions. Instead, she gave him an opportunity to rally conservatives around the country against liberal thuggery — not to mention a chance to make every sordid detail of her arrest a matter of national public knowledge.
On its own, this whole affair is little more than another story about the left's increasing willingness to criminalize political differences (something other potential GOP contenders, such as Wisconsin Governor Scott Walker, have also had to face). In a bigger sense, however, it's a story about one of the nation's most prominent political figures getting his swagger back at an extremely opportune time.
It's far too early to know yet where this road will take Governor Perry. But the fact that he's back in the presidential conversation less than three years after the gaffe that was supposed to end his career makes you wonder: Just how far can he go?
Political junkies, take notice: We may have another comeback kid on our hands.