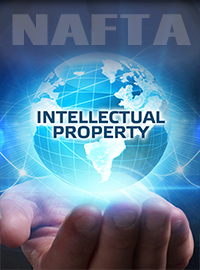 Instead of allowing Canada and Mexico to talk us down to their levels, we must ensure the highest possible IP protection standards like those applied with Trade Promotion Authority.
Intellectual property — patents, copyrights, trademarks and trade secrets — provides America's greatest advantage over the rest of the world, and explains our centuries of innovative exceptionalism better than any other factor.
As the Trump Administration renegotiates the North American Free Trade Agreement (NAFTA) this month, preserving America's IP advantage must therefore remain our first priority.
Here's the concern.
In this year's annual U.S. Chamber of Commerce International IP Index, which ranks fifty nations on forty objective measures, the U.S. again placed first in the world in overall IP protection. Canada, in contrast, languishes all the way down at eighteenth place. And Mexico? It placed a worrisome twenty-fourth.
Rather than allow Canada and Mexico to wrangle the U.S. downward toward their levels during NAFTA negotiations, we must instead move them upward toward our level.
To understand why IP is so critical in NAFTA renegotiation, it's important to understand its importance to American exports and our economy more generally.
Namely, IP-related industries account for fully $6.6 trillion of America's $18.4 trillion economy, or almost 40%. Placing that number in global perspective, our IP economy alone is larger than the entire economy of every other nation on Earth except China's at $11 trillion.
IP industries also account for over 40 million U.S. workers, with growth rates that substantially exceed non-IP industries. Moreover, wages in IP industries stand approximately 30% higher than non-IP industries, at $51,000 annually versus $39,000 for other industries.
And in terms of American exports, which is obviously pivotal as it relates to NAFTA renegotiation, IP industries account for almost 52% of what the U.S. sends abroad.
America's biopharmaceutical industry alone, which particularly relies upon IP safeguards and remains a frequent target of the Canadian and Mexican governments, accounts for almost 5 million jobs and $1.3 trillion of our economy.
And in an increasingly information-based world economy, those numbers will only continue to grow.
So how can the Trump Administration fulfill its stated commitment to American IP as it renegotiates NAFTA?
First, it must explicitly and unabashedly focus its attention on the IP chapter of the NAFTA agreement itself. Instead of allowing Canada and Mexico to talk us down to their levels, we must ensure the highest possible IP protection standards like those applied with Trade Promotion Authority.
As an example of what not to do, we cannot repeat the Obama Administration's embarrassing negotiating strategies during Trans-Pacific Partnership (TPP) discussions, which undermined American IP leadership. Fortunately, President Trump correctly lambasted Obama's performance during that episode, and anyone following his performance on everything from tax reform to the Iran nuclear agreement knows that he likes to match deed with word. So that offers encouragement.
In terms of patent protections, we must ensure patent eligibility standards that span all industries and types of technologies, grounding protection on the concepts of novelty, usefulness and non-obviousness, rather than type of invention or applicable industry. We must also guarantee effective early resolution of patent disputes prior to market entry by potential infringers, adjustment of patent terms to compensate for time lost to bureaucratic delays, data protection periods consistent with U.S. law rather than confiscatory Canadian or Mexican policies and more predictable and transparent pricing and reimbursement rules, particularly for biopharmaceuticals.
In the realm of copyright, particular emphasis should be paid to strengthening penalties for aiding and abetting criminal copyright violations, full implementation of World Intellectual Property Organization (WIPO) internet accords, stronger protection for technological protection measures (TPMs) and against TPM circumvention and protection of temporary copies of copyrighted goods.
And in terms of trademarks and trade secrets, the Trump Administration should press for a full array of civil and criminal causes of action and penalties for violation and theft.
A renegotiated NAFTA must also address the ongoing problem of forced transfer of IP rights and technologies, and greater safeguards against foreign government interference with free transfer agreements and exercise of IP rights between independent private parties.
Finally, the Trump Administration should insist upon full and effective enforcement provisions of any new NAFTA agreement. That includes the full panoply of injunctive relief and monetary damages for violations, civil and criminal penalties sufficient to deter and punish violations as well as effective liability provisions for intermediary parties.
It's important to note that strengthening IP safeguards will also end up boosting Canadian and Mexican international competitiveness and prosperity, which the Trump Administration should emphasize during negotiations.
We cannot allow America's IP dominance to erode, nor can North America lose ground to Europe and Asia in the critical realm of IP protection in an increasingly competitive and information-based world economy. Steadfast emphasis on IP protections by the Trump Administration during NAFTA renegotiation will ensure that doesn't occur.