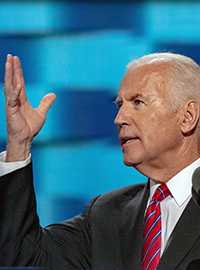 Biden's juvenile attempt at "deer in Kevlar vests" humor aside, he's flatly incorrect as a matter of both law and public policy.
This week, we collectively honored Reverend Martin Luther King, Jr., who built a legacy championing nonviolence.
Joe Biden, however, had a different idea.
Instead of promoting unity as promised during the 2020 campaign, Biden used an MLK Day breakfast speech before the National Action Network as a platform to resurrect his recurring fantasy of waging civil war against fellow citizens with F-15s:
I love my right-wing friends who talk about "the tree of liberty is watered with the blood of patriots." Give me a – if you need to worry about taking on the federal government, you need some F-15s. You don't need an AR-15. I'm serious. Think about it. Think about the rationale for this. It's about money, money, money.
Leave it to Joe Biden to infuse an MLK Day speech with freestyle riffs on bombing other Americans.
Biden's comments were inappropriate enough in isolation, but his casual descent into civil war fantasy was a repeat offense. In June 2021, for instance, Biden mused on how, "If you think you need weapons to take on the government, you need F-15s and maybe some nuclear weapons."
It's an odd riff for a man whose most conspicuous leadership failure occurred when the ragtag Taliban recaptured Afghanistan without the benefit of a single F-15 or nuclear weapon. According to Biden, however, that's implausible.
A better working understanding of rudimentary history would've also led Biden to recall that the American Revolution relied upon an underequipped colonial army against the world's greatest power. Additionally, America's involvement in the guerilla warfare of Vietnam against a technologically overmatched foe dominated Biden's own early adulthood.
We didn't use nuclear weapons against the Viet Cong or North Vietnam, but Biden somehow suggests that he'd employ them against American citizens?
The most objectionable aspect of all, however, was that Biden used those comments as a springboard for his ongoing crusade against so-called "assault weapons" and Americans' Second Amendment right to keep and bear arms:
I'll say it over and over again: I am going to get assault weapons banned. I did it once, and I'm going to do it again. There's no social redeeming value. Deer aren't wearing Kevlar vests out there. What the hell do you need an assault – no, I'm serious. And ban the number of bullets that go in a magazine. There's no – no need for any of that.
Biden's juvenile attempt at "deer in Kevlar vests" humor aside, he's flatly incorrect as a matter of both law and public policy.
In terms of the controlling law – which as the nation's chief executive he has a responsibility to respect – the U.S. Supreme Court emphasized in the seminal District of Columbia v. Heller (2008) decision that "individual self-defense is 'the central component' of the Second Amendment right."
Not deer hunting, Mr. Biden. Self-defense.
The Court further held that the types of firearms protected by the Second Amendment are those in "common use" for lawful purposes such as self-defense.
On that point, the AR-15 became the single most popular rifle in the United States, with over 20 million in the country today. For purposes of comparison, there are approximately 16.1 million Ford F-Series pickups in America. And according to survey data, the primary reason for possessing an AR-15 is self-defense.
Accordingly, by any reasonable definition, the AR-15 constitutes a firearm in "common use" for purposes of self-defense, and is therefore protected by the Second Amendment against whatever confiscation fantasies Joe Biden maintains.
Even the Obama Administration found in 2013 that firearms were used a minimum of 500,000 times each year for self-defense, and as crime continues to rise and cities' soft-on-crime policies continue to increase, that number will only grow.
Setting aside the question of whether AR-15s would prove effective against the F-15s of Biden's bizarre fantasy, they're extremely effective against home invaders and for self-defense. That's precisely the point of the Second Amendment, and It's past time for him to retire his shameful civil war rhetoric for good.