By Byron York
Wednesday, March 15 2023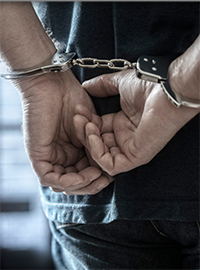 What that means is that anyone who committed murder in Maryland under the age of 25 as part of an arson, burglary, carjacking, rape, robbery, etc. cannot be charged with first-degree murder. It is off the table for prosecutors.
What's one good clue that President Joe Biden really intends to run for reelection in 2024? He is trying to distance himself from the Democratic Party's soft approach to crime. The president, who in 2020 distanced himself from Democrats who advocated defunding the police, stunned many in his party recently when he announced his opposition to a lenient local law in the District of Columbia that would reduce sentences for carjackers and other criminals who use guns in the commission of their crimes.
But recent events in Maryland, right next to Washington D.C., show that Biden will have a lot to run away from. Biden has singled out the new Democratic governor of Maryland, Wes Moore, for praise in recent weeks. "You got a hell of a new governor in Wes Moore, I tell ya," Biden said at an event in Lanham, Maryland on Feb. 15. "He's the real deal." But the president might soon need to run away from Moore and the Democratic leadership of the state next door.
Moore appointed a man named Vincent Schiraldi as head of the Maryland Department of Juvenile Services. Schiraldi is a juvenile justice reformer and former New York City official (under Mayor Bill de Blasio) who describes his current job as "fighting for justice, safety and equity." He is one of a number of people on the left who want to redefine "juvenile justice" to reduce sentences for criminals who commit serious offenses, including murder, before the age of 25.
Their claim is that the human brain does not fully develop until 25, so therefore, criminals who rob and carjack and kill should not be punished as adults when they rob and carjack and kill before hitting 25. "People between the ages of 18 and 25 are more developmentally similar to juveniles than they are to fully mature adults," Schiraldi told National Public Radio in 2015. "They just are. And our justice system hasn't figured that out yet." In 2016, Schiraldi said 18- to 25-year-olds are "more impulsive, particularly in emotionally charged settings, less future-oriented, more peer-influenced, and are greater risk-takers – all of those things impact criminality."
Schiraldi has argued that prosecuting young robbers, carjackers and killers like adults can set them on a life of crime. His answer is to not convict them of felonies, no matter what they have done, before age 25. "If we can get you past 25 without having a felony conviction, the chances of you ever having a felony conviction drop substantially," Schiraldi says. Opponents find such thinking crazy – the idea that you can reduce serious crime by reducing the punishment for serious crime – but that is what Schiraldi and some others on the left think.
Thanks to Maryland's new "real deal" governor, Schiraldi is in charge of the state agency assigned to "manage, supervise and treat youth who are involved in the juvenile justice system in Maryland." And now, nine state lawmakers, all of them Democrats, are putting his ideas into practice in a new bill ironically titled the "Youth Accountability and Safety Act." The bill, were it to become law, would prohibit charging anyone with first-degree murder in Maryland if the killing was committed when the killer was under 25 and the murder was carried out in conjunction with another serious crime – a combination offense referred to as felony murder. It would not matter how heinous a crime a, say, 24-year-old has committed, or how aggravated the murder, or how many murders were committed – the suspect could not be charged with first-degree murder.
The bill recites Maryland law's existing definition of first-degree murder: "a deliberate, premeditated and willful killing." Then, in subsection (A)(4) – that's important – it lists the existing definition of felony murder: A murder "committed in the perpetration of or an attempt to perpetrate: arson in the first degree ... burglary in the first, second or third degree; carjacking or armed carjacking; escape in the first degree from a state correctional facility or a local correctional facility; kidnapping; mayhem; rape; robbery; sexual offense in the first or second degree," and more. And then the bill says this: "A PERSON WHO WAS UNDER THE AGE OF 25 YEARS AT THE TIME OF THE OFFENSE MAY NOT BE FOUND TO HAVE COMMITTED MURDER IN THE FIRST DEGREE UNDER SUBSECTION (A)(4) OF THIS SECTION."
What that means is that anyone who committed murder in Maryland under the age of 25 as part of an arson, burglary, carjacking, rape, robbery, etc. cannot be charged with first-degree murder. It is off the table for prosecutors.
Why would Maryland lawmakers do such a thing? Go back to Schiraldi's goal in his job: to fight for "justice, safety, and equity." And then read the Racial Equity Impact Note prepared for the legislation by the General Assembly's Department of Legislative Services. The document notes that the bill "would have a potentially meaningful impact on black or African American individuals [under the age of 25] who face arrest for murder, in general, at a disproportionately high rate."
The note cites Maryland State Police figures that there were 269 arrests for any degree of murder in 2020. Of that, 111 arrests were for suspects under the age of 25. Of those 111 suspects, 88 were black, 21 were white, one was a Native American and one was of unknown race. "Black or African American individuals were 79% of arrests for murder in 2020 despite comprising just 31% of the under age 25 population in the state," the report says. "In contrast, white individuals were 19% of those arrested for murder, significantly lower than their 42% proportion of the under age 25 state population."
The bill would have its greatest effect, in other words, on murderers who are black. Indeed, supporters of the bill are expressing their support in explicitly racial terms. "Maryland's use of felony murder ... is particularly insidious as applied to black people," writes Margaret Martin Barry, a prominent Democrat in Maryland juvenile justice circles. "Maryland has the distinction of being among the worst states when it comes to incarceration of black people, at more than double the national average. Felony murder fuels the worst tendencies, allowing incarceration for life or life without parole ..."
Will Maryland actually make the new bill law? In the state Senate, Democrats have a 33-to-13 advantage over Republicans. In the state House of Delegates, Democrats have a 102-to-39 advantage over the GOP. The new governor is a Democrat. Republicans overwhelmingly oppose the new bill. What that means is that the decision whether or not to pass the Youth Accountability and Safety Act into law will be an issue decided by Democrats. Their choice will tell the public something about the Democratic Party and crime.
And that is where President Biden comes in. No, he is not a senator, a delegate or the governor of Maryland. He does not run the state. But he is not the mayor of Washington D.C., either, and, because of the unique structure of the District of Columbia government, he was pulled into a fight over a measure that, among other things, reduced sentences for carjackers and others who commit crimes with firearms in Washington D.C. Now, neighboring Maryland is considering going even further – reducing sentences for some criminals who kill people in the act of stealing their cars or robbing them or setting fire to their homes or raping them or more. Can Biden avoid expressing some sort of judgment on that, too?
---
Byron York is chief political correspondent for The Washington Examiner.
COPYRIGHT 2023 BYRON YORK