By Ashton Ellis
Wednesday, September 10 2014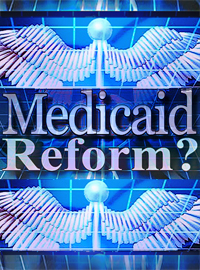 Medicaid expansion only makes sense if, as implemented, it moves the program in a more market-oriented direction.
In last week's column, I explained why not all decisions by Republican governors to expand Medicaid under ObamaCare deserve to be criticized.
The difference is in the details. Most GOP governors who've said yes to expansion are doing nothing more than increasing the federal – and eventually their states' – budget deficit. Those decisions have been, and should be, roundly criticized.
But a smaller set of Republican leaders is trying to reform Medicaid from within. Mike Pence of Indiana, Terry Branstad of Iowa, Tom Corbett of Pennsylvania and possibly Bill Haslem of Tennessee are each proposing similar changes that would, if implemented, move Medicaid in a more market-friendly direction.
Unlike most of ObamaCare – which injects the government into new areas of health policy – Medicaid is a fifty-year old program that every state participates in. Eliminating the program altogether or radically changing it overnight are not serious options. The only realistic way to introduce spending discipline is to reform the structure over time.
Conservatives concerned about ObamaCare's lurch toward socialized medicine should welcome Medicaid reform proposals that preserve the nation's commitment to help the poor while also putting the program on a more sustainable fiscal trajectory.
But only if the reforms actually go into effect.
The key condition that should trigger conservative support for any of the Republican Medicaid reform proposals is "if implemented." If implemented, Medicaid in Indiana, Iowa, Pennsylvania and perhaps Tennessee would be transformed into a more competitive system directed by cost-conscious consumers. In the future, other states could incorporate the best practices from these pioneering reformers, moving Medicaid even farther away from a centrally planned, bureaucratically driven system.
But again, only if federal regulators allow states to do so.
So far that hasn't been the case.
In fact, in each case federal regulators have denied nearly every single request to redirect Medicaid dollars toward a more market-friendly alternative. The most dramatic example came last week when the Centers for Medicare and Medicaid Services (CMS) rejected eight key reforms sought by Governor Tom Corbett of Pennsylvania.
In seeking a waiver from ObamaCare's Medicaid expansion scheme – in principle a great idea – Corbett requested flexibility on items that would create more cost certainty for the state and increase personal responsibility among beneficiaries. Those include increasing co-pays for non-emergency ER visits from $8 to $10; permission to use federal funds to reduce cost-sharing for enrollees based on voluntary work search and training; permission to dis-enroll those who do not pay monthly premiums, plus a waiting period before re-enrollment, as well as flexibility to allow customized benefits and deny wrap-around benefits.
CMS denied each one.
Hats off to health policy experts Josh Archambault and Nic Horton of the Foundation for Government Accountability for correctly predicting that Pennsylvania's Medicaid expansion alternative would not get the Obama administration's approval for its market-friendly reforms. They are also correct to criticize Corbett's decision to go ahead with Medicaid expansion even though the heart of his reform agenda has been removed.
To repeat, Medicaid expansion only makes sense if, as implemented, it moves the program in a more market-oriented direction. However, the experiences so far in Iowa, Indiana and now Pennsylvania show that the Obama administration will not allow states to make this change. From CMS' perspective, Medicaid waivers give little more than political cover for failed reform.
Even so, Corbett, Pence and Branstad are right to seize an opportunity for reform. Their ideas help illustrate a contrast between liberals and conservatives that shows Republicans are willing to improve the social safety net in ways that make it more durable. Conservatives need more governors willing to move entitlement policies in the right direction, and commit themselves to specifics. And they need to be equally as willing to insist on key terms, or walk away without a deal.
With Medicaid or any other entitlement program, when the conditions for success aren't present, no reform is better than bad reform.