By Ashton Ellis
Wednesday, May 13 2015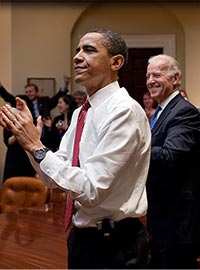 The CMS letter indicates a deliberate attempt to force Florida into expanding Medicaid.
When it comes to expanding Medicaid under ObamaCare, the Obama administration has a clear goal: Coerce holdout states into submission by threatening to eliminate funding for other health-related programs.
Florida is fighting back.
In a new lawsuit, Florida Attorney General Pam Bondi details a long train of bad faith negotiations by federal officials that openly disregards a U.S. Supreme Court command not to punish states for refusing to expand Medicaid.
Since 2005, Florida has operated a federally funded health care program to serve a low income population (LIP) not covered under traditional Medicaid. The program exists under a waiver provision in federal law that must be renegotiated every few years with the Centers for Medicare and Medicaid Services (CMS). The current waiver is set to expire on June 30, the day Florida's new fiscal year begins.
In January, Florida began negotiations with CMS to extend the waiver. From the beginning, state officials made it clear that because the Florida constitution requires a budget to be passed by May 1, an agreement in principle needed to be reached by mid-April so that funding could be secured through the legislature by the deadline.
All throughout the spring, Florida submitted several proposals to CMS for continuing the waiver, including improvements to the program contained in an independent third party audit demanded by CMS and paid for by Florida. At every turn, Florida officials reminded their federal counterparts that they would not accept a waiver extension that expanded Medicaid.
This should have been no surprise to the negotiators at CMS because the U.S. Supreme Court guaranteed Florida's right to refuse ObamaCare's Medicaid expansion when it upheld the controversial law in 2012. In NFIB v. Sebelius, Chief Justice John Roberts explained that the provision in ObamaCare allowing the Secretary of Health and Human Services to condition federal health dollars on a state's acceptance of Medicaid expansion was unconstitutional. In Roberts' memorable phrase, the federal government cannot "hold a gun to the head" of states.
And yet that is exactly what CMS is doing, according to Florida's lawsuit.
"On April 14, 2015, CMS abruptly changed course," Bondi alleges in her complaint. "CMS sent the State a letter that, by its terms and timing, informed the State that it would no longer fund Florida's LIP program unless and until the State agreed to expand its Medicaid program. In doing so, CMS did not even mention, let alone attempt to reconcile its position with, the State's repeated and undisputed showings that the LIP program and Medicaid expansion make care available to different populations, have different goals, and pay for healthcare services through different channels."
The CMS letter indicates a deliberate attempt to force Florida into expanding Medicaid. CMS negotiators knew that demanding a complete capitulation two weeks before a crucial budget deadline would put Florida officials in a tight spot, since they would have to choose between following state law, or defending their constitutional rights in a lengthy court battle. Either choice comes with significant financial costs. Without the waiver, Florida will lose at least $1.3 billion in federal funding. If it expands Medicaid per the CMS fiat, the state's budget will have to either grow to cover the increase or cannibalize other services.
Though it would have been easier to cave, Florida Governor Rick Scott and Attorney General Bondi, both Republicans, decided to hold the Obama administration accountable. The lawsuit merely asks the federal judiciary to stop CMS from violating Supreme Court precedent and return to the negotiating table.
It may no longer shock the conscience to realize that the Obama administration seems incapable of following simple guidelines. But Americans cannot become numb to the problem. If the process of governing is to have any integrity, Florida's lawsuit must be vigorously prosecuted. Hopefully, there are still enough good judges on the bench to ensure that it will succeed.