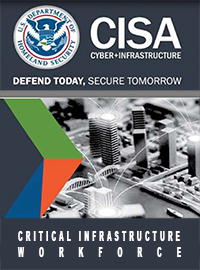 At this rate, guns and ammunition will soon be harder to find than toilet paper.
Suddenly, the Second Amendment doesn't seem quite so abstract or anachronistic anymore.
Even the federal government now openly highlights its salience to American society.
This week, the United States Department of Homeland Security (DHS) issued a nationwide memorandum designating "essential critical infrastructure workers" amid the coronavirus pandemic, and it specifically referenced the nation's firearm and ammunition sector:
The Cybersecurity and Infrastructure Security Agency (CISA) executes the Secretary of Homeland Security's authorities to secure critical infrastructure. Consistent with these authorities, CISA has developed, in collaboration with other federal agencies, State and local governments, and the private sector, an "Essential Critical Infrastructure Workforce" advisory list. This list is intended to help State, local, tribal and territorial officials as they work to protect communities, while ensuring continuity of functions critical to public health and safety, as well as economic and national security… Functioning critical infrastructure is imperative during the response to the COVID-19 emergency for both public health and safety as well as community well-being. Certain critical infrastructure industries have a special responsibility in these times to continue operations. (emphasis added)
The ensuing list specifically includes the following: "Workers supporting the operation of firearm or ammunition product manufacturers, retailers, importers, distributors, and shooting ranges."
The American public clearly agrees.
Commercial firearms purchases require a background check by the Federal Bureau of Investigation (FBI) through its National Instant Criminal Background Check System (NICS). And according to the NICS, 3,740,688 background checks were conducted during the just-completed month of March, by far the highest number since the NICS system was created in 1998. Before last month, the NICS had never even reached the 3 million mark.
As Cam Edwards, former host of "Cam & Co." on NRATV and current editor of the website Bearing Arms, notes, "And if states like New Jersey had allowed gun stores to remain open, instead of shutting them down for nearly two weeks, the figures would be even higher."
At this rate, guns and ammunition will soon be harder to find than toilet paper.
And justifiably so. Across America, authorities are increasingly responding to the coronavirus pandemic by releasing inmates from jails and prisons, and ordering law enforcement to avoid arresting violators who would otherwise be detained.
Exacerbating matters, many among the law enforcement and emergency responder community find themselves falling victim to coronavirus due to their ongoing interaction with the public and elevated levels of stress placed upon them under perilous conditions.
Preposterously, Houston's Democratic Mayor Sylvester Turner resorted to begging criminals to "chill":
Let me just make my plea. Until the coronavirus is resolved, criminals take a break, OK? Stay home, OK? Stay home, and don't commit any crimes. And that way, they'll stay safe and out of jail, and police officers can stay safe and go home to their families, OK? So everybody chill! Crooks, criminals, you chill! Wait until the coronavirus is over, OK? And the we'll all be OK.
That's reassuring.
The inescapable reality is that potential criminals have become even more desperate, just as deserted streets and businesses make criminal activity even more tempting. Meanwhile, emergency responders are stretched even more to their limits.
And that, in turn, creates a renewed appreciation for the Second Amendment's individual right to keep and bear arms, as cogently noted by National Shooting Sports Foundation Public Affairs Director Mark Oliva:
This is overwhelming evidence that Americans value their ability to take responsibility for their own safety in times of uncertainty. The figures are simply eye-popping. Retailers have been telling us that the overwhelming majority of those buying firearms over the last month have been first-time gun owners. This puts to rest America's thoughts on gun control ideas. Americans across the country chose to exercise their right to lawfully purchase a gun when their safety became more than a rhetorical question. (emphasis added)
Predictably, that straightforward logic escapes stubborn gun control extremists. According to the Brady Campaign, it's all nothing more than a National Rifle Association marketing ploy. "As a result of fears stoked by the National Rifle Association and other gun-industry groups around the coronavirus pandemic," it said, "we saw more federal background checks initiated in March 2020 than any other month on record."
If anything, the opposite is true. At a moment of increased economic uncertainty, the last thing that Americans would be doing by the millions is wasting their dwindling resources on frivolous purchases "stoked by the National Rifle Association."
The truth is that our Founding Fathers understood human nature, and the importance of protecting the natural right to keep and bear arms for self-protection amid uncertain times. And in increasing numbers, Americans today are thankful that they did.