By Ashton Ellis
Wednesday, December 03 2014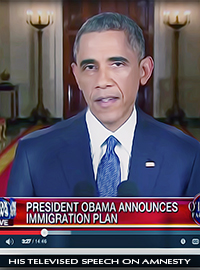 This reality turns Obama's amnesty into a classic unfunded mandate for the states.
As Republicans in Congress debate how best to respond to President Barack Obama's unilateral and unconstitutional immigration amnesty, state governments are wondering how they will pay for this massive new unfunded mandate.
Consider the impact on New York, Nevada, Texas and California.
One of the leaders of the New York Senate anticipates that Obama's executive order could increase the state's welfare rolls by an additional 300,000.
New York's Medicaid program will be particularly hard hit because of a quirk in state law that makes legal non-citizens eligible to receive government-financed health care. However, federal money cannot be spent to cover them. That means New York taxpayers must pay the entire cost for any illegal immigrant transformed into a legal non-citizen under Obama's amnesty order.
This reality turns Obama's amnesty into a classic unfunded mandate for the states. Unless New York receives increased federal funding to offset its new spending obligations, the Empire State will have to reduce or eliminate Medicaid appropriations in other areas, such as payments to "hospitals, nursing homes, mental health and substance abuse services," reports the New York Post.
The situation is worse for Nevada. Obama's amnesty – which halts deportation proceedings against illegal immigrants who arrived before 2010 and gives them work permits – could significantly alter the state's economic landscape.
As of 2012, the population of Nevada included 7.6 percent illegal immigrants and its workforce was 10.2 percent illegals, both twice the national average, according to a Pew Research Center report. In addition, 17.7 percent of the students enrolled in the state's public school system were from a home with at least one parent who is not in the country legally – two and half times the national average.
Like New York, the strain on Nevada's Medicaid system will be felt immediately as previously ineligible residents enroll in the program.
The shift to legalized status for work purposes will also send tremors through the state's labor market. The ability of newly legalized workers to seek better jobs – while no doubt a welcome opportunity for them and their families – will increase the supply of labor in an already competitive job market. As of August 2014, Nevada's unemployment rate was 7.6 percent, higher than both California (7.4 percent) and Arizona (7.1 percent). Increasing competition in such an environment will mean less opportunities for those already struggling to get or keep a job.
And then there's Texas. Unlike New York and Nevada, Texas has refused to expand its Medicaid program under ObamaCare, making it less vulnerable to the likely surge in enrollment that faces other states.
But Texas remains perhaps the most popular entry point for illegal immigrants into United States, as evidenced by as many as 1,000 border crossings a day during a mass exodus of children and adults from Central America this year. Incoming Republican Governor Greg Abbott says that Obama's previous decision to grant a temporary amnesty to illegal immigrants who arrived as children caused others to come seeking a similar deal. To fight back against Obama's expansion of that program, Abbott has vowed to file a federal lawsuit.
Even consistently liberal states like California will feel the fiscal pinch of Obama's amnesty. After the state expanded Medicaid under ObamaCare, 3 million new people enrolled, bringing the total to 11 million. With the nation's largest population of illegal immigrants, the number of California's Medicaid beneficiaries will continue to climb.
The money has to come from somewhere, and the most obvious place won't be the federal government. Whatever Republicans in Congress decide to do about Obama's amnesty, they should put a premium on reducing the strain on state budgets as quickly as possible. Taxpayers simply cannot afford to let the president be so recklessly generous with their money.