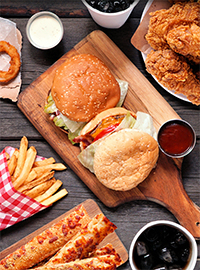 Unless the state Senate or Governor Newsom intervene, A.B. 257 will punish working-class Californians at an entirely new level: where they feed their families.
We've reached a point when leftist politicians openly sacrifice the working class in furtherance of their partisan agenda, a downward class warfare.
This week, Joe Biden finally ended months of speculation by announcing a student loan bailout for borrowers earning up to $125,000 annually. For perspective, $125,000 puts someone in the top 10% bracket, while the median U.S. income is $44,225. Keep in mind that bailout beneficiaries have already been receiving repayment deferrals since March 2020. Also keep in mind that those with a college degree will earn approximately $1 million more over their careers than those without one, creating a regressive tax.
This indefensible student loan bailout arrives on the heels of Biden signing into law the Manchin-Schumer "Inflation Reduction Act," which actually increases consumer inflation in the short term, while subsidizing electric vehicles when approximately 80% of EV tax credits go to filers with incomes over $100,000. The bill also rewards solar panel purchases and other upper-income "weatherizing" fetishes, when The Wall Street Journal reports that, "taxpayers with income of $200,000 and above received on average a credit that is approximately seven times the average tax credit received by taxpayers with income of $30,000 and under."
In California, however, some politicians push that downward class warfare to an almost unimaginable extreme. They're actually targeting lower-income Americans where they eat.
That campaign comes in the form of Assembly Bill 257, the so-called "Fast Food Accountability and Standards Recovery (FAST) Act." It passed in the state's Assembly last January, and is now being considered in the state Senate, which should exhibit an interlude of sanity by killing the proposal.
The legislation would establish a "Fast Food Sector Council" of 13 unelected partisan appointees within California's existing Department of Industrial Relations (DIR), which would set wages, benefits, training, working conditions and employment standards for counter-service restaurants (where customers pay first, then eat) across the state. Although proponents seek to apply the term "fast-food" to restaurants subject to its provisions, it would also hit coffee shops, sushi counters, delicatessens, juice and smoothie bars, frozen yogurt shops, salad bars, bakeries, taquerias, pizzerias, burger counters, and more.
The bill would also effectively impose what's known as the "Joint Employer Rule" by imposing blanket legal liability upon restaurant franchisors for franchisee employees whom they didn't hire, and over whom they exercise no day-to-day control or oversight. That contravenes established American labor law, which imposes liability only upon businesses that directly and immediately exercise everyday control over the hiring, firing and conditions of employment. Naturally, labor unions would love the radical change, but it's a job and business killer.
Even California Governor Gavin Newsom's own Department of Finance demonstrated a welcome degree of sobriety by opposing A.B. 257:
Finance is opposed to this bill because it creates significant ongoing costs at DIR. Additionally, it creates a sector-specific rule-making body within DIR, which could lead to a fragmented regulatory and legal environment for employers and raise long-term costs across industries. Finally, it is not clear that this bill will accomplish its goal, as it attempts to address delayed enforcement by creating stricter standards for certain sectors, which could exacerbate existing delays.
An independent University of California-Riverside economic analysis reached the same conclusion, stating that A.B. 257 would lead to job losses and industry attrition, and hit lower-income consumers particularly hard with price increases between 7% and 22%:
Any increases in worker compensation will bring about an increase in prices for consumers, which could hurt lower income households who are already struggling with current inflation in food prices. It will also cause the industry to shrink, with fewer establishments and jobs. The costs to consumers and entrepreneurs must be considered in the overall assessment. By the calculations above, compensation increases in the 20% to 60% range will cause prices at limited-services restaurants to increase between 7% and 22%.
"Historic inflationary pressures have hit many parts of the economy, putting tremendous stress on low-income households," noted the study's author Christopher Thornberg, PhD. "If the FAST Act passes, we can expect a very sharp increase in food costs from the affected restaurants, and that could push these families to the breaking point, given the financial pressures working families already feel from rising rents, gas and other necessities."
Across the country, politicians like Joe Biden who constantly claim to support working Americans impose policies that punish them. We witnessed a perfect illustration this week with Biden's student loan bailout.
Unless the state Senate or Governor Newsom intervene, A.B. 257 will punish working-class Californians at an entirely new level: where they feed their families.