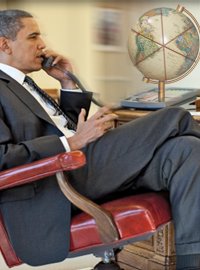 [T]he issue is that Obama's continued pattern of behavior has created an obvious crisis of U.S. leadership.
The rhetorical tic, "Let me be clear" infects nearly every statement that Barack Obama makes.
Yet then he turns around and disavows earlier statements in which he was abundantly clear.
This was Obama one year ago on August 20, 2012, when asked about Syria:
"I have, at this point, not ordered military engagement in the situation. But the point that you made about chemical and biological weapons is critical. That's an issue that doesn't just concern Syria. It concerns our close allies in the region, including Israel. It concerns us. We cannot have a situation where chemical or biological weapons are falling into the hands of the wrong people. We have been very clear to the Assad regime, but also to the other players on the ground, that a red line for us is, we start seeing a whole bunch of chemical weapons moving around or being utilized. That would change my calculus. That would change my equation." (Emphasis added.)
But here was Obama this week in Stockholm, Sweden when confronted with that year-old assertion:
"First of all, I didn't set a red line. The world set a red line. The world set a red line when governments representing 98% of the world's population said the use of chemical weapons is abhorrent and passed a treaty forbidding their use, even when countries are engaged in war. Congress set a red line when it ratified that treaty. Congress set a red line when it indicated that in a piece of legislation entitled the Syria Accountability Act that some of the horrendous things that are happening on the ground there need to be answered for."
If that's the case, then why didn't Obama similarly support the Iraq war? After all, Saddam Hussein also used chemical weapons against his own citizens. He also used them against foreign enemies. Hussein also attacked no fewer than four other nations (Iran, Kuwait, Saudi Arabia and Israel), attempted to murder a former U.S. President, subsidized suicide bombers in other nations, constantly attacked American Air Force jets and refused to allow international inspections per the terms of his earlier agreements. Bill Clinton had signed legislation advocating regime change in Iraq. Moreover, "the world" was far more supportive of Bush's invasion of Iraq, which included a coalition of approximately 40 nations. In contrast, Obama can't even persuade our closest ally Britain to join him.
Nor does it make sense for Obama to shirk responsibility by pointing toward Congress, since he routinely ignores it on everything from "recess" appointments to immigration laws to global warming pursuits.
It's all apparently Obama's counterpart to Harry Truman's admission that "The buck stops here." Somehow, everybody other than Obama is responsible for drawing the "red line," even though he's the one who actually used the term.
Of course, disavowing earlier statements whose meanings were perfectly clear is nothing new for Obama. In 2011, Obama said that Assad "had to go." Today, however, his administration has explicitly taken regime change off the table as a goal of military intervention.
Or recall July 2012, when the man who never ran so much as a lemonade stand in the private sector thundered, "If you've got a business, you didn't build that – somebody else made that happen!" Embarrassed handlers immediately claimed that Obama was referring to "roads and bridges," even though the man we're supposed to consider the most gifted orator of our lifetimes chose the singular "that." In January 2009, Obama promised that Guantanamo Bay prison would be closed by January 2010. And so on.
As much as Obama has earned the ridicule heaped upon him, however, that is not the broader concern here.
Rather, the issue is that Obama's continued pattern of behavior has created an obvious crisis of U.S. leadership.
Even those who oppose intervention in Syria can acknowledge that reasonable arguments exist for responding militarily to Assad's use of chemical weapons. Unfortunately, Obama's constant hyper-partisanship and litany of broken promises have destroyed his credibility both at home and abroad. From Guantanamo Bay to ObamaCare to the "red line" in Syria over one year ago, his words prove meaningless, and his motives too often prove malevolent.
When even Britain refuses to partner with an American president, and Congress simply cannot trust him to deploy our military forces competently and earnestly, we have lost something important.
That erosion of American stature should alarm every American, and serve as a cautionary tale for future elections.