By Quin Hillyer
Tuesday, August 16 2011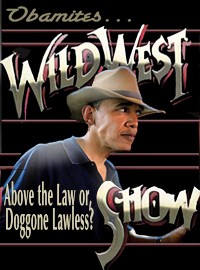 The most devastating court loss last week, of course, came August 12 when a three-judge panel of the U.S. 11th Circuit Court of Appeals ruled 2-1 that the individual insurance mandate in ObamaCare is unconstitutional.
On subjects ranging from Black Panthers to black gold, the Obama administration is having a very bad time in courts these days, and rightly so. Again and again the Obamites try to abuse their authority without regard to constitutional or statutory limits. Fortunately, judges shot down Obamite overreach in three important cases within days of each other last week, and more administration setbacks are likely. In the United States, even sophists and ideologues are subject to the rule of law.
The most devastating court loss last week, of course, came August 12 when a three-judge panel of the U.S. 11th Circuit Court of Appeals ruled 2-1 that the individual insurance mandate in ObamaCare is unconstitutional. The decision was all the more dangerous for the administration because one of the judges ruling against Obamacare, Frank Hull, was a Democratic (Clinton) appointee – thus killing the idea that judicial opposition to ObamaCare was purely partisan – and because the language of the opinion was so scathing.
"The individual mandate is a sharp departure from all prior exercises of federal power," the judges wrote. "It has no basis in the history of our nation…. The individual mandate is breathtaking in its expansive scope…. [The mandate] is unprecedented, lacks cognizable limits, and imperils our federalist structure."
Also on August 12, another Democratic judge, this time one appointed by Obama himself, overruled a different sort of Obama administration tyranny. U.S. District Judge Nancy Freudenthal of Wyoming ruled the administration had acted despotically in issuing new regulations slowing down oil and gas development on federal lands. The regulations, wrote the judge, "constitute legislative rules adopted contrary to public notice and comment procedures required by law." She ordered the regulations to be suspended nationwide – a huge slap in the face to the president who appointed her.
This is the second time the administration's war on domestic energy producers has been shot down by a federal judge. In 2010, of course, Louisiana's Judge Martin L.C. Feldman concluded that the Obama moratorium on deepwater drilling was illegal, and he later found the administration in contempt of court for ignoring his order on the subject. In short, this administration is lawless.
More evidence of lawlessness was highlighted a week earlier when U.S. District Judge Reggie Walton of the District of Columbia rebuked the Obama Justice Department for improperly withholding documents related to its dismissal of most of the charges in an already-won voter-intimidation case against members of the violently radical New Black Panther Party. Repeatedly during the past 30 months, this "most transparent administration in history" has aggressively blocked public scrutiny of its actions great and small, ranging from foreign policy (related to Honduras) to matters related to immigration, terrorist detainees, the Troubled Asset Relief Program and firing of a blameless, innocent inspector general.
In the Panther case, the administration, quite absurdly, claimed that the "attorney work-product privilege" exempted from public disclosure even a number of documents created after the administration had dismissed the case. The public-interest group Judicial Watch objected, noting that it makes no sense to assert that officials answerable to the public can shield documents created after a case is over in order to explain its take on the decision. What's being withheld isn't legal work; it's basically just deliberations about how to spin the result – as in, according to Judge Walton, "e-mails between officials in the Civil Rights Division and the Office of Public Affairs."
Bending over backwards to ensure that the administration's "privilege" would be "interpreted broadly and held largely inviolate," Judge Walton wrote that "it is difficult to see how these documents were 'prepared or obtained because of the prospect of litigation'." On a number of other counts he ruled against Judicial Watch, but he ordered the administration to "provide a more comprehensive description as to why any non-exempt material" should be withheld from the public.
This was not a huge loss for the administration, but it did represent another crack in the edifice of its arrogant disdain for public review of its actions. Similarly, it recently lost its argument that ordinary voters in Kinston, N.C., somehow don't even have legal standing to challenge the Obama Justice Department's unilateral overturning of the voters' own decision to hold non-partisan elections.
This is an administration that tries to rule by edict, without bothering with the ordinary procedures and protections of a constitutional republic. Thank goodness the courts are serving as a bulwark of liberty against these abuses of presidential power.