By Quin Hillyer
Thursday, January 12 2012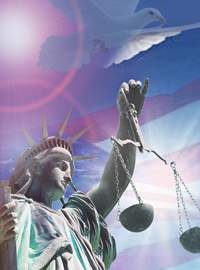 The victory for First Amendment religious freedom is immense, and the embarrassment for the administration is supreme.
In a devastating smackdown of the Obama administration's extremist, anti-religious legal philosophy, a unanimous – repeat, unanimous – Supreme Court on Wednesday ruled anew that government usually may not interfere with a religious institution's hiring and firing practices. The victory for First Amendment religious freedom is immense, and the embarrassment for the administration is supreme.
The case, styled Hosanna-Tabor Evangelical Lutheran Church and School v. Equal Opportunity Employment Commission, involved a Michigan church-school's decision to terminate employment of a schoolteacher explicitly and openly hired as a "minister of religion, commissioned" – a position that included duties teaching a religion class four days a week. Courts for at least four decades have recognized what is known as a "ministerial exception" to most employment lawsuits. Without the exception, for instance, the government might force the Catholic Church to hire women as priests, regardless of church doctrine on the subject, in order to abide by anti-discrimination laws. The exception is an essential protection against government entanglement with free religious exercise.
Cheryl Perich, the teacher in Hosanna-Tabor, sued, alleging that her job should have been protected because of a disability (narcolepsy). The Obama administration, through the Equal Opportunity Employment Commission, joined the suit on her behalf. It did not, however, merely argue that the ministerial exception, for various reasons, should not apply in her case. Instead, it took what the Supreme Court Wednesday called the "untenable" and "remarkable view that the Religion Clauses have nothing to say about a religious organization's freedom to select its own ministers," and that earlier case law somehow "precludes recognition of a ministerial exception."
This view, wrote Chief Justice John Roberts for the court, "has no merit."
This is as categorical a rejection of an administration by the high court as can be imagined. There is no wiggle room in the language of the decision. And there were no dissenters, not even liberals such as Sonia Sotomayor. Slam, bang, not even close: "No merit," period.
Having reaffirmed the existence of a ministerial exception, the court went on to rule that it was easily broad enough to encompass the dispute at hand:
Perich's title as a minister reflected a significant degree of religious training followed by a formal process of com¬missioning. To be eligible to become a commissioned minister, Perich had to complete eight college-level cours¬es in subjects including biblical interpretation, church doctrine, and the ministry of the Lutheran teacher. She also had to obtain the endorsement of her local Synod district by submitting a petition that contained her aca¬demic transcripts, letters of recommendation, personal statement, and written answers to various ministry ¬related questions. Finally, she had to pass an oral exami¬nation by a faculty committee at a Lutheran college. It took Perich six years to fulfill these requirements.
For the administration to argue that somehow such an employee does not qualify as a "minister" of the religious institution is utterly absurd. The EEOC had argued that even if a ministerial exception does exist, it "should be limited to those employees who perform exclusively religious functions."
Answered the Supremes: "[W]e are unsure whether any such employees exist. The heads of congregations themselves often have a mix of duties, including secular ones such as helping to manage the congregation's finances, supervising purely secular personnel, and overseeing the upkeep of facilities."
Clearly, even the administration's fallback position would have had the effect of thoroughly gutting the ministerial exception. But that is no surprise. This is an administration that has been unremittingly hostile to many exercises of faith (with the exception of insisting on special protections for Muslims). It has steadily chipped away at "conscience clauses" allowing medical institutions or personnel not to perform abortions or other functions contrary to their beliefs. (Result: the closing, in many places, of adoption agencies run by Catholic organizations, or of Catholic hospitals.) It has ordered Christian colleges to provide health plans that cover abortifacients. It tried to shut down the United States Commission on International Religious Freedom. Indeed, it has more broadly "sidelined" concerns about religious freedom in favor of kowtowing to foreign powers, especially Muslim nations that want to impose Islam on everybody within their borders.
On the other hand, when it came to building a mosque at the site of Ground Zero, suddenly Obama became passionate about the "religious freedom" of Muslims. Like the pigs in Animal Farm who were "more equal than others," Muslims seem to deserve, according to Obama, more religious freedom than others.
One wonders, however, what the administration will do to Muslims who refuse to perform abortions….
Perhaps they'll be given ministerial exceptions if they join a government union or something.