By Quin Hillyer
Wednesday, April 17 2013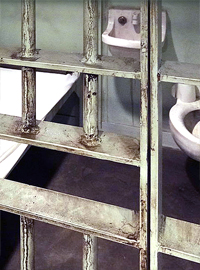 Legal error piled upon legal error, and Evertson found himself serving a 21-month sentence – for an entirely victimless, bogus 'infraction' that fits no reasonable definition of a 'crime.'
The Washington Legal Foundation (WLF) this week filed an appeal in one of the most heart-rending legal cases I've ever covered, one perfectly emblematic of the growing twin problems of A) federal "overcriminalization" of iffy, minor infractions and B) prosecutorial abuse. Indeed, I've written a book chapter and a full newspaper series on the case of would-be inventor Krister Evertson, and also given speeches on his saga.
But justice hasn't yet been done, which is why the appeal filed this week is so important.
The short version of a very long story is this: Evertson is a man who never had been in trouble with the law, who did lots of great volunteer work – and who, ever since winning science-fair contests in junior high school, had been determined to find ways to produce clean energy without burning fossil fuels.
Working in Idaho, Evertson had used family money to combine Borax and pure sodium to create a clean-energy fuel cell. Nobody disputes the scientific possibilities of his project; the main question was if it could be done efficiently and effectively enough to be readily usable. But he ran out of money before achieving success, so he moved to Alaska to help care for his mother while trying to earn more money for his research. To raise money for daily use in the meantime, he sold some of his sodium on the Internet – a perfectly legal thing to do.
When he found a buyer, he packaged the sodium according to all safety specifications, check-marked a form to request ground transportation, and sent it on its way. Ground transportation is necessary because pure sodium can explode if it comes into contact with water, so it's not allowed in airplanes.
Little did Evertson know that the shipping company he chose does not use ground transportation from Alaska – only air – because of the great distances involved. Technically, although the packaging made the sodium safe, he should have found another delivery method.
As it was, no accidents happened, and no damage was done. But the feds, guns drawn, forced him off the road one day. Treating him like a terrorist, they booked him for illegal shipment of a hazardous substance. When a jury rightly acquitted him for his innocent error, the feds wouldn't quit. Back in Idaho, using a different law, they charged him with improper transportation and abandonment/disposal of a hazardous substance – because, several years earlier, he had driven his materials about a mile, stored them (again, with great care and perfectly safely) at a friend's auto-parts yard and then left them behind when he moved to Alaska.
Never mind that the materials weren't waste, weren't hazardous in the form that he stored them and had been neither abandoned nor disposed of – because, of course, he intended to return and use them once he raised more money.
Legal error piled upon legal error, and Evertson found himself serving a 21-month sentence – for an entirely victimless, bogus "infraction" that fits no reasonable definition of a "crime."
With WLF's help, Evertson now is appealing based on "ineffective legal assistance" because, as explained in the WLF brief, "defense counsel refused his demand that he be permitted to testify and that, because of their lack of understanding of environmental law, they failed to object to highly prejudicial jury instructions regarding the elements of the offenses with which he was charged."
The court ought to grant the WLF/Evertson petition. As the brief explains in highly persuasive detail (too lengthy to be summarized here), the claim of ineffective counsel is amply supported by the evidence. And as a simple case of normative standards of fairness and logic, Evertson's conviction was a tragic injustice which ought to be officially reversed.
Alas, Evertson's case is far from the only example of overcriminalization and prosecutorial abuse. Instead, these are significant, ongoing problems. As I've previously noted here at CFIF, noted lawyer Harvey Silverglate wrote a 2009 book called "Three Felonies a Day" to explain that because of the over-proliferation of niggling regulations in federal law, each one of us averages the commission of three daily federal crimes without even knowing it.
The most immediately absurd example I've found is that of the men imprisoned for eight years for the dangerous infraction of importing lobster tails in plastic instead of cardboard. (Oh, the horror!) While other cases may not be so obviously obscene, the number of those cases is legion.
Some of those cases involve regulations that should not exist at all; others, as WLF's press release observes, "criminalize business practices that, even if technically a violation of some regulatory rule, are more appropriately addressed in a civil proceeding."
Krister Evertson deserves his name and full civil rights back. The American people deserve freedom from regulatory tyranny disguised as criminal law.