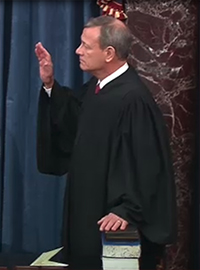 More than any discernable judicial philosophy, Roberts seems to relish more than anything his new role as the 'New Justice Kennedy' swing vote.
"Judges and justices are servants of the law, not the other way around. Judges are like umpires. Umpires don't make the rules, they apply them. The role of an umpire and a judge is critical. They make sure everybody plays by the rules. But it is a limited role. Nobody ever went to a ballgame to see the umpire."
Those were the words of Chief Justice John Roberts in 2005, when he was still interviewing for the job rather than secure in its lifetime appointment.
Contrary to that promise, Roberts has since his confirmation increasingly made the rules rather than applied them, and appeared more interested in playing the role of popularity curator than impartial umpire.
Most infamously, Roberts in 2012 disregarded his role as umpire to preserve ObamaCare in a preposterously extralegal maneuver.
Recall that in selling his namesake healthcare law, Obama stated unequivocally that, "I absolutely reject that notion" that ObamaCare was a tax. For good measure, Obama added that, "for us to say that you've got to take a responsibility to get health insurance is absolutely not a tax increase." Similarly, both the House of Representatives and Senate that passed the bill into law by the slimmest of margins refused to label it a tax, because political opposition wouldn't have allowed it.
Unable to rationalize ObamaCare as a regulation of interstate commerce when the legal challenge arrived before the Supreme Court, Roberts the self-described umpire nevertheless ushered the proverbial ObamaCare baserunner across home plate by suddenly declaring it a "tax."
So much for calling balls and strikes impartially. While disregarding fidelity to the role of neutral arbiter that he promised to play, however, Roberts succeeded in immediately elevating his popularity among the leftist media and legal intelligentsia.
In the ensuing eight years, Roberts appears to have increasingly enjoyed that intoxicant.
In November 2018, for instance, Roberts overtly descended into the partisan fray by contesting President Trump's reference to an "Obama judge" who had ruled against him in an immigration case.
"We do not have Obama judges or Trump judges, Bush judges or Clinton judges," Roberts said in a brief statement released to the Associated Press. "What we have is an extraordinary group of dedicated judges doing their level best to do equal right to those appearing before them. That independent judiciary is something we should be thankful for."
Notably, Roberts didn't consider it important to similarly rebuke Barack Obama in 2010 after he grotesquely misstated the Citizens United decision in a live State of the Union speech to the entire nation, which prompted Justice Alito to shake his head in disgust and mouth the words, "Not true." At least Trump had objective accuracy on his side, since the judge he criticized was indeed an Obama nominee. Obama, in contrast, openly falsified both the Citizens United decision and applicable constitutional law. At the very least, Roberts could've corrected the record in terms of legal principle.
But that wouldn't have pleased the high priests of the commentariat in a way that rebuking President Trump did.
In the Supreme Court's current term, Roberts has amplified his disturbing tendency.
Most infuriatingly, Roberts dismissed a highly anticipated Second Amendment case as moot after New York lawmakers hastily changed the challenged statute, which imposed a blanket prohibition upon residents with gun licenses from transporting firearms from their homes to shooting ranges or homes outside of New York City. As Justice Alito noted in dissent, that ruling contravened Supreme Court precedent that "a case 'becomes moot only when it is impossible for a court to grant any effectual relief whatever to the prevailing party.'"
Notably, Senator Sheldon Whitehouse (D – Rhode Island) had joined four other Democrats in a thinly veiled threat that, "Perhaps the Court can heal itself before the public demands it be 'restructured in order to reduce the influence of politics.'"
Did Roberts surrender to the very same sort of political influence that Senator Whitehouse farcically claimed to oppose? That conclusion is becoming increasingly inescapable.
By all rights, conservatives have a Supreme Court majority, but for the growing tendency of Justice Roberts to rule in a way that increases his popularity among the rarified circles he now inhabits. More than any discernable judicial philosophy, Roberts seems to relish more than anything his new role as the "New Justice Kennedy" swing vote.
On a more positive note, this week the Senate confirmed the 200th Trump judicial nominee. As Chief Justice Roberts illustrates, however, the battle to achieve a judicial branch that applies laws instead of synthesizing them as some sort of duplicate legislative branch is never finished.