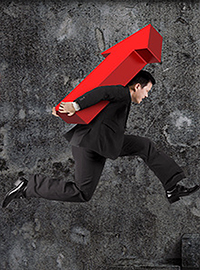 The simple fact is that the U.S. economy achieved escape velocity from the Obama malaise when Trump succeeded him, and has maintained that torrid pace.
"Thanks, Obama!"
That was Barack Obama, speaking at a conference of mayors in Chicago last week, sarcastically congratulating himself for America's economic performance in the year since he departed.
Perhaps Obama finds himself desperate for attention and the artificial adoration to which he became accustomed as a candidate and president. Or perhaps he's alarmed as he watches his legacy of higher taxes, bureaucratic hyperregulation and leftist judiciary dismantled via Trump Administration tax cuts, deregulation and a record pace of judicial appointments.
In any case, Obama's unseemly self-praise holds no merit.
The economic acceleration over the past year since Obama's departure is of a dramatically different species than the unprecedented economic sluggishness under his watch.
Consider U.S. economic growth, the sine qua non of its health.
Since World War II, the U.S. has averaged 3.3% gross domestic product (GDP) growth each year. Under Obama, however, we completed a decade without a single year of even 3% growth, let alone the 3.3% post-war average. That had never happened before. Instead, growth averaged just 2.1% under Obama.
So "thanks, Obama!"
Apologists for Obama's economic policies rationalized that we'd somehow entered an era of "secular stagnation," in which growth rates to which we'd become accustomed over seven decades were suddenly impossible.
But consider what has already occurred since Trump entered the White House. In the two quarters over which he has presided so far, the U.S. economy has grown 3.1% and then 3.3%. For Trump's third quarter as president, economists expect it to exceed that 3% barrier again, as noted by The Wall Street Journal:
That would put economic output on track for a third straight quarter of 3% growth, a breakout, for now at least, from a long period of 2% growth. The economy hasn't delivered three straight quarters of growth at or above 3% since a period from mid-2004 to early 2005.
And the economic acceleration since Obama bid farewell and Trump took the reins is hardly isolated to economic growth.
Consider Americans' economic confidence, which is critical because consumer spending accounts for approximately two-thirds of the U.S. economy. On election day of 2016, Gallup's monthly measure of public economic confidence stood at a depressing -11, and had hovered in similarly negative territory throughout Obama's presidency. Immediately upon Trump's election, however, the index shot upward to +6, and has maintained similar readings since that date. This week, Gallup reported that its monthly measure remains remarkably high, in contrast with the Obama era:
Americans generally have been more positive than negative about the economy - mainly driven by Republicans' more positive views - since Donald Trump won the 2016 presidential election. Before Trump's victory, the index had reached positive territory only a few times since Gallup began measuring economic confidence in 2008. Americans' economic confidence faded a bit in the summer and fall of 2017, but bounced back after the upbeat economic news, including low unemployment, record high stock prices and strong job growth.
Or consider U.S. investor optimism, which has reached its highest level since 2000, according to a separate Gallup survey:
U.S. investor optimism has remained strong in the fourth quarter, with investors mostly upbeat about the 12-month outlook for the economy, the stock market, unemployment and their personal finances. This is reflected in the Wells Fargo/Gallup Investor and Retirement Optimism Index, which hit +140 in the fourth-quarter poll. While similar to the +138 recorded in the third quarter, it is up from a +96 a year ago and is technically the highest since September 2000, when it was +147.
Meanwhile, the stock market has spiked upward by nearly one-third in just one year since Trump was elected president. And on the employment front, Trump as a candidate committed to two million new jobs per year, which Obama predictably mocked:
When somebody says, like the person you just mentioned who I'm not going to advertise for, that he's going to bring all these jobs back, well, how exactly are you going to do that? What are you going to do? There's - there's no answer to it. He just says, "Well, I'm going to negotiate a better deal." Well, how? What? How exactly are you going to negotiate that? What magic wand do you have? And usually, the answer is he doesn't have an answer.
Well, Trump is already on track to hit two million new jobs in his first year alone.
The simple fact is that the U.S. economy achieved escape velocity from the Obama malaise when Trump succeeded him, and has maintained that torrid pace.
It's understandable that Obama would want to jump on that gravy train as he fades into irrelevance, but that doesn't make his desperate claims remotely true.