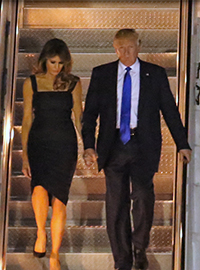 [A]fter eight years of the most lackluster economic growth record in recorded history and alarming numbers of labor force dropouts under Barack Obama, that cycle of malaise is over.
"U.S. Has More Jobs Than Jobless."
Savor for a moment that astonishing front-page headline this week from The Wall Street Journal.
Well into the second year of the Trump economy, America literally has more jobs than the number of people in the labor force to possibly fill them:
For the first time since such record-keeping began in 2000, the number of available positions exceeded the number of job seekers, the Labor Department said on Tuesday, a shift that is rippling across the economy and affecting the behavior of employers and workers. U.S. job openings rose to a seasonally adjusted 6.7 million at the end of April, a record high - and more than the 6.3 million Americans who were unemployed during the month. Openings had exceeded the available labor pool beginning in March, according to revised figures released Tuesday.
Economically, there has arguably never been a better time to be an American.
And remember how we were warned that Trump Administration policies like tax cuts would lead to bread lines and the rich getting richer while the poor got poorer? Well, about those "crumbs" to which House Minority Leader Nancy Pelosi referred, quoting the same Wall Street Journal report:
Now, the strong job market is opening up possibilities for those who have struggled in recent years. Geremy Mincey, 26 years old, had bounced between temporary jobs since dropping out of college seven years ago, working at factories, fast-food restaurants and even as a shopping mall Easter Bunny. He would often go months between paychecks.
Earlier this year, he landed a temporary job as saw operator at Williams Metals and Welding Alloys in Birmingham, Ala. Last month, the company asked him to take a full-time position with health benefits and retirement savings. "I feel like I broke the cycle," he said.
On a similar note, if Trump is truly the scheming racist that many of his critics claim, he's the most inept one in history. After all, the unemployment rate among blacks has plummeted to a new record low during his presidency.
Regardless, after eight years of the most lackluster economic growth record in recorded history and alarming numbers of labor force dropouts under Barack Obama, that cycle of malaise is over.
Meanwhile, also relish this headline from the German Deutsche Welle: "U.S. Economy Back On Top of World Competitiveness Ranking."
Specifically, in the latest annual global survey of 63 nations by the Swiss Business School IMD ranking them by economic climate, the U.S. reclaimed world preeminence. The Index ranks nations according to four broad categories: (1) economic performance, (2) government efficiency, (3) business efficiency and (4) infrastructure.
As occurred all too frequently in other areas over the previous eight years, it seems that America had lost ground under Obama's economic stewardship. "The US economy," it noted, "lost its long-time competitive lead in 2016, when it fell to third place, and even to fourth place one year later."
Under the Trump Administration, however, "The 2018 survey now has found the US to be especially attractive because of its dynamic economic development, easy access to financing and a business-friendly environment in general."
Among the most prominent U.S. improvements since the Index's last ranking, it lists healthier economic growth, more competitive corporate tax rates, improved personal taxes, greater ease of doing business, our legal and regulatory framework improvements and entrepreneurship.
It's amazing how what a difference a year and a new president can make.
Not that we can afford to relax, of course. In an increasingly knowledge-based global economy, the U.S. fell in a separate U.S. Chamber of Commerce intellectual property index from its traditional first-place world ranking in patent protection, all the way to 16th under Obama.
On that front, the STRONGER Patents Act before Congress can reverse that Obama trajectory of decline, and put us in position to reclaim our patent supremacy.
Nevertheless, it's important that we recognize the astounding progress that has occurred in just the second year of the Trump Administration through its reversal of Obama era policies. It proves once again which economic policies work, and what path we must follow to ensure ongoing prosperity.