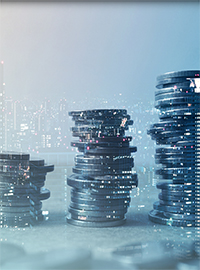 The truth is that Obama didn't end the last recession. He actually inherited an economy that was already rebounding. And he's not responsible for today's recordbreaking milestones.
As the American economy continues to defy naysayers and reach unprecedented heights, a funny thing has occurred.
Namely, leftists and Obama apologists have shifted from insisting that President Trump's economic policies would trigger a catastrophic depression to claiming that all of this is actually Obama's doing.
Last week provided just the latest manifestation of the nation's astonishing economic strength, even amid the rest of the world's deepening malaise, when the Labor Department announced that employers created 131,000 new jobs in October despite 42,000 temporarily "lost" jobs due to the General Motors strike that just ended. Additionally, estimates for August and September new jobs were adjusted upward by nearly 100,000 from prior estimates. That means we've averaged 176,000 new jobs over the past three months, which constitutes an acceleration from the 167,000 average in previous months of 2019.
Importantly, labor force participation also increased despite accelerating Baby Boomer retirements, wages continued to grow in ways they weren't before Trump's presidency and the Black unemployment rate fell to a new record low.
Also worth highlighting is that wage growth during Trump's first two years was 42% higher than during Obama's final two years.
Meanwhile, stock markets ascended to new highs this week, and the number of open jobs exceeds the number of unemployed Americans, which is unprecedented. It all validates Trump's assertion that he's presiding over the greatest economic health in U.S. history.
Suddenly, there's one particularly amusing aspect of leftists' attempt to claim credit for today's economic conditions.
Namely, Obama apologists on the one hand claim that he ended a recession that was already expiring before he assumed office, and officially ended five months into his term. Yet they simultaneously claim that today's economic surge three long years into Trump's presidency is somehow also Obama's achievement.
The truth is that Obama didn't end the last recession. He actually inherited an economy that was already rebounding. And he's not responsible for today's recordbreaking milestones. What he is responsible for is the most sluggish "recovery" in recorded U.S. history, which in turn helped explain Donald Trump's 2016 victory.
Economic recessions are officially defined as two or more consecutive quarters of contracting gross domestic product (GDP), the broadest measure of economic growth and performance. And the objective numbers refute the claim that Obama ended the 2008-2009 recession. In the third quarter of 2008, the economy contracted at a 1.9% rate, before deepening to an 8.2% contraction in the fourth quarter. But by the first quarter of 2009, the economic trajectory bent upward, with a 5.4% GDP contraction. And by the second quarter, we had almost emerged from the recession already with just 0.5% contraction. By June 2009, the recession officially ended, just five months into Obama's presidency and well before his wasteful economic agenda had been passed or taken effect.
Thus, it's false to claim that Obama prevented a great depression or even ended the last recession. He actually inherited a recovery.
Obama was, however, responsible for the most sluggish cyclical recovery in recorded U.S. history.
When Obama promoted his wasteful $1 trillion spending "stimulus" in 2009, he promised that under his plan unemployment would never reach 8%. Instead, unemployment remained above that 8% mark for the most consecutive months in recorded U.S. history.
In terms of earnings, median U.S. incomes actually declined rather than increased in the years after the 2008-09 recession ended, which was unprecedented in U.S. history.
Obama's economic growth record was equally abysmal. Since World War II, the U.S. has averaged 3.3% GDP growth annually, but during Obama's tenure we never witnessed yearly growth of even 3%. Over the full course of Obama's tenure, growth averaged less than 2% annually.
Obama also brought us record deficits, with four consecutive years in excess of $1 trillion, which was also unprecedented. Before Obama, the largest deficit we'd ever experienced was $450 billion. Obama cumulatively added more debt than all of his predecessors combined, and all for naught.
Fortunately, that Obama economic malaise is now an increasingly distant memory. Following President Trump's opposite agenda of tax cuts, deregulation and greater respect for property rights, our economy suddenly accelerated upward to the record heights discussed above.
And now, the same people who confidently predicted economic disaster when Trump was elected – recall Paul Krugman on Election Night 2016 predicting a market crash from which we would literally "never" recover – now rationalize that what we're witnessing is all because of Obama, three years since he departed.
Americans would be wise to ignore their new rationalizations, and also the destructive economic policies they continue to advocate.